CityNews – Doctors have been training government officials and members of the public in cardiopulmonary resuscitation (CPR) and the use of defibrillators, to increase the survival chances of heart attack victims.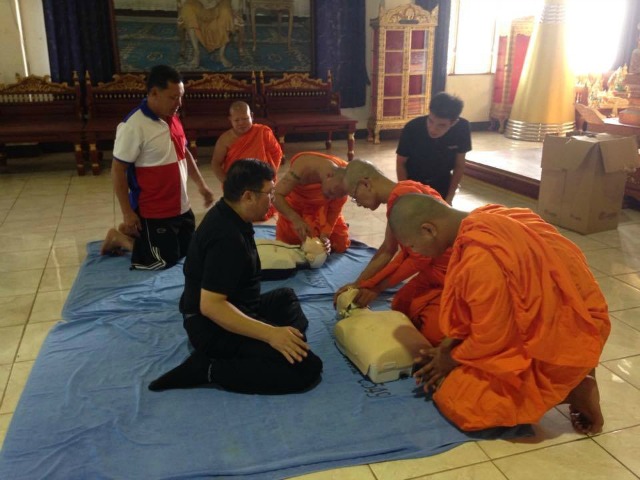 Monks being trained at Wat Phratat Doi Suthep. Photo: Weerasak Panyachod.
Assistant Professor Narain Chotirosniramit, deputy director of Maharaj Nakorn Chiang Mai Hospital, said these techniques could improve the survival rates of patients who suffer a cardiac arrest. The training is jointly organised by the hospital and Chiang Mai University's Faculty of Medicine.
In Chiang Mai, automated external defibrillators have been installed at the airport, Wat Phra That Doi Suthep, and the Provincial Hall. These are portable devices that can check the heart rhythm and provide an electric shock to restore a normal rhythm in the event of a heart attack.
Employees at the airport and Provincial Hall, as well as monks at Wat Phratat Doi Suthep, were trained in CPR and the use of defibrillators on Sunday.
Hospital staff also plan to train teachers in every school in Chiang Mai, so they can teach pupils the basics.
Doctor Borworn Wittayachamnankul of Chiang Mai University said everyone should know the basics of CPR in case a loved one has a heart attack.
The faculty's Division of Emergency Medicine is willing to help government agencies and private companies who are interested in training staff in CPR and the use of defibrillators.