CityNews – A new police recruit is believed to have committed suicide by shooting himself in the head in his room at Mae Chaem police station last Friday.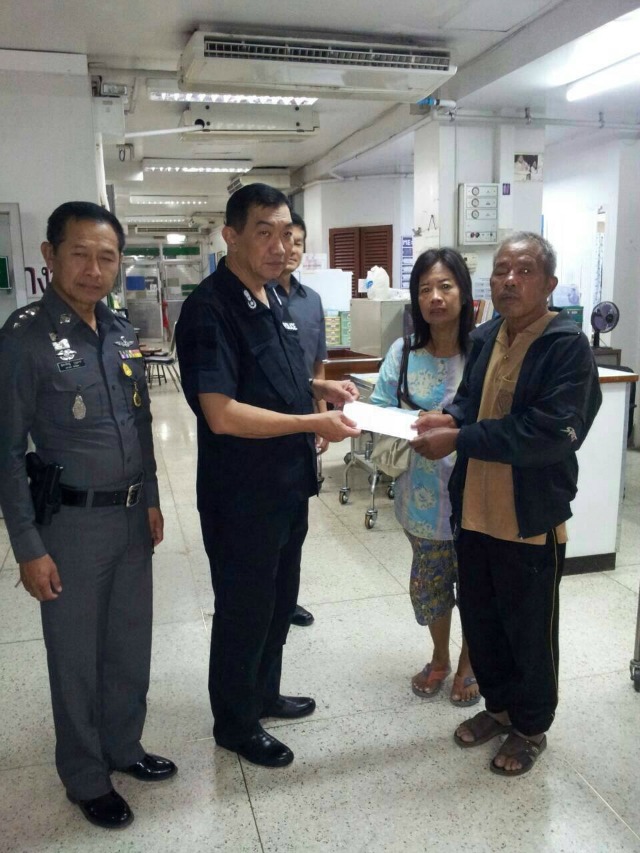 Police Major General Montree Samboonnanon hands money to Thirawat's parents for medical treatment on the day he died. Photo: Mae Chaem Police.
Police Lance-Corporal Thirawat Talaboon, 25, was severely injured and died in Mae Chaem Hospital the following day. He had only been in the job for one week.
Colleagues said Thirawat, from Jomthong district, was depressed, unsociable and often spent time alone in his room. He was an only son and his father, also a policeman, is sick and in debt. His colleagues believe this may have contributed to his depression.
Thirawat had a history of mental illness, having been treated at Suan Prung Psychiatric Hospital on three separate occasions, for a month each time. He had attempted suicide before completing his police training, by overdosing on paracetamol pills.
Police Major General Prajuab Wongsuk said Royal Thai Police statistics show that region 5 – which covers Chiang Mai – has the highest number of police suicides in the country. Thirawat was the 23rd region 5 officer to kill himself, he said, without giving a timeframe.