CityNews – On Saturday 22nd June, at Lampang Stadium, CityNews with over 2,000 fans in support of CMFC experienced a cracking local derby between the 'The Tigers' of Chiang Mai and the 'The Emerald Chariots' of Lampang.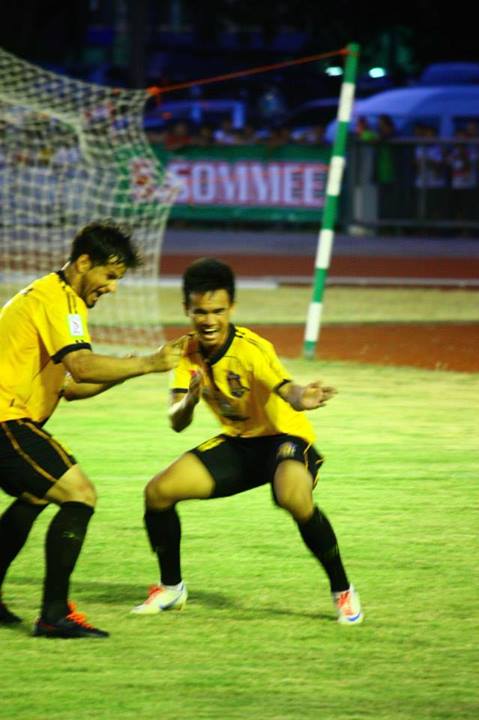 Working well together, Anggello Machuca and Chatchai Nakvijit
The game was by no means thrilling in the first half, although both teams had chances and missed. Lampang narrowly missed a header from a well taken set piece, while Chiang Mai's in form Anggello Machuca had a few chances at the other end. The first half ended 0 – 0.
It only took seven minutes however in the second half for Chiang Mai to get going when Chatchai Nakvijit headed Machuca's cross into the back of the net. Chiang Mai then took control of the game and their possession paid off when Chatchai got his second in the 70th minute. Lampang did not respond well and they lost Sitthichai Kumyat who was sent off for a professional foul. Lampang fans responded even worse and commenced to start throwing bottles at the referee.
Anon Buppha then put Lampang out of their misery when he made it 0 – 3 to Chiang Mai.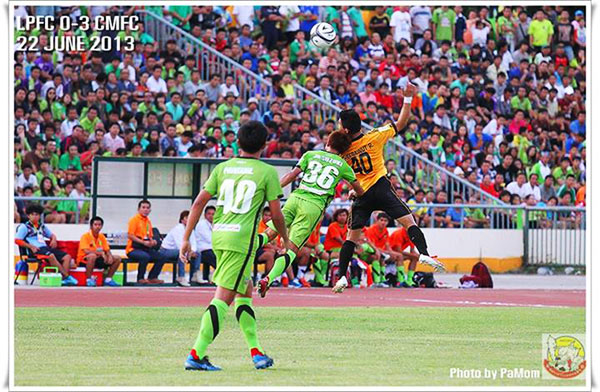 Chiang Mai is now in first position with 42 points out of 18 games played, followed by Sukhothai FC who has 37 points from 18 games played.
The next game will be on Sunday 30th June against Kamphaengphet FC at 700 Year Stadium.
Thanks to Palapong Panpratheep and PaMom Cmfcfor pictures
For more pictures, visit https://www.facebook.com/groups/CMFC.Photo.