CityNews – British expats and tourists joined the annual Remembrance Day service in honour of servicemen and women killed in action at Chiang Mai's Foreign Cemetery on Tuesday morning.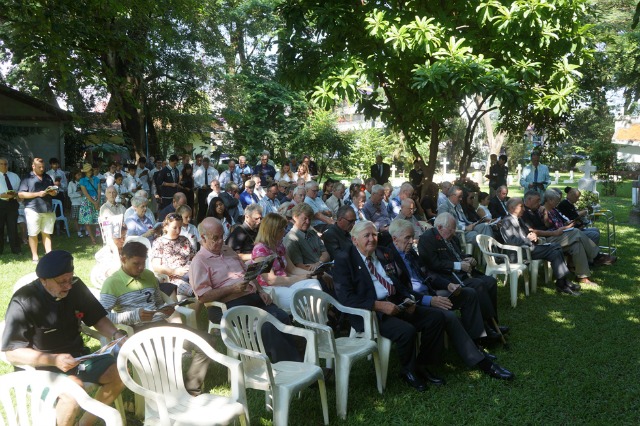 Photo: Steve Yarnold.
The service was presided over by Simon Carey, manager of the Juniper Tree guesthouse for Christian missionaries. A bagpiper played, and a bugler from the Thai army's Kawila barracks gave a rendition of the last post.
Among those present were British Consul Ben Svasti Thomson, school pupils and local dignitaries and religious leaders. Food and refreshments were enjoyed at the neighouring Gymkhana Club afterwards.
Remembrance Day is observed on November 11, or the nearest Sunday, each year to commemorate the end the First World War. Hostilities ceased on the eleventh hour of the eleventh day of the eleventh month in 1918. This year saw the 100th anniversary of the outbreak of the war.
The service was organised by the Royal British Legion, which helps ex-service personnel and their families. The Chiang Mai branch is active throughout northern Thailand.