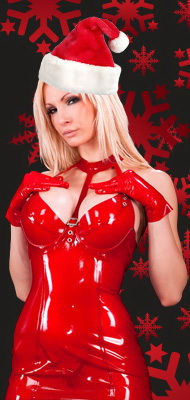 'T is the season to be jolly!'T is the time to impress your crush in a naughty and/or nice festive outfit that sparkles head to toe. What better way to offset all that cotton, lace and wool this season with a slither of some Leatherette and Latex?
Leatherlook and Latex, most commonly known to be associated for those who fancy the fetish scene, is now seen as avantgarde in mainstream fashion. Both materials can give you that second skin feeling, whether you are large or small, rail thin or generously padded, all women and man can wear it as it enhances the right shape! No diets needed!
The newly opened Central festival's Zara even offers faux leather tops, leggings and pencil skirts and biker jackets for men. Hit the holiday party scene rocking some of these attention-stealing looks now the weather is cooler. You will certainly turn heads!
Don't forget the sexy accessories stocking stuffers you can slip into your lover's stocking as a kinky surprise that will make 'em light up like a Christmas tree. Easily found on-line these will surely add some sugar and spice to your love life!
Wishing you all a blissful and stylish Festive season!