A stressed out Chinese businessman frantically talks on the phone while waiting for his flight to take off. The cabin is packed with soon-to-be tourists wearing matching red hats. Much to his chagrin, an eccentric young man, openly giddy at the prospect of seeing a distant land, occupies the seat next to him. The young daydreamer cannot wait to ride an elephant, get a massage, meditate at a Buddhist temple and maybe even participate in a Muay Thai fight. The cynical businessman knows he must get to Chiang Mai asap. Little do either of them know what awaits when the plane finally touches down at their destination…Thailand.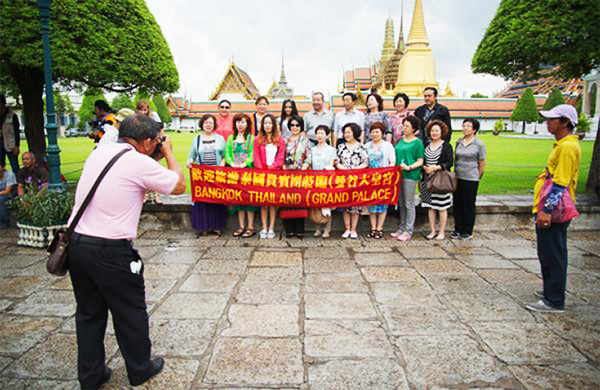 Original story at Coconuts Bangkok here
Few anticipated the success of zany travel comedy Lost in Thailand when it debuted in December 2012. Bucking the recent trend in Chinese cinema toward expensive action films and historical set pieces, the low-budget flick quickly overtook the James Cameron blockbuster Avatar as the highest grossing movie in Chinese history. The film, a follow-up to 2010's Lost on Journey, follows the trials and tribulations of two competing businessmen, a scientist and a pancake-making crackpot, as they traverse the Kingdom.
For Ansui, a tourist visiting Thailand from Tianjin, China, the movie proved an essential turning point for he and his wife's decision to visit Bangkok during Chinese May holiday week.
"The movie was very funny and a big deal in China," says Ansui, when interviewed by Coconuts Bangkok in Siam Paragon. "It made a lot of Chinese want to come here."
Although derided among Western critics as a crude imitation of the popular Hangover franchise, Lost in Thailand takes a humorous look at a major global phenomena: the rise of the Chinese tourist. And the onscreen exploits documented in Lost in Thailand are no laughing matter for both the Tourism Association of Thailand (TAT) and the plethora of hoteliers, retail outlets and resort operators poised to benefit from the growing influx of Mainland visitors. With the official numbers for the first quarter of 2013 still coming in, it looks as though the Chinese are well positioned to make a Shanghai-sized impact on Thailand's tourism landscape.
Only two years ago, the notion of China as the preeminent supplier of foreign visitors would have seemed far-fetched. Stats from 2011 peg the number of Chinese visiting the Kingdom at roughly 1.76 million. By contrast, Malaysians accounted for 2.47 million visits that same year. However, with growing throngs of middle class, travel-savvy Chinese flocking to beaches, malls, hotels and resorts up and down the country, they have quickly closed the gap, officially overtaking Malaysia in number of visits in 2012.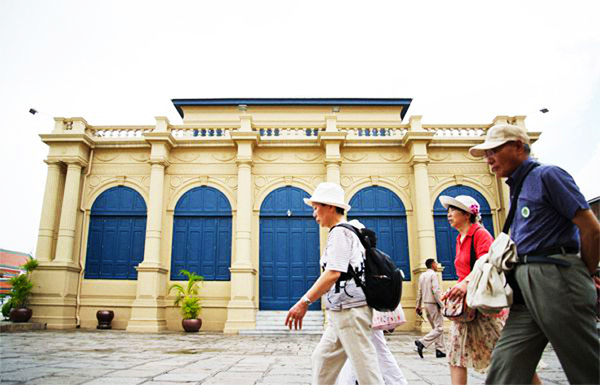 According to the numbers for 2013 suggest the rise of the Chinese tourist is more than just a passing trend. Overall foreign visits are up an impressive 18.94% compared to the first quarter of 2012. This staggering rise is largely attributable to a willingness on the part of many a Chinese tourist to put aside his or her concerns over the rocketing value of the Thai baht, open up his or her wallet, and make a break for Southeast Asia. In 2013 so far, over 1.2 million Chinese have come to Thailand, a 93% increase from 2012.
"Thailand is a cheap flight, it's much cheaper and easier to get to than Europe or the United States," says Jenny, a twenty-something visiting from Beijing along with her two friends. The rising cost of the Thai baht did not seem to phase the girls, who compared Bangkok prices quite favorably against rival cities like Hong Kong, KL and Singapore. "Once you're here it is very inexpensive to go shopping, stay in a nice hotel and eat."
And shop they do. On most weekends, premier venues like Siam Paragon and Central World are packed to the gills with tourists from all corners of the globe. Amidst the cacophony of native tongues, Mandarin and Cantonese voices are easy to pick out. Large groups of middle-aged Chinese women pick through piles of clothing on sale at bargain prices, while their dutiful husbands stand idly nearby. At iconic brand fashion outlets, staff members rope off the entranceways, allowing them to wait attentively on a few well-to-do customers. Many of the biggest spenders increasingly hail from Mainland China. Despite lingering stereotypes of the stingy Chinese tourist, a recent BBC report indicated they actually spend more on average than their Anglo counterparts.
But while shopping is a serious pastime for the Chinese in Bangkok, the most popular attraction in the capital would have to be the Grand Palace. Virtually every tour group operator includes a stop as part of his or her itinerary. All over the Palace grounds, Chinese tour guides hoist up distinct banners and flags to help prevent anyone from getting lost among the masses. Augmenting this strategy, many Chinese wear matching hats and t-shirts to help further distinguish themselves from rival tour groups. Cameras and iPhones abound as everybody snaps up as many images as possible, hoping to lock in the moment.
During the four-day Songkran holiday alone, 30,000 Chinese flew down to take part in the festivities, prompting many airlines to charter additional flights. And now, with Golden Week – the traditional one-week Chinese holiday commencing on May 1 – coming to a close, another Sino windfall is expected. While in the past, Hong Kong served as the destination par excellence for wanderlusting Chinese over the May holiday, this year it looks as though Thailand will take the mantle as China's top tourist destination.
So why China and why now? The answers to that question are as various as the Chinese who flood Thailand's shores and airports. For one thing, the phenomena is not unique to the Kingdom. According to the UN World Tourism Organization (UNWTO), "China has been, and still is, by far the fastest-growing tourism source market in the world. Thanks to rapid urbanization, rising disposable incomes and relaxation of restrictions on foreign travel, the volume of international trips by Chinese travellers has grown from 10 million in 2000 to 83 million in 2012." Chinese now trump their American counterparts as the largest spending nationality when it comes to international tourism.
Security concerns and regional tensions also factor into the equation. Tensions between China and Japan over a disputed island chain in the East China Sea are believed to have played an important role in driving Chinese spenders further afield in search of foreign adventure. In marked contrast to exploding volumes of Chinese tourists around the Pacific region, visits to Japan from the Mainland were down 40% last year.
As a further plus for Thailand, there is a widespread perception that the political situation within the Kingdom has stabilized. In the recent past, Red and Yellow Shirt protest movements shut down airports and other key pieces of infrastructure, turning off would-be visitors. While political instability remains a major concern, it no longer appears to serve as a serious impediment for foreign travelers.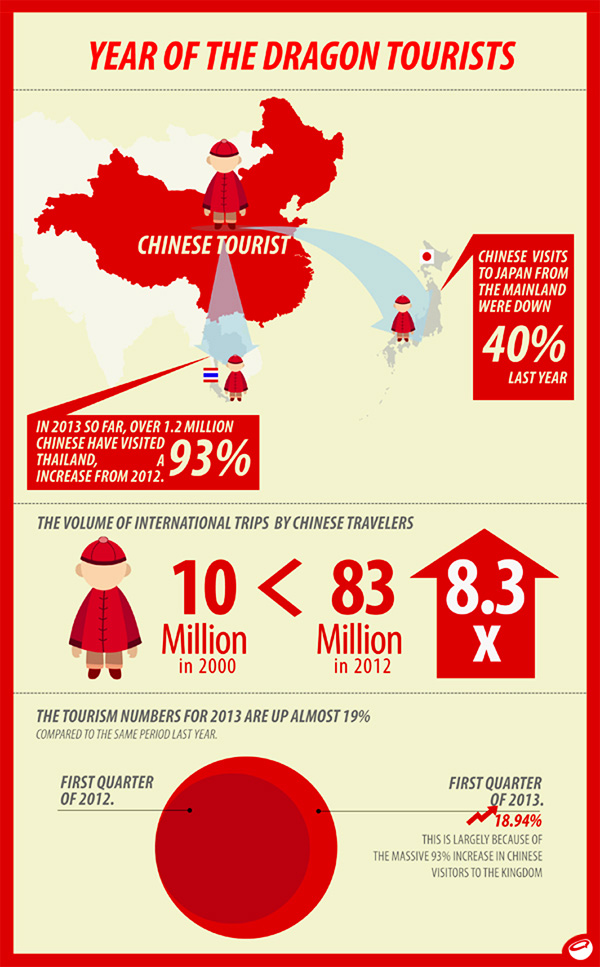 But one thing is certain, in the malls and temples of central Bangkok: Lost in Thailand weighs heavily on the minds of the Chinese here on holiday.
When asked about the movie, Jenny says, "Many of the younger Chinese knew of Thailand as a cool destination to visit before the movie came out, but now everybody wants to go to Thailand, particularly Chiang Mai."
Ansui adds that many Chinese tourists stop off in Bangkok on their way to Chiang Mai in order to take in some shopping.
With legions of well-heeled Chinese descending on Bangkok to wine, dine and shop, Thai retailers are more than happy to cash in. The Mall Group, which runs Emporium, Siam Paragon and the Mall, recently linked up its website, Mglobemall.com, with Chinese banks and the Tourism Authority of Thailand to promote travel deals and entice Mainlanders to stop by for a visit.
Thai Air Asia (TAA) is also trying to piggyback on the uptick in demand, hoping to expand the number of daily flights from the Mainland to Thailand and vice versa. Although Thai Air Asia currently flies to seven Chinese cities, it plans to add two more to its itinerary later this year. TAA is also calling on the Thai government to make the country more easily accessible to Mandarin speakers, namely by increasing the number of signs in Mandarin.
Unsurprisingly, malls around Bangkok are keen to attract these roving bands of Chinese shoppers, with many tour operators being paid a commission for putting certain malls on the travel itinerary. At Central World, "ambassadors" communicate with foreign tourists in their native languages, in the hopes of enticing them to shell out their hard-earned currency on everything from clothing, to consumer electronics, to luxury goods. Recently, in response to the growing number of Chinese, the number of Mandarin speaking "ambassadors" on the payroll has gone up.
Coconuts recently caught up with several employees staffing the help desk at Central World. Although they could not speak on the record, one young female employee, who helps arrange group tours in the mall, shed some light on the phenomena. "We've definitely noticed the number of Chinese coming here to shop has gone up a lot since over the past few months," she said. "We have Ambassadors walking around the mall helping out tourists of different nationalities, but recently we've had to bring in more Mandarin speakers."
At the Centara Grand, a popular hotel amongst out of town Chinese due to its close proximity to the downtown area, employees are also noticing the booming number of Chinese visitors over the past few months. Several staff members estimated that about half of the foreign tourists staying at the hotel so far this year hail from China.
For now, Centara Grand employees are only required to speak Thai and English. Some day in the not too distant future they may also need to be conversant in Chinese.
Photos: Kajonsak Intarapong