Terry earned a BA in English Lit from Brown University in the late Sixties while drumming with bands that opened for The Yardbirds, the Critters, and Jimi Hendrix. His award-winning play, Resurrection, was produced during his senior year. In the US Air Force, despite writing for GI underground newspapers stateside, he was asked to write the 1971 History of Detachment 3, 601st Photo Flight while stationed at Ubon RTAFB, Thailand. He won a CBS Fellowship for his screenwriting while completing an MFA at the University of Southern California and went on to spend twenty-five years as a Hollywood cameraman. His credits include The Goodbye Girl, The Legend of Billie Jean, Quincy, Designing Women, Seinfeld, and Tracy Ullman. Working on MASH and From Here to Eternity had a powerful effect on the writing of Big Buddha and its sequel, The Bronze Begging Bowl. He is currently living in Chiang Mai and working on Tinseltown Two-step, the final volume of the trilogy. Citylife recently had a chance to chat with Terry.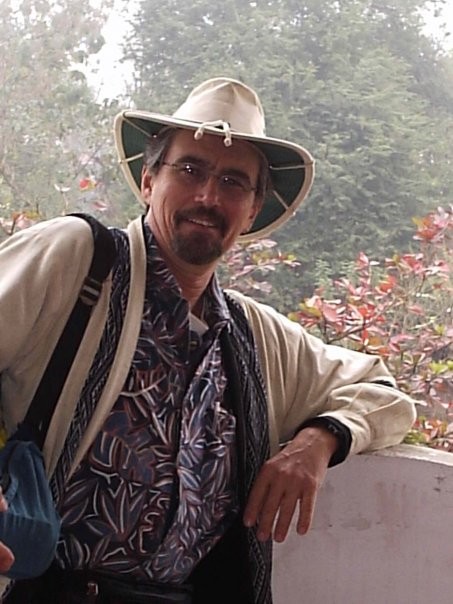 Citylife: Can you tell us a little about the book?
Terry: Well, the setting is upcountry Thailand and war-ravaged Laos late in the Vietnam War.
On one level it's a cross-cultural wartime love story. That means exploring Asian-American cultural misunderstanding on the personal level, which can be painful, and on the large scale, where it proved to be catastrophic, especially for the people of Laos, which was devastated by the war and then forgotten.
It's also a surreal remembrance of two groups who have been erased from American history—the active-duty soldiers who risked prison by taking part in the GI anti-war movement and the air commandos who risked death night after night flying over the Ho Chi Minh Trail. In The Big Buddha Bicycle Race, the twain meet.
Citylife: Where did the title come from?
Terry: It was rainy season in Ubon. We were cooped up in the editorial trailer and Air Force Radio announces an upcoming sightseeing tour to Big Buddha, one of the few sights worth seeing in Ubon Province at the time. We kidded around about a bike race being more sanuk than a bus trip, but that was the end of it. It's about the only thing in the novel that didn't happen. But that little germ of an idea stuck with me. In 1972, the year after I returned from Ubon, South Vietnam nearly fell and four of the sixteen AC-130 gunships I had been working with—carrying crews of fifteen to eighteen—were shot down. There were only a couple of survivors—after two years when gunships had operated with impunity, destroying as many as 30,000 trucks on the Ho Chi Minh Trail.
I started asking a lot of "what if" and "why" questions, two big ones being "what if I had been on one of those gunships?" and "why were the North Vietnamese still able to mount a major offensive after we had decimated their supply convoys?" And I started asking myself, "what if the race had happened?" I started seeing it as an allegory. The United States might have gone to war with good intentions. But it all went horribly wrong thanks to overkill that turned friends into enemies and thanks to a tragic misunderstanding of Asian culture and history.
Citylife: So how did this become a book?
Terry: I wrote a fifty-page movie treatment for a very rigorous professor at USC who also happened to have served with the OSI—the forerunner of the CIA—in Southeast Asia during WW II. He recommended that I do more research on Asian culture and flesh out the Asian characters. I couldn't do much at the time because I had just gotten into the camera union and was working sixty-hour weeks. And then in 1976 an actor friend introduced me to the head of one of the top agencies in Hollywood. The agent assured me that Vietnam was box office poison.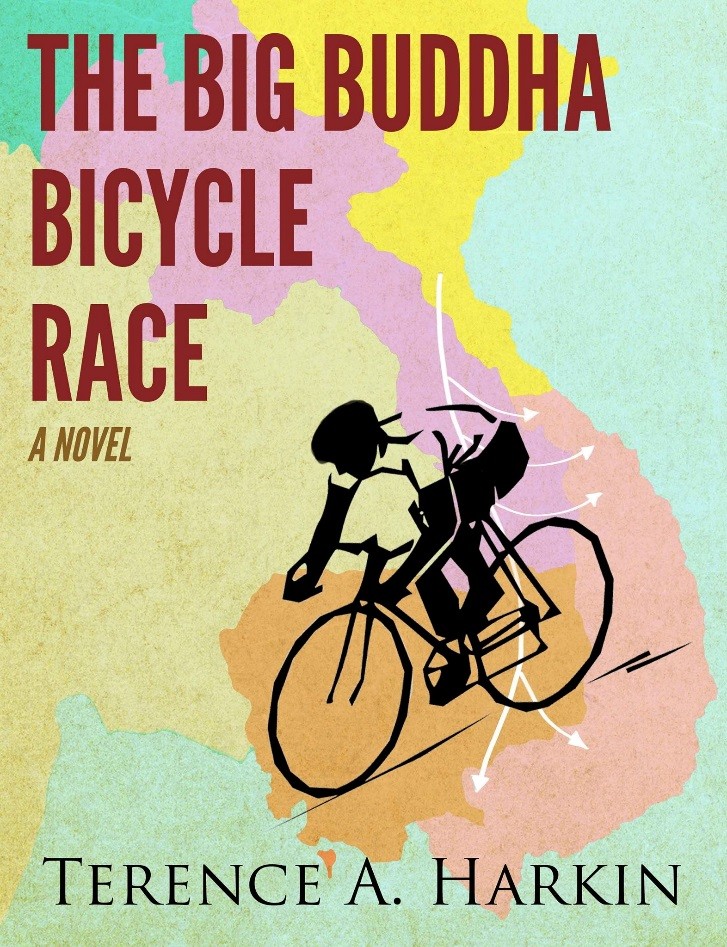 Apocalypse Now! (1979), Deerhunter (1979), and Platoon (1987), among others, proved the agent wrong. But my professor was right—those films were strangely provincial and American-centered. None of them showed any sort of grasp of Asian history and culture, it was all viewed through an American prism. There were few Asian characters, just dark shadows shooting from the jungle. And there was little sense of what I saw every day putting together briefing films—American air power devastating much of Southeast Asia. Three million Asians died in the war, but all I ever heard about in the States was the 58,000 American dead, tragic as that was.
Big Buddha wouldn't go away—it seemed to want to be told because we kept repeating the same mistakes elsewhere in the world. It became a novel when I saw the direction the film industry was heading—toward feature films based on comic books and body-function humor. Mini-series and movies of the week were disappearing.
Big Buddha also became a novel because once I returned to Thailand and started developing the story and characters, it took on a life of its own. It was no longer going to fit into 90-120 minutes of screen time.
Citylife: What year did you come back to Thailand?
Terry: 1987—mostly staying in Buddhist monasteries, but also meeting legendary CIA operative Tony Poe, Flying Tigers crews who had been in Asia since the 1940s, air controllers at Udorn and Ubon trained by the US Air Force, a restaurateur in NKP who started out as a base cook, and a Lao royalist officer in Nong Khai just released from ten years in a re-education camp. I can still see his haunted eyes.
I was also searching for a new ending—the original ended with Brendan, the protagonist, dying at the end of the bicycle race. I got the ending of what turned out to be the sequel from a former student at the night school class I taught at AUA. By then she was a teacher with a husband and kids but luckily still living in her old family compound.
I filled my notebooks with details—how downtown Ubon had been rebuilt after being destroyed by fire in 1973, how Woodstock Music a little cubby hole where I used to buy drumsticks had become a four-story emporium, how Thai Air Force families squeezed into old enlisted men's hootches on base…how the base chapel had become a Buddhist bot…how the Thai Air Force was no longer flying modified trainers—the North Vietnamese army had crossed the Cambodian border and occupied Thai territory not far from Det Udom where my friends were teaching—and how the English lettering on street signs had been mysteriously painted over.
1987 turned out to be an important year in other ways as well. Back in the States I was able to meet and interview Jack Kornfield, Ajahn Sumedho, Ajahn Anando and Joseph Kappel. The year I was stationed in Ubon they were training nearby as monks under the revered forest master, Ajahn Chah. And they ended up having a lot to do with bringing Vipassana meditation to the West.
Citylife: How did you end up living in Chiang Mai?
Terry: I first came by DC-3 in 1971. I can remember oxcarts passing the Railroad Hotel on their way to the Warorot Market…and bicycles and samlors instead of motorbikes and tuk-tuks. I've traveled all over Thailand and Laos since 1987, but even as the pace has grown more hectic, Chiang Mai was always where I felt most at home—partly because it's a college town, partly because of its vibrant expat community, and partly because its history and Buddhist culture have been preserved.
When I settled here 2014, I thought I had found the ultimate retirement village—lots of good food, live music, and cheap golf on beautiful courses. And I thought the book was in the pipeline to be published by Texas Tech University Press. Texas Tech had published and collected a lot of material on the Vietnam War and Southeast Asia, including a large collection of oral histories. Karl Marlantes, author of Matterhorn, had just spoken there. And I would be their first work of Vietnam-era fiction.
Citylife: And what happened?
Terry: They changed directors, overextended, went into hiatus, and forgot to tell me. I spent my first year in Chiang Mai studying Thai (goal: to be fluent in a year—hah!) and reliving my youth playing drums around town. Luckily, by the time I figured out I needed to get back to work pitching the book I had met a former comedy writer for American Public Radio in my Thai class at the YMCA. He pointed me to Writers Without Borders, a group you wrote about in your November issue. And a wonderful string of coincidences began.
Rebecca Welden, a cultural icon in Northern Thailand, was the daughter of a doctor heading USAID's team in Laos during the Vietnam War and had grown up around larger-than-life characters like Tony Poe. I'd done a lot of the writing back in the States, and she was able to catch a few lapses in my memory (like rice fields not being "emerald" in hot season). Most important, she announced that Trasvin Jittidecharak, publisher of Silkworm Books, would be speaking at the Informal Northern Thai Group.
I knew Silkworm as a quality publisher of non-fiction—I had ten of their books in my library. But my ears perked up when Khun Trasvin said that because of rapid changes in publishing, largely a result of Amazon's ascendency, they were thinking about venturing into English-language fiction. Needless to say, I was first in line to chat with her that night.
Citylife: So you're Silkworm's first English-language novel? Is there anything Thai readers will especially relate to?
Terry: Another wonderful coincidence, maybe. I was writing about Issan Thailand in the early Seventies and didn't get to read Khun Chang Khun Phaen till last year, but there are some connections: A tragic heroine who can't decide between two lovers. One a clown/druggy a bit like Khun Chang. The other not a master of powerful mantras that could make him invincible in love and war like Khun Phaen, but Brendan Leary, the narrator, in a way possesses the super-powers of modern technology—movie cameras and night-vision sensors, flying in what the aircrews called a Spectre—a ghostly gunship that rained down fire from 10,000' (6,000 meters) over the mountains of Laos.
Citylife: Is there anything that makes Big Buddha different from other wartime love stories?
Terry: I am a great admirer of Ernest Hemingway, Kurt Vonnegut, and Joseph Heller, who described the trauma of modern warfare brilliantly. But thanks to Jack Kornfield, Ajahn Sumedho, and their teacher, Ajahn Chah, I've been able to explore Vipassana meditation as a means of healing from that trauma. I believe those writers suffered from what we now call PTSD. And the main treatment for at least a century was self-medication with drugs and alcohol, alone and with fellow warriors…and in doomed relationships. Jack Kornfield became a clinical psychologist, writer, and meditation teacher when he returned to the States and, working with Daniel Siegel of UCLA, has had a major influence on modern psychotherapy. And now "mindfulness" is being widely applied by people like Jon Kabat-Zinn at Mass General to aid cancer and heart patients in their recovery.
Getting back to your question—there is plenty of love and war in Big Buddha and the sequel, The Bronze Begging Bowl, but both books are also filled with the possibility of healing and redemption.
Citylife: Where can people find the book?
Terry: The Silkworm Books online store carries the print edition: silkwormbooks.com
Worldwide, The Big Buddha Bicycle Race is available at Amazon.com
As the book becomes established, I look forward to seeing it in bookstores and airport bookshops around Thailand, especially in Chiang Mai, Bangkok—and Ubon, of course.
Citylife: How can people reach you?
Terry: They can find Terence A. Harkin at Facebook. Or better, they can go to my Authors Guild web site: taharkin.net