CityNews – After a Thai Airways Airbus A330-300 plane skidded off the runway at Bangkok's Suvarnabhumi Airport on September 9th controversy has surrounded how the airline dealt with the accident. Although 13 people were injured on the flight that was coming from Guangzhou, China, when landing gear supposedly malfunctioned, no one was seriously hurt.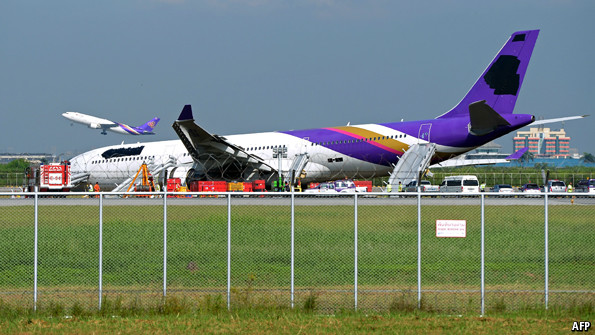 Nonetheless, it seems the pride of the airline might have also suffered from the crash. What has caused controversy in media all over the world was Thai Airway's decision to promptly cover up the Thai logo on the plane seemingly as fast as they could.
When questioned about this decision, which commentators have decried as crass and disrespectful, an official for Thai Airways told Sky News that blurring the logo was an order from Star Alliance – which consists of 29 airline partners. The reason for the cover up was to protect the image of the airline.
Though perhaps this was one more occurrence of where shady face-saving backfires and in the end more face is lost.
To make matters more embarrassing for Thai Airways a Star Alliance official was reported in The Economist as saying that "The Thai Airways official is misinformed,", and no such demand had been made by Star Alliance.
It had simply been made up by Thai Airways, who later issued a statement saying that the policy of covering up was company policy, not that of Star Alliance.
It's probable that protecting the name of Thai Airways was the reason for the cover up (other airlines in the past have done the same), though what has confused the world's media is how the airline could think that such a move wouldn't backfire.
Online news critics and Thai expat forums are currently awash with people criticizing Thailand's custom of often not wanting to be accountable for a wrong-doing. Once again, a relatively insignificant news story becomes a global hit because of unnecessary face saving actions.
We might also ask if the policy of the airline is not unethical, as covering up a crash is surely not in the interests of the public who deserve to know which airlines are crashing, or skidding off the tracks.