Thailand has been more than a little displeased about Singapore's shameless appropriation of our Songkran festivities, as evidenced by threats to sue from TAT (Tourism Authority of Thailand) and Thailand's Ministry of Culture.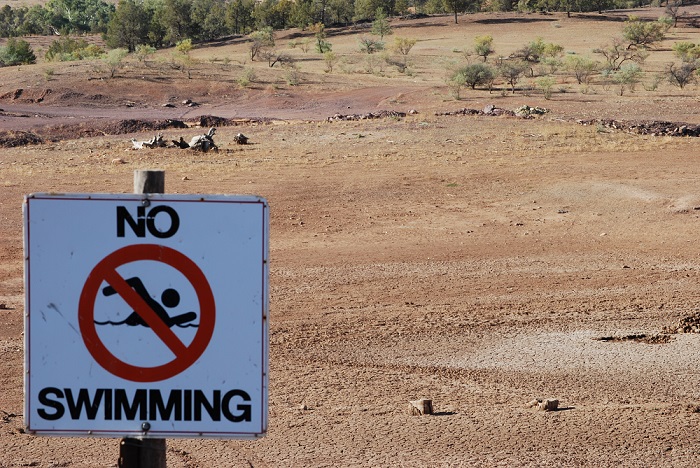 None of these threats actually came to fruition, but the copycats still left us wondering about the legitimacy of using the Thailand-specific appellation. Of course, the Buddhist New Year is celebrated in many countries, but only in Thailand is it called Songkran.
Singapore's two day Celebrate Songkran 2014 festival (12-13 April) will also include Thai food, Muay Thai and Thai musical performers. It will coincide with Singapore's H20 Music Festival and cost $35-140 USD per entry.
But now, there's been a major change. There will be no water.
"In light of the longest dry spell experienced in Singapore, organizers of Celebrate Songkran 2014 have taken extraordinary measures to eliminate any water wastage during the event," read Singapore's official Celebrate Songkran 2014 press release yesterday. "Adopting a water conservation theme will result in a drastic conceptual change of the event."
The press release continues with a statement from event director TJ Chin: "Everyone should play a part in saving water, and we are no exception. "We hope that by making this decision, others who are planning similar activities or events during this period of dry spell, will follow suit."
So basically, Singapore planned on usurping a water-filled holiday until they ran out of water, and now are apparently trying to posit themselves as a shining example to those they copied in the first place by convincing everyone to go dry. The fact that they will be adding a Water Conservation and Water Heritage Exhibition is admirable (and personally I'm all for water conservation in general), but it seems kind of silly to keep calling the event Songkran.
Commenters have not failed to catch the irony. One Facebook user responded on Singapore news outlet The Online Citizen's page by saying: "It is a total insult to the cultural practice of Thai. Conserving water? Call it water conservation day and not Songkran. Is Singapore trying to mislead the Thai in thinking that their traditional practice is wasting water?"
Another user added, "I'm ashamed to be [Singaporean] sometimes. Always celebrating festivals that has nothing to do with our culture. Last week they promote St Patricks day and now this??"
But as the event plows forward despite all obstacles, the question remains, can Songkran be celebrated not only outside of Thailand, but also without water? According to the organizers in Singapore, yes! And perhaps it will be better!
"The Songkran Festival has also been observed as a symbol of hospitality, love and the importance of maintaining strong relationships within families, communities and society as a whole," says Chin. "With water-splashing activities removed, we will be enlarging our carnival area, and include more rides, games and activities to make the event equally, if not more, fun-filled for our attendees. We are confident that by removing water splashing activities from the event will not remove the true meaning of Songkran."

The release concludes with a last-minute olive branch of sorts from Chin: "We will also be hoping to work with the Thai Embassy, as well as the Tourism Authority of Thailand, to incorporate more traditional and heritage elements of Thai Songkran into the event. We hope to spread and educate more people about the true meaning of Songkran. We had never wanted to be a replacement. We are an alternative – to be a venue for people who cannot be where they wish to be during this festive period."
Point: Thailand. See you at the moat.