CityNews – After a nationwide call for applicants, twelve exceptional students became Saphan Siang Youth Ambassadors in March 2014. These twelve are part of the inaugural Saphan Siang Youth Ambassadors programme that gives young Thai students a chance to work in development and civil society, as professional volunteers, and support the community of migrant workers who keep Thailand's economy healthy.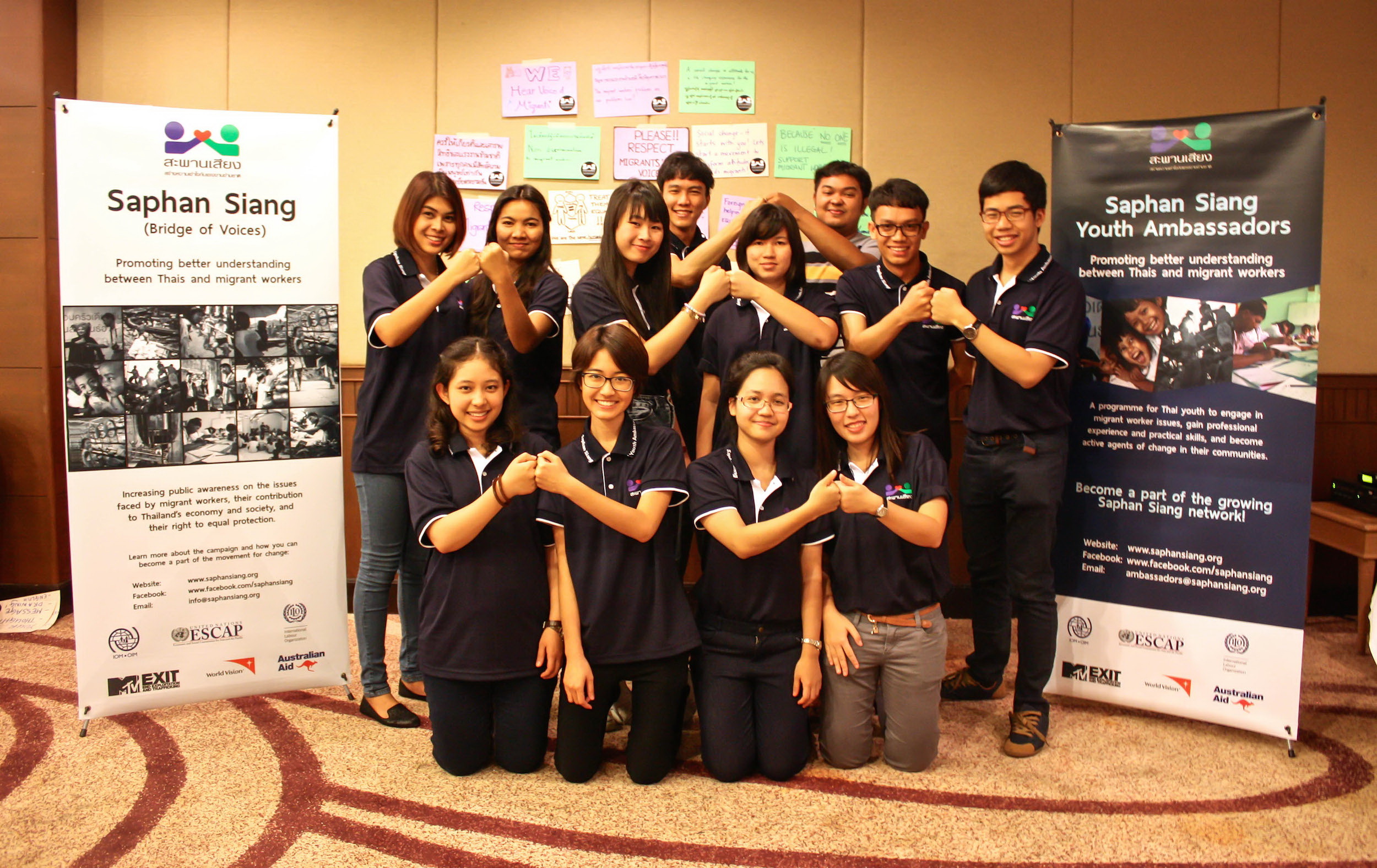 The programme is part of the broader Saphan Siang (Bridge of Voices) campaign that aims to promote a greater understanding between Thais and migrant workers by highlighting the important social and economic contribution migrant workers make in Thailand. The campaign is supported by the International Labour Organization (ILO), World Vision International (WVI), the International Organzation for Migration (IOM), the United Nations Economic and Social Commission for Asia and the Pacific (UNESCAP), community groups and academic institutions.
These young people came together with common passion to improve the situations migrant workers are facing – be it poor working conditions, low wages or lack of access to health and other social services. Often classified as "the 3Ds" (dirty, dangerous, demeaning), migrant workers are unavoidably faced with a host of social problems such as social exclusion, prejudice, discrimination, exploitation. As a result, these stereotypes are systemically translated into negative public perception towards the migrant population.
To put things into perspective, a public attitude study conducted by the ILO's GMS TRIANGLE Project found that as high as 80 per cent of Thai respondents believed that migrant workers are responsible for crimes, while only 40 per cent were aware of the net contribution made by migrant workers to the Thai economy. Challenging these myths is important, because attitudes translate in action and behaviours that impact on migrant workers.
Over 2.5 million migrant workers from countries such as Myanmar, Lao People's Democratic Republic and Cambodia, contribute significantly to the Thai economy. Recent estimates show that migrant workers represent more than 5 per cent of the total labour force in Thailand and contribute around 1,709 million baht (US$53m) to the Thai economy each year. This contribution amounts to 7-10 per cent of profits generated by the industrial sector and 4-5 per cent of the agricultural sector, according to International Health Policy Programme. These migrant workers are a vital component of the national labour force; in the fishing industry, construction, agriculture, factory and domestic work – sectors that are considered undesirable by many Thais and potentially would even collapse without migrant workers'  efforts.
The twelve selected Youth Ambassadors are currently undertaking six month volunteer placements with civil society organisations – stretching from Chiang Mai to Pattani – that work towards the protection of migrant workers' rights and increasing migrant workers' access to social services. They have been assisting with a range of activities including education and training events, outreach activities in migrant worker communities, teaching English and Thai, providing paralegal services, and organisational support. This volunteer programme will run until the end of August – in time for the students to return to their universities for the new ASEAN academic calendar.
Working closely with these organisations and being exposed to various issues relating to migrant workers allows Youth Ambassadors to understand the core challenges migrant workers face, and, equipped with newly acquired skills as well as awareness on the issues, act in response to these social challenges in their universities and communities.
Dhiramedhist Lueng-ubon, a Youth Ambassador volunteering at Foundation for Labour and Employment Promotion (HOMENET) reflects on these attitudes, 'Creating positive image is unquestionably important because the image of people constructed in our mind always affects the way we treat them.'
The Saphan Siang Youth Ambassadors programme is not just another programme where young people are convened in the short-term to attract handsome media coverage. It is a programme that has long-term aspirations with a clear commitment to addressing migrant worker issues, and an ultimate goal of improving the lives of migrant workers and their basic human rights. It is hoped that these Youth Ambassadors are the inaugural group, the first of many that will allow Thai university students as well as young migrants themselves to engage with these issues as active agents of social change.
Wipanan Tanthanasarn, a Youth Ambassador currently volunteering at World Vision International of their End Trafficking in Persons project considers the project as building a bridge between Thais and migrant workers, but also for professional development "Saphan Siang becomes the bridge for me and other youth ambassadors to gain invaluable experience from working with the host organisations," she said.
Throughout their journey, Youth Ambassadors will be reflecting their experiences and lessons learned through engagement with various social media platforms. They will also be part a growing youth network with the support from the campaign and its wide network of affiliates. These twelve youths will have an opportunity to engage in a social movement in an effort to continue to create a positive image of migrant workers in Thai society and bridge social gaps between these sometimes disparate groups.
Natthawuth Rappayoon, another Youth Ambassador volunteering with Raks Thai Foundation, shared his thoughts on the programme, "the programme has taught me many things. Most importantly, it's taught me to understand migrant worker issues and allowed me to really listen to their voice. This is how my attitude towards migrant workers has changed, and this will surely have an impact on how I live from now."
On the occasion of May Day, when we are all thinking about workers' rights, follow the journey of these twelve Youth Ambassadors from the programme's blog  www.saphansiangambassadors.wordpress.com and be part of the campaign for social change.