On Tuesday, 25th March, hundreds of dog skins and bones were discovered in a forested area of the north-eastern province Sakon Nakhon, where business is booming for dog-smugglers because of their access to the Mekong River and close proximity to the Laos border. The latest news involved with the dog smuggling trade has sparked outrage among the groups who are working to fight the illegal trading of dogs for meat, skin, or organs, and who feel that the Thai government is doing very little to combat this highly-profitable, cruel and illicit trade.
A screenshot from a news video about the illegal dog trade covered by Australia Network News.
A local, Thai-run campaign group who works tirelessly against the dog smuggling trade, Watchdog Thailand, has expressed their outrage over the constant findings related to the trade, citing the lack of progress made by authorities due to corruption or simple indifference. In May 2013, Sakon Nakhon saw over 2,000 dogs rescued from their cramped cages (up to 20 dogs per cage is common in the trade), where it's believed they were being prepared to be shipped over (up to 1,000 per truck) the Mekong River to Vietnam or China, where they would have been legally consumed as meat. Although killing dogs for their meat is strictly prohibited in Thailand, and authorities claim they are cracking down on dogs being transported across the border for future sales, the figures still stand at astronomically high numbers – up to 5 million dogs are slaughtered each year across the world for human consumption, which is explicitly linked to an unfathomable amount of suffering and pain for the animals. Vietnam claims 1 million of those dogs, who are often slaughtered by bludgeoning or being skinned alive, usually in front of the other dogs awaiting their deaths.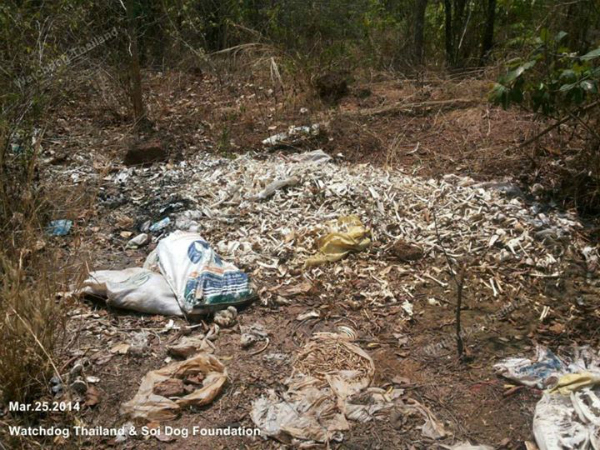 Dogs' bones strewed across the ground in Sakon Nakhon on the Watchdog Thailand page.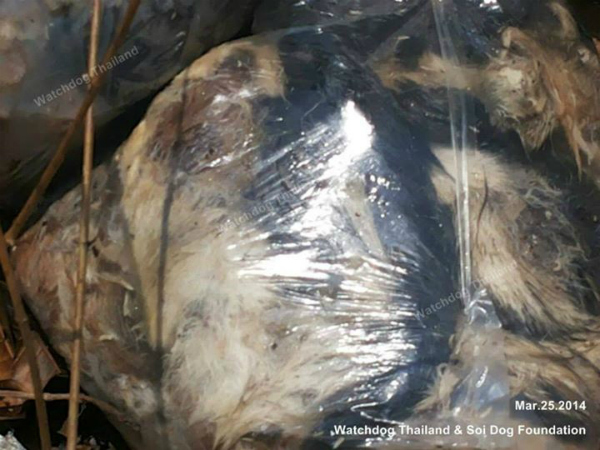 Another photo by the Watchdog Thailand page of the dogs' skins found at the scene.
The Humane Society International has been working with local outfits in Southeast Asian regions where the dog meat trade is thriving, to try and raise awareness of the needless cruelty the animals suffer in order to be eaten or otherwise consumed. The apathetic fight against the trade on the part of authorities has the HSI and other organizations exasperated, who are now focusing the fight on human health rather than animal suffering, in a bid to stir passionate governmental reactions. It is well known that ASEAN member state governments formed an ambitious regional strategy (Southeast Asia Dog Rabies Elimination Strategy) which aims to entirely eliminate rabies in these states by the year 2020, a disease which kills 50,000 to 70,000 people every year. Seven of the ten ASEAN states are currently struggling with rabies at an endemic level: Cambodia, Indonesia, Laos, Myanmar, the Philippines, Thailand and Vietnam. Singapore, Malaysia and Brunei are considered rabies-free countries.
The Asia Canine Protection Alliance (ACPA) was formed by the Humane Society, Change for Animals Foundation, Animals Asia and Soi Dog Foundation, and aims to provide financial assistance, expertise and other necessary resources to governments and officials in Thailand, Cambodia, Laos, Vietnam and elsewhere. Right now, they believe that these countries will not be able to comply with the rabies elimination strategy by 2020, as these countries do not comply with their own national rabies controls and regulations, nor do they follow international recommendations for rabies control and elimination. They believe that the strategy's objectives will not be met until these governments manage to destroy the trade in dogs for meat, which transports uncared for and unvaccinated dogs without food or water from one country to another, forces unimaginable cruelty and immense suffering on these living animals, and spreads lethal diseases among the people who come into contact with the dogs as food or otherwise.
A recent advertising campaign launched by Animals Asia in China is challenging ordinary Chinese citizens to "Say No to Cat and Dog Meat" and re-evaluate their possible acceptance of eating something that could be their pet, and ultimately, their friend. The adverts, in the form of 279 posters in train stations, bus stations, and elevators in 14 major cities, feature cats and dogs with an anonymous hand holding chopsticks around the animal's faces, with powerful text which reads, "Do you know what you're eating when you visit a restaurant? A stray from the street?" or "What you just put into your mouth could have been a loyal guardian who defended a family home."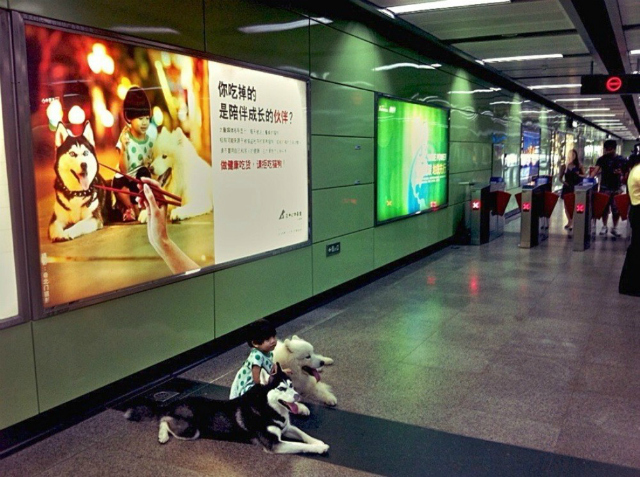 The advert comes to life when the little girl and two dogs from the poster pose in a station.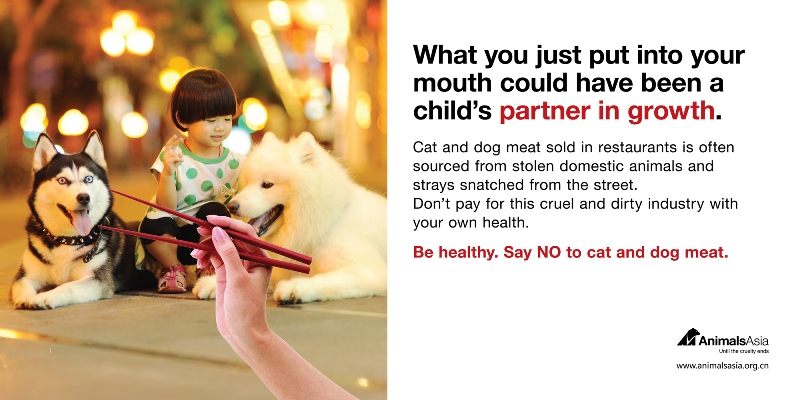 The original poster, featuring the little girl and her furry friends.
You can help by learning about and becoming involved with these organizations, and standing up for the defenceless dogs who become meals in neighbouring countries by sharing your views on so-called taboo topics like eating dogs, in public and social media, and aligning your support with those who are fighting against the trade, both online and in daily life. A recent piece on CityNews about Soi Dog Foundation's petition called Stop The Dog Meat Smuggling Trade has already attracted hundreds of views and numerous shares on Facebook, and the petition itself has gathered 101,436 signatures with countless messages of support and outrage against the massive illicit trade. Soi Dog Foundation plans to hand it over to Prime Minister Yingluck Shinawatra once it has reached 1 million signatures, who will then have to respond to the petition and make her next move amidst the baited breath of hundreds of thousands of people against killing dogs for meat.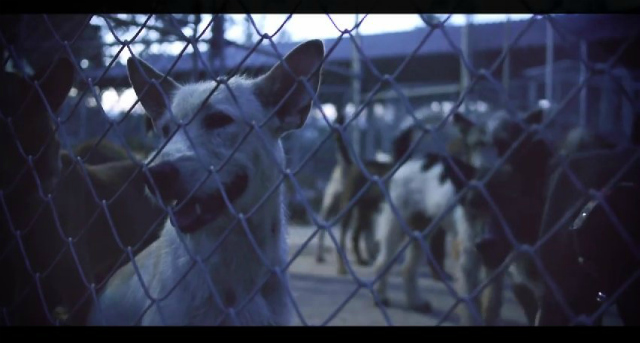 The still above is from the trailer for the documentary Shadow Trade – The Price of Loyalty, a powerful documentary that exposes the illegal dog meat trade in Thailand which was produced for the Soi Dog Foundation by Environment Films. John Dalley of the Soi Dog Foundation says, "Some of the footage we receive is so horrific it's too strong even for the media to run. It's so inhumane… it's quite literally hell on earth."