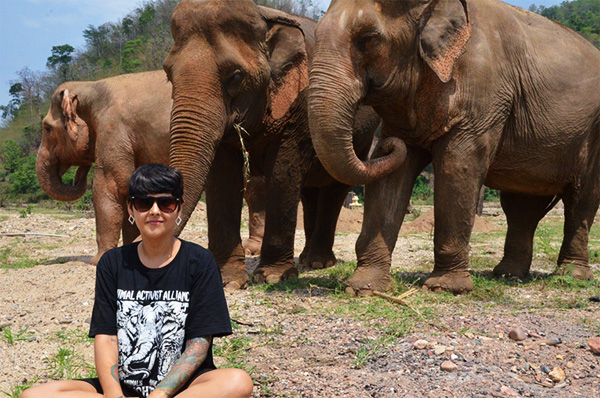 Giselle Correia
We arrived in Thailand on July 14th 2012 with the intention of staying one month.
It is now May 8th 2013 and we are still here.
Before heading to Thailand we travelled through Egypt, India, Nepal, Vietnam, and Cambodia. We had a wonderful time exploring all of these destinations, in fact Egypt is one of our favorite countries in the world, but we don't think we could spend as much time there as we have in Thailand.
Our first stop in Thailand was Save Elephant Foundation's Elephant Nature Park. We had booked a week stay in the jungles of Chiang Mai to help with the daily duties that come with caring for over 30 elephants.
Our chores included washing fruits and vegetables in the elephant kitchen, cutting grass, shovelling elephant poop, and picking fruit. Something that most people do not have the unbelievable chance of doing is caring for a newborn baby elephant.
When we arrived there was a baby at the park who was in need of 24 hour care. His mother had rejected him and he needed as much love and care as we could give him. This was an unforgettable experience and one that we will never forget.
Our whole week at the park consisted mostly of caring for the baby and making sure he was as comfortable as possible.
Unfortunately all of our love and care did not save him. He was not strong enough to survive without his mother.
He passed away.
For the next 6 months we helped with elephant conservation work, visited a facility that was housing over 2000 dogs that were seized from the illegal dog meat trade, and worked for several months with all of the wonderful dogs at Elephant Nature Park. On our days off we would head into Chiang Mai and wander the streets admiring the offbeat art scene, relaxing in homey cafes, and sampling all of the amazing varieties of Vegan food. Needless to say, we fell in love with Chiang Mai and it's laid back vibe. It is a place that we could settle in and called home.
But like all great things, our time in Chiang Mai came to an end and we were off to another adventure in Bangkok.
PAWS (Pet Animal Welfare Society) was our next stop, located in the Sukhumvit area. We lived at PAWS for 2 months and cared for all of the soi cats there. It was another great learning experience. We got to know Bangkok very well and really enjoyed living in the city.
While living in Bangkok we were informed about a very big travel contest from mydestination.com that we entered and made it to first place with over 33,000 votes from around the world. We had to create a 3 minute video about a destination, and since we happened to be in Bangkok, we showcased the vibrant city. We filmed places where we loved to eat, shop and gave tips on how to get around the massive city. We are now heading to London England on May 18th for a one week all expenses paid trip where we will meet the other 9 contestants and participate in a variety of challenges around London.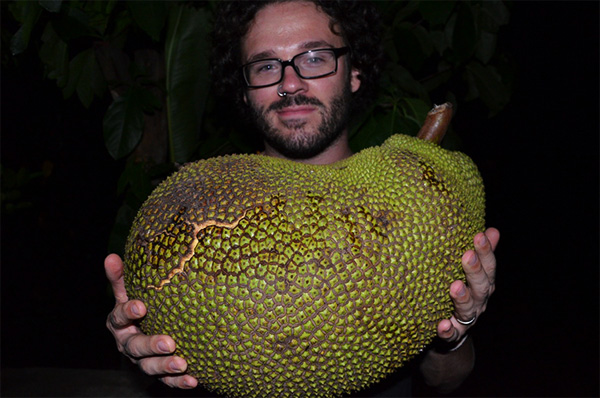 Cody Kuchirka
If we win we will be named the new travel ambassadors for MyDestination.com and travel the world for 6 months all expenses paid, plus $10,000 spending money, and a $50,000 check when we get home. This is a huge opportunity for us and we would love the chance to experience more of what this world has to offer.
At the moment we are back in Chiang Mai preparing for our trip to London. We are creating weekly v-logs about our time in Thailand and the rest of our travels. We have had such an amazing time in this beautiful country and we have met some incredible, inspiring people who have influenced us for the better. We have been all throughout Thailand. From down south island hopping to renting scooters and cruising around Pai. Chiang Mai is still our favourite place in Thailand.
Our time in Thailand is coming to an end, and we couldn't think of a better way to spend 11 months here than what we did.
We head to Bangkok May 11th and spend one week getting ready before flying out to London. We fly back into Bangkok after London and then head home to visit family and friends 10 days later.
Thailand will always be our second home.
If you would like to Follow and Support us on our journey to London, please go to this link and click on the green "Support and Follow this Finalist" button. http://www.mydestination.com/users/giselleandcody/bbb#tab
You can also follow our continued travels at www.mindfulwanderlust.com