Over the weekend the internet was awash with news of a twin bomb attack in Bangkok on Friday, 17th January 2014, which occurred at around 1 p.m. and injured at least 38 people, with 11 still remaining in hospital. On the morning of the 20th January (Monday), reports began surfacing of another bomb attack on Sunday afternoon.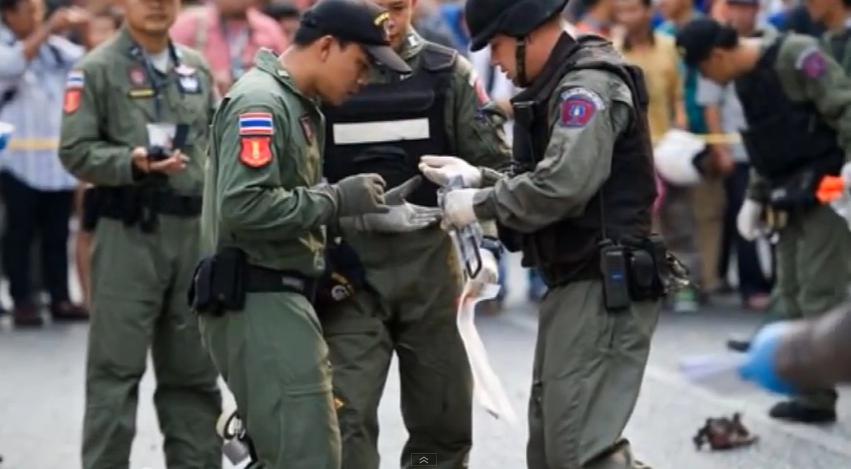 Soldiers investigating the evidence found at the scene of the Friday bomb attack.
One 46-year-old taxi driver died from shrapnel-related injuries sustained during the explosion, which took place near Chulalongkorn University in the centre of the capital. The shrapnel had mangled a main artery and lacerated his left lung, causing blood loss that was too severe to recover from, and other complications including kidney failure and circulatory collapse. The man, Prakong Chuchan, had only arrived in Bangkok from Phuket on 12th January. His Facebook photos see him at different protest sites in Bangkok, wearing red, white and blue whistles and armbands. His last status read, "Even if we do not win, we will not back down."
Prakong Chuchan is now being used as a martyr and symbol for the anti-government protesters, with Phuket's government offices expected to be shut down by thousands of marchers during the upcoming week. Many people have now joined the protesters as a gesture of respect and grief for the father of three. Based on the current reaction to the violence in Bangkok, protests in Thailand's southern provinces are expected to intensify. This will be the first time that Phuket's government offices and Patong's council administration will be targeted.
Suthep Thaugsuban has promised to give Prakong's family 5 million baht, which must go towards helping Prakong's widow, a low-paid seamstress, with the care and education of their three children. According to the director-general of the Ministry of Justice's Rights and Liberties Protection Department, Narat Savetanant, the Chuchan family would receive 100,000 baht as compensation as stated by the law.
Some see the 5 million baht promise from Suthep as a generous gift, while others see it as a way for Suthep to draw more attention to himself and his cause, and others question why the family will receive such an extravagant compensation in light of other murders throughout the country, unrelated to the protests, where little or no compensation was received.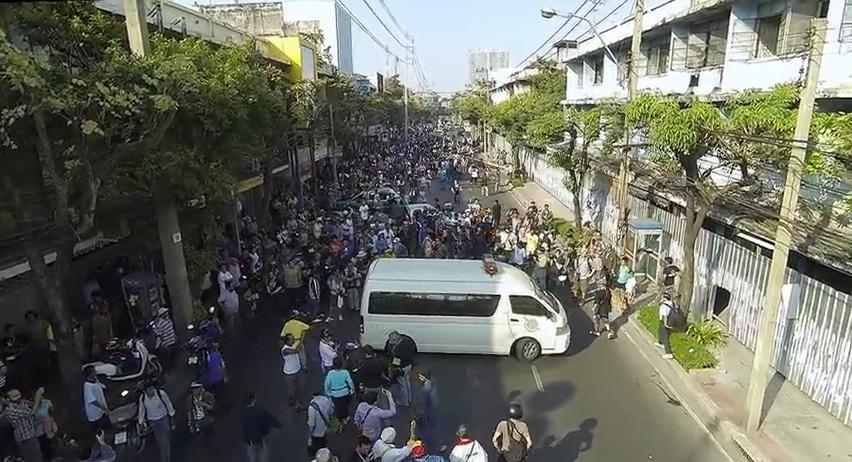 Police were booed by the crowd when they arrived at Friday's bomb scene.
Friday's grenades exploded as protesters were making their way from Lumphini Park to the Pathumwan district, where they have their centralised demonstration site set up. The attack was believed to have been aimed at Suthep Thaugsuban, who was leading the march about 200 metres away, and who quickly left the scene unharmed.
The frag grenade was thrown from a room in an abandoned building, in which evidence of permanent residence was found, including a refrigerator with food in it, along with loaded guns and walkie-talkie devices. This is the fourth time in recent days that the same grenade has been used in an attack, with the previous two being used on Democrat Party Leader Abhisit Vejjajiva's home on Wednesday night, and another on a Bangkok governor's home on Thursday night, which also happens to be the famed Suan Pakkad Palace.
On Saturday, another violent incident took place, where a shooter opened fire on protesters at a site in the Lad Prao district, seriously injuring a 54-year-old man, who has undergone surgery and remains in the intensive care unit. Throughout the protests, which began on 31st October 2013, there have been numerous cases of violence, from shootings to small explosive attacks, which sees many people worried that the violence will worsen. The government, authorities and protesters have all previously agreed that they share a stance against violence.
Sunday afternoon saw yet another violent attack at the Victory Monument, in which frag grenades were hurled at a crowd, gathered about 100 – 200 metres away from a main rally stage. The first blast injured 28 people, including a female journalist for the Post Today. Nearly two minutes later, another grenade detonated near a row of vendors selling anti-government gear, such as shirts and whistles. The scene saw bloody protesters and PDRC guards chasing the alleged perpetrator as far as they could by foot, before he fled on a motorcycle. During his flight he managed to fire a gunshot at the group, injuring one person.
Guards later reported that they had noticed the suspicious man and requested that he leave the area where the rally was taking place. It is now believed that there were six assailants behind the explosions, who were seen scouting various areas of the site before the attack.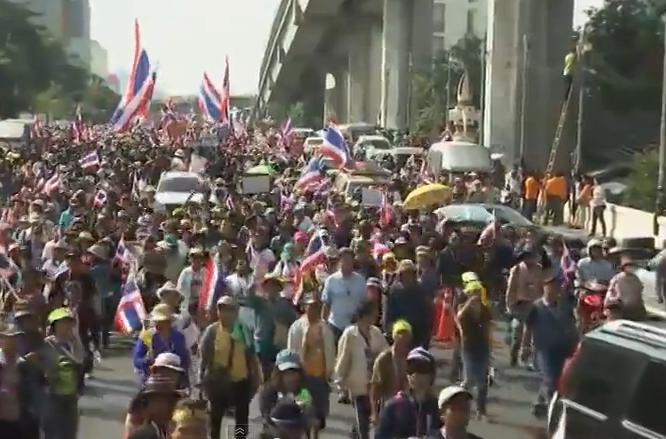 A shot of anti-government protesters marching in Bangkok during the shutdown.
Protesters have vowed to strengthen their marches against the government in the face of a possible warning from government supporters. Others believe that Friday's attack was intended to injure or even kill Suthep, who was nearby, or as a means to solidify divides between the colour-coded factions. There are rumours of a red cap being found along with a cache of weapons in the abandoned building, which indicates to many that "red shirts" or even the government itself was behind the attack. Others feel the suspicious red cap was strategically placed to deceive or further stroke the flame of the protests, while some say the red cap simply didn't exist in the first place.
Anti-government protesters are now unified in the belief that the government "has blood on its hands", after opposition leader Suthep Thaugsuban said, "This government has blood on its hands for being behind the blast," during a post-attack speech on Saturday. Since the political unrest began last year, the death toll has risen to 9 people, with 521 people injured.
To learn more, Wikipedia now has a page documenting the protest situation: 2013-14 Thai political crisis.