CityNews – The National Archives has today made thousands of digitised First World War unit war diaries from France and Flanders available online. They have digitised around 1.5 million pages of war diaries so far, and will be releasing them throughout the year.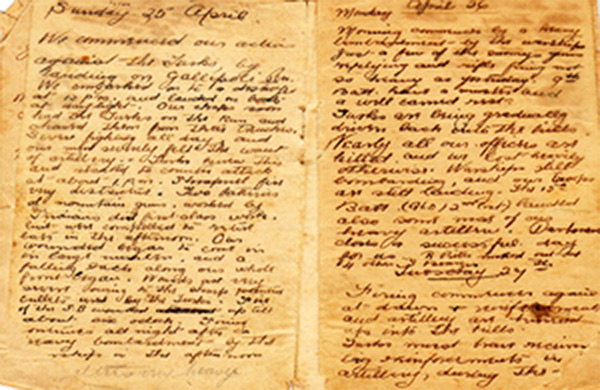 Diary of Gallipoli: entry for 25th April 1915
This first batch of unit war diaries reveals the real-time account of the first three cavalry and the first seven infantry divisions who were part of the first wave of British army troops deployed in France and Flanders, with just over 300,000 pages in total.
Other entries record the experiences of the 4th Dragoon Guards who fought in the Battle of Mons, the first major action of the war for the British Expeditionary Force in August 1914.
There are also diaries from soldiers of the 5th Royal Irish Lancers who saw action continuously between 1914 and 1918 and includes the last British soldier to die in the conflict, Private George Edwin Ellison – who was killed in action on 11 November 1918.
To get the manuscripts online, some 25 volunteers scanned hundreds of boxes of diaries, between January and December last year.
Culture Secretary, Maria Miller,said:
The National Archives' digitised First World War unit diaries will allow us to hear the voices of those that sacrificed their lives and is even more poignant now there are no living veterans who can speak directly about the events of the war. This new online vehicle gives a very public voice to some of these soldiers, through which we will be able to hear their thoughts and feelings. Using Operation War Diary, we can follow in their physical shadow as they fought across the Western Front.
The First World War centenary is all about remembrance, recognition and understanding. Yesterday informs today. The National Archives' initiatives are at the heart of the Government's First World War centenary programme to forge lasting connections between the past, present and future as we commemorate the lives and bravery of all those who served in the First World War.
William Spencer, military records specialist at The National Archives said:
" Making the First World War unit diaries available online allows people across the world to discover the daily activities, stories and battles of each unit for themselves."