Citynews – Tigers are in serious trouble. Globally, according to the World Wildlife Fund, their numbers at an all-time low, with 97 percent of the tiger population lost over the past century. Their range has been reduced to seven percent of its former size, and today only 2,500 – 3,000 wild tigers remain in the world.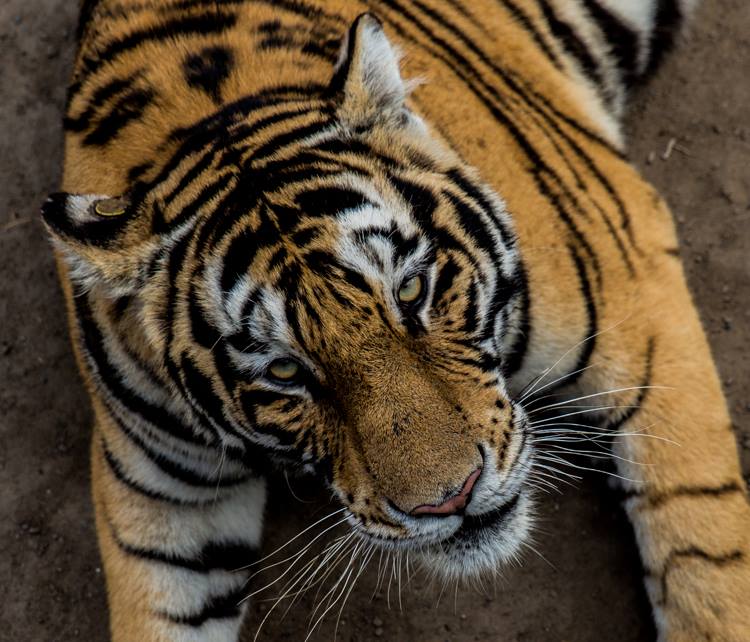 At a Tiger Farm in Harbin, China

Thailand is one of the rare places where wild tigers can still be found, in places like Thung Yai and Huai Kha Kaeng National Parks, but even those living in protected areas are under direct attack from poachers. While tigers used to roam wild throughout Thailand, today there are only an estimated 250 left outside of captivity.
Chris Slappendel is a concerned citizen from the Netherlands with a deep dedication to tiger conservation. On 15th May 2013, he embarked on an unprecedented and completely independent six-month trip to raise global awareness of the precarious situation of tigers. He called his mission TigerTrail.
Slappendel's trip around the world brought him from Amsterdam to Thailand to India and everywhere in between; in total two dozen countries where tigers live or once lived. In each place, he took photos and spoke with local media, NGOs, government agencies, scientists, zookeepers, and essentially anyone with tiger connections. His goal was simply to interact, to learn and teach and draw attention to the precarious situation of the world's tiger population, which could vanish completely if nothing changes.
At the end of his trip, on 11th November, Slappendel held a press conference at the residence of the Dutch Ambassador in New Delhi, India, where he made his culminating announcement. Based on all the things he learned and saw during his TigerTrail, Slappendel's public appeal for what he calls "the 1% conservation charge" is a call to action for companies that use tigers in their name or branding – from Tiger Beer to Kellogg's Frosted Flakes – to pay 1 percent of their annual revenue to an independent tiger conservation fund.
In this email interview, we got all the details about what Slappendel experienced on his TigerTrail, what inspires him and what he hopes to change.
Chris Slappendel (photo by Ben McMillan Photography)
CityNews: What is your background? How did the TigerTrail project come about?
Chris Slappendel: My background is in Marketing, Management and Sales. Since I was 23 I was in management positions until I was 38. After that, I became a freelance consultant, helping companies to improve on their commercial results while adding value to customers.
I was always an admirer of tigers, ever since I was a little kid. When I was 7 or 8 I loved to watch a TV series called Sandokan (if you search on YouTube you'll find a great compilation). He was a Malayan pirate and fought against the English and the Dutch. And occasionally also with tigers. As a young kid (with only 2 TV channels) I was impressed by it!
Last year in June I started planning to see a tiger for the first time in my life. I started surfing the internet and reading more and more. At first, I read a report about 6,000 tigers left in the wild, then one mentioning 3,500, then 3,200 and also on with 2,500. I realized the situation was terrible and much worse than I ever dared to believe. I wanted to do something. Donating money is not my steel so I started discussing this with my friends and some business associates and one thing led to another. In October I decided to do TigerTrail and in May, after 6 months of preparations, I left my hometown Delft in The Netherlands to do this awareness campaign for tigers.

CityNews: How is the project funded?
Chris Slappendel: I think 95% is financed by myself. In fact, I'm eating up my house. The rest is being paid with money I got from people that wanted to sponsor me via a small crowd-funding action. And also some people helped me a lot to organize my trip. And last but not least, a small group helped me with essential things like a website, texts, graphics and my logo.
CityNews: What exactly does TigerTrail do? How do you raise awareness in each country you visit?
Chris Slappendel: The basic thought about TigerTrail was to create something unique that would raise publicity itself. This is the reason I visited all the countries where tigers once lived or still live. Nobody ever did this before. The initial idea was to do a lot of things with social media but all the things we did were just not successful. We found out pretty soon and realized people just don't care about it. They are busy with their lives and couldn't be bothered with the near extinction of an animal. We changed our strategy a bit and stopped working actively on social media.
We tried to get publicity in all countries I visited. Sometimes countries were just not interested and sometimes I visited in the wrong time (like election time). But since I arrived in the tiger range countries, I got a lot of opportunities to speak with press about my awareness campaign and what happened or is still happening with tigers.
Besides that I'm speaking with all kinds of people that are involved in tigers. That means I'm speaking with scientists, park directors, rangers, ecologists, zoo-keepers, law enforcement officers, NGOs, volunteers, villagers, women whose men were killed by tigers, etc. Especially with NGOs and governments, I'm having serious talks about their work, their cooperation (or non-cooperation) and their successes. I've learned a lot about what's going on and I assume they learned some things from me as well.
CityNews: Where did you visit?
Chris Slappendel: Wow… what I wanted to do was visit all places where tigers once lived or still live. But to do that in six months is impossible. I needed to make choices and because of my goals (getting publicity for telling the story of tigers) I also needed to be in a bunch of cities as well. In Thailand, my focus was on tiger tourism which was the reason I visited Tiger Temple, Sri Racha Tiger zoo and Tiger Kingdom. Also I visited Khao Yai, the oldest nature park in Thailand, one of the places where conservation is doing good work.
· Start: The Netherlands – Delft, Amsterdam
· Russia -Moscow
· Armenia – Yerevan
· Georgia – Tbilisi
· Turkey – Istanbul
· Iran – Tehran, Gorgan, Mashad
· Afghanistan – Herat, Kabul
· United Arab Emirates – Dubai
· Tajikistan – Dusjanbe
· Uzbekistan – Tashkent
· Kazakhstan – Astana, Almaty
· Russia – Novosibirsk, Vladivostok, Ghabarovsk
· South Korea – Seoul
· China – Beijing, Harbin, Xian, Guilin, Kunming
· Hong Kong
· Laos – Vientiane
· Vietnam – Hanoi, Ho Chi Minh City
· Cambodia – Phnom Penh, Siem Reap
· Thailand – Bangkok, Chiang Mai, Kanchanaburi, Pattaya, Krabi
· Malaysia – Kuala Lumpur
· Indonesia – Medan, Padang, Jambi (Sumatra), Jakarta (Java), Denpasar (Bali)
· Singapore
· Bangladesh – Dhaka
· India – Coimbatore, Delhi, Sawai Madhopur, Ramnagar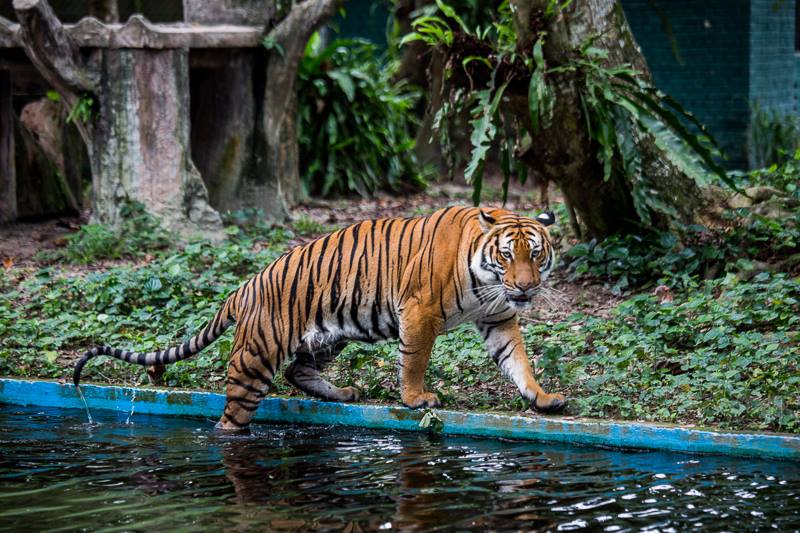 At Zoo Negara in Malaysia
CityNews: What were the local reactions like? The global reactions? Did you feel like your efforts made an impact?
Chris Slappendel: The most important part is still yet to come. I had to overcome a lot of skepticism at first. People didn't believe me. Especially NGOs and governments had to be convinced of my plans. The reactions of the press where as expected. The countries where tigers once lived were – besides some exceptions – just not interested. China and Vietnam (because of the focus on tiger farms) were also expected to be very reluctant and while that was the case with China, Vietnam was actually very interested (with seven interviews). And what we see now is that the international press is getting more interested. Recently, I had an interview with a Spanish journalist which was published in 12 newspapers throughout Spain and also an interview with a journalist of Die Welt, the biggest German newspaper.
Have my efforts made an impact? To tell you the truth, I think so, yes. It's impossible to measure this as the ultimate accountability is a rise in the number of tigers. But the counting of tiger itself is very hard to do, so I can't really be sure. But I know some NGOs and government officials will do something with the knowledge I shared with them. And I really hope that my interviews will lead to more awareness with the people in the countries I've visited. Or even with some politicians. Like in Thailand, because the Thai government should really act to stop the tiger tourism in Thailand and issue new rules about the tiger venues I visited.
CityNews: Can you discuss what you did while in Thailand?
Chris Slappendel: Like I said, my focus in Thailand was on tiger tourism. Besides China, Thailand is the country that is really encouraging poaching by entertaining people with tigers. The demand for wild tigers comes mostly from China and a lot of visitors of the venues I visited were from China. It looks innocent but in reality, it's not. Chinese people visit Thailand because they think they can get tiger meat, buy tiger amulets (teeth), drink tiger bone wine or buy a tiger skin. Personnel of Tiger Temple, Tiger Kingdom and Sriracha Tiger Zoo were getting these questions from Chinese people all of the time. There has been some research on this subject but the sole existence of tiger farm venues fuel the demand for wild tigers. This is why CITES (the Convention on International Trade in Endangered Species of Wild Fauna and Flora) has asked Vietnam and China to stop with the tiger farming.
Besides this, I also noticed that these venues have breeding programs which to my knowledge is illegal. And if they got permission, I really want to know why they got it. In these venues, tigers are not bred for the existence of the species but for one purpose only: to make money.
I visited four venues, just as a tourist. I'm not a journalist, just an observer. First I visited the Sriracha Tiger Zoo in Pattaya. I realized there that people really like playing with tigers. They still have a circus where tigers are being terrorized to entertain people; they hunger tigers so when they get fed with small pieces of flesh they go mad and start fighting with each other; they have this game where people can shoot little boxed with guns and peas to make little pieces of meat fall out when they're hit. But the people that should be managing this in a proper way will even encourage people to shoot at the tigers as well.
Then I visited Tiger Temple in Kanchanaburi, where I witnessed something weird. The people there claim they are monks but their behaviour is quite the opposite. The abbot, who's also the mastermind of all of it, acts like a kind of godfather, parading like a mafia leader and instructing his personnel (some are innocently volunteering, thinking they're doing a good thing). I witnessed animal cruelty a couple of times (like tail-pulling) and a total disrespect for animals, which is also not in line with Buddhism. Also, I witnessed young cubs, which means illegal breeding. Then I visited Tiger Kingdom in Chiang Mai (see next question) and at last I visited the Tiger Temple in Krabi, where monks still have respect for tigers. In this place there are no more tigers but you can sense the respect for the animal when you visit.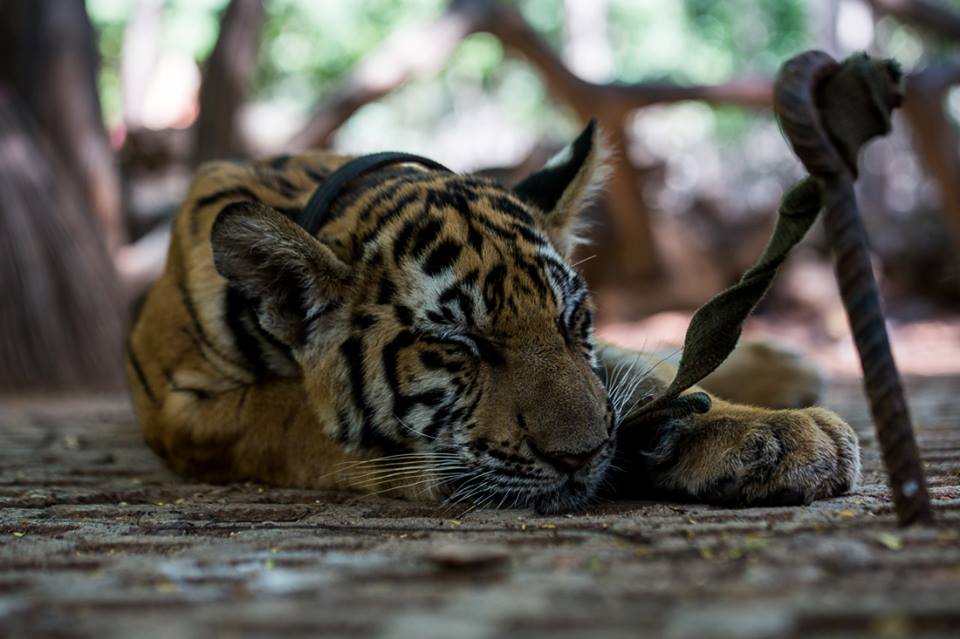 At the Tiger Temple in Kanchanaburi
CityNews: What about Tiger Kingdom? The management is adamant about the fact that they don't drug the tigers. Do you believe them? Does it even matter?
Chris Slappendel: Actually I don't care if they drug them or not. I hear all kinds of stories about a sophisticated way of keeping them lame. But when I was there I saw the true character of the tiger, a couple of times. They are unpredictable predators. They can kill instantly. And visitors – or even employees – are without any chances if a tiger is able to attack. Perhaps they don't use drugs; something I think is much worse is terrorizing them.
The tigers in Tiger Kingdom are really scared of the personnel, and you see this when they raise that little stick that they carry. This is a well-known and effective instrument for tigers to back off. They start using it when tigers are young. What they do is they tick tigers on the nose, which hurts a lot. Tigers remember this and start to get afraid of the stick.
My opinion is that tigers belong in the wild, not in zoos and not in venues like Tiger Kingdom. But you can't release them into the wild because they won't survive. But if they are in zoos you can do two things: treat them with respect and stop them from reproducing. If they reproduce in captivity, their offspring will face the same miserable life they have. I don't know of you know of zoochosis? This is a neurological disease that happens to all animals in zoos.
I have respect for the way the owners organised Tiger Kingdom. And I think they make millions of dollars with it, I really do. There are a couple of issues that are important in my opinion:
1. Respect for animals. Enough space to roam, no terrorising, good food, etc.
2. No breeding. I saw four little cubs, born in the last month I think. As I said, this is illegal.
3. I saw only quite young tigers: what happens with the old ones? Are they too expensive (as they eat more) or are they being sold to other zoos? If so, which zoos and who controls this? My suspicion is that these tigers disappear into the black market where the owner then makes a fortune.
4. Visitor safety: keep them out of reach of tigers.
5. Employee safety: keep them out of reach of tigers. As an employer you can't jeopardise the lives of employees, knowing they can't say no (as they really need the money).
6. Why is there no education?
7. What is the owner doing for tiger conservancy? How much money is he putting into the conservation of wild tigers?
CityNews: What was Tiger Kingdom's reaction to your visit like? Did they know who you were and what you were doing?
Chris Slappendel: I didn't announce my visit. Like I said, I'm just a tourist and an observer. I'm not a journalist or an investigator.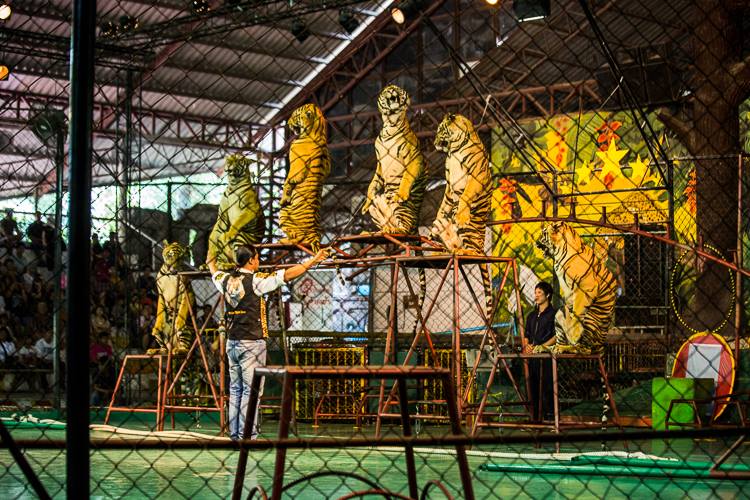 Tiger show at the Sriracha Tiger Zoo
CityNews: What can the Thai media, citizens and tourists do to help the situation of Thailand's tigers?
Chris Slappendel: The Thai should do what the experts say. CITES is very clear about breeding, about trading and about exploiting tigers. The government really should step up against tiger tourism as it's hurting the image of Thailand. Also, the government should increase their efforts to get poachers. The numbers of poachers being caught and convicted is just too low. The Thai media have the responsibility to report about these things. Is there illegal breeding? Are tigers being illegally sold to the black market? Are there corrupt politicians that allow tiger venues to breed young tigers? And tourists? Well, if you enter Thailand you're not being told what you should or should not do. Not by travel agencies, not by governments. If you ask me, tourists should ignore these places. But I know human nature: this will never happen. People want to experience being with the king of the jungle, the most beautiful animal in the world. So rules are important, just like the enforcement of them (even more important).
CityNews: So, what's next? What are your plans for the future?

Chris Slappendel: In the past two months I've been working on a business plan to raise a lot of money for dealing with the real problems. I revealed my plans on the 11th of November during my final press conference in New Delhi, India. The idea is simple and could actually work. I want to create a fund where all corporations that use the "brand" tiger (like TigerAir, Tiger Beer, Kellogs Frosted Flakes, Tiger Thermos, etc.) pay 1% of their annual revenue. The reason for them to do so is simple: they can benefit from a stronger tiger brand by using it in showing their "ecological responsibility" towards their (potential) customers. But there are also millions of reasons not to do so. This is why I am going to use a leverage that they don't like. The brand. Their brand is worth a lot and they don't want it affected in a negative way. What would happen with their turnover and their profits if their customers realise they only use the tiger brand to get better themselves? This is far more worth than the 1%.
To create that leverage, I need to build a strong leverage with all kinds of "tiger"-minded organisations with media connections. During my TigerTrail I spoke with a lot of journalists and "tiger"-organisations and there is a strong will to change the current situation. This idea can really change a lot. Because 1% of their annual turnover is not really a lot for these companies (as they will charge this 1% conservation fee to their customers, so they won't pay a thing, they will only benefit) but is a huge amount for tiger conservation.
With the money, I want to invest in real ground zero activities. Like exposing the ones that consume tiger products. Like exposing the traders that deal in tigers and tiger products. Like investing in good facilities for rescued tigers. Like ending those horrible Tiger Temple and Tiger Kingdom activities. Like investing in drones to make surveillance of large areas easier so encroachment can be stopped. Like investing in exposing corrupt politicians and government officials that deal in land and in tigers. And I want to invest in creating a community that can make a difference in persuading the real destroyers (mining, palm oil and loggers) to stop expanding their activities within tiger territory.
You can find more information at: www.tigertrail.org
Facebook: @tigertrail2013
Twitter: @tigertrail2013
All photos courtesy of Chris Slappendel and TigerTrail