On February 15th 2014, at 3:30pm, at Thapae Gate, V-Day Chiang Mai joined with activists around the world for the global movement ONE BILLION RISING FOR JUSTICE. The campaign built upon the energy and momentum that was created on February 14, 2013 when one billion activists in 207 countries and territories came together to rise, strike, and dance, in the biggest mass action in human history, to demand an end to violence against women and girls.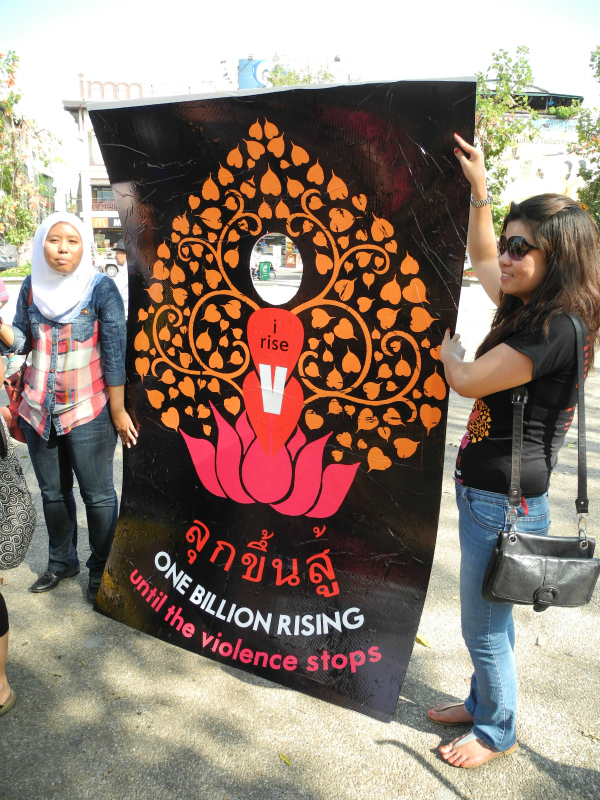 V-Day Chiang Mai is a unique collaboration of non-profit organizations and individuals residing in Chiang Mai who are dedicated to bringing awareness and an end to violence. The event took place at Thapae Gate and featured a flash mob followed by a variety of speakers that led a discussion on this year's theme of 'Justice' and what it means to them in the struggle to end violence against women, girls, and all people who are victims of any form of abuse or violence.
As event organizer Lisa Kerry identifies, her motivation to dance is "for the girls… the ones who don't know they need to rise yet, and to give hope to those that do. I rise to open the dialogue… so that men and women of all walks of life will talk about this fact: 1 in 3 women and girls will be raped and/or beaten in their lifetime. I rise so it can be addressed, understood, and resolved."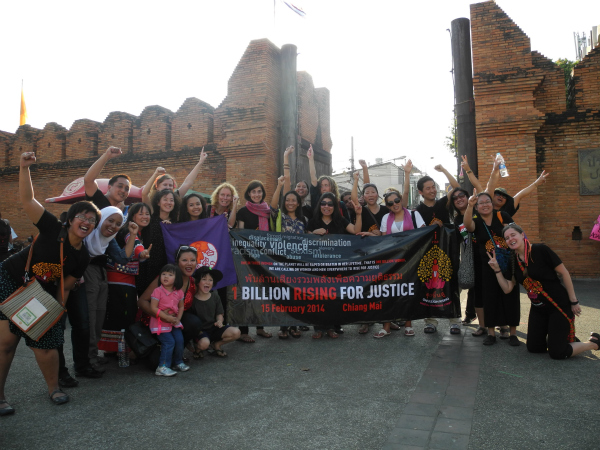 Mrinalini Rai describe her definition of this year's gathering: "Justice to me is to have a society in which there is no room for inequality of class, wealth, boys and girls, men and women, but instead it is respect and dignity, equal choices and opportunity. I stand together to ask that women be free to define who they are, what they want and how they want to see their rights defined not by others, but themselves."
Pichay Buai Leang also describes justice and why she danced on Saturday: "Justice to me is every voice being heard. Every single human being is equal no matter who they are. Today I am rising for all women on the planet, especially for those whose voices are not heard, and those who are being abused."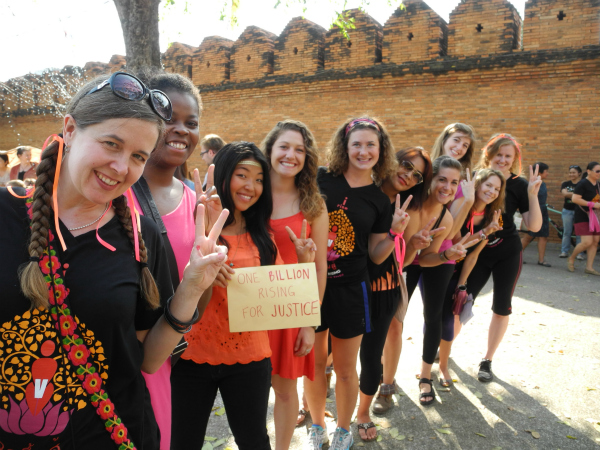 Cobi Smith expressed her reasons for dancing: "I am rising for justice and prevention of violence against women. I want to support all women to feel freedom of expression. For every one of us dancing, there is someone who doesn't feel safe to dance freely because she fears oppression or violence. I want to live in a world where everyone experiences freedom to dance openly, regardless of gender, culture or spiritual beliefs."
Tanya Lutvey also describes her feelings and motivations for joining the movement: "Justice is freedom. I rise and dance so that all people can experience a fair and just society, regardless of gender. So those in time all women can live freely without fear of violence or persecution."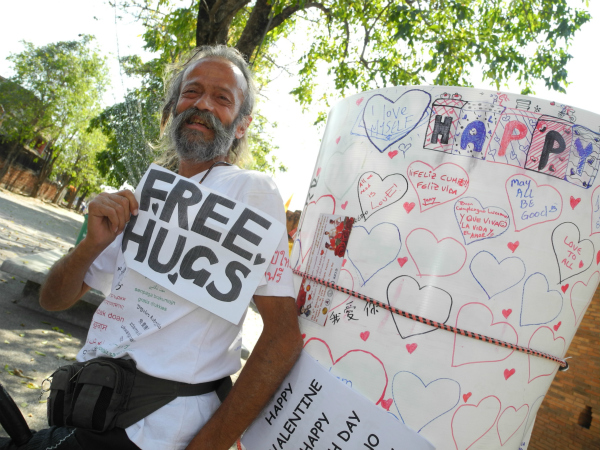 To learn more about One Billion Rising for Justice V- Day Chiang Mai call 082-183-5243, email the organization at lisakerryphoto@gmail.com, or join the Facebook page here.
For more coverage of the events worldwide check out this article.
The V-Day event is supported by Asia Pacific Forum on Women, Law and Development (APWLD). APWLD is Asia Pacific's leading feminist, membership driven network. Our 189 members represent organisations and groups of diverse women from 25 countries in the region. We use capacity development, research, advocacy and activism to claim and strengthen women's human rights. More at www.apwld.org.