CityNews – As you may or may not know, the world's rhinos are in grave danger. The great creatures that once roamed throughout Eurasia and Africa are today nearly extinct. Two species in Asia, the Javan and Sumatran, are considered Critically Endangered, and a subspecies of the Javan rhino was declared extinct in Vietnam in 2011, according to the World Wildlife Fund (WWF).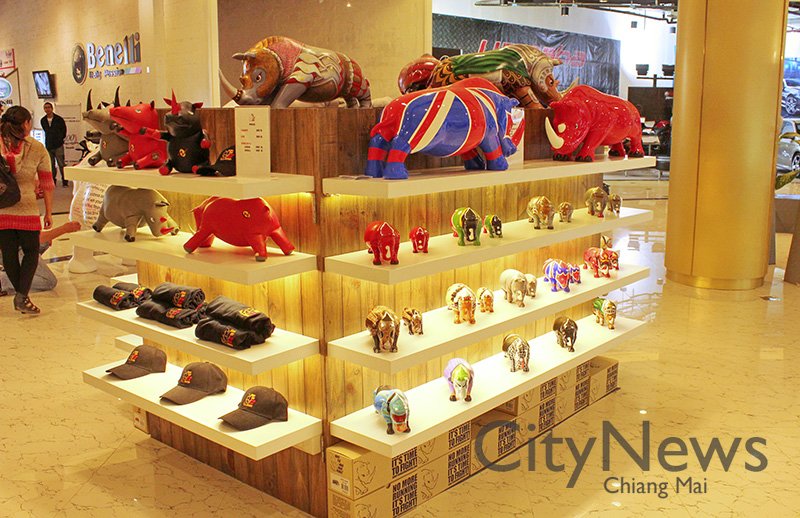 Painted Ninos and other merchandise sold for charity at Maya Mall
Their biggest threat? Poachers, looking to profit off the rhinos' iconic horns. The reason? Outmoded beliefs in traditional medicine, which posit that rhino horns are extremely valuable for their power to heal fevers and detoxify the body. Today, the horns have become an exclusive status symbol and are worth more than gold on the black market, despite the fact that science has disproven all claims of their medicinal value.
As a result, hundreds of rhinos are being slaughtered every year, and the numbers are only growing. In 2012, 668 rhinos were killed. In 2013, the number is expected to be over 1,000.
The methods poachers use to collect these almighty horns are brutal. Rhinos are shot and maimed, then their horns are cut off and the rhinos are left to bleed to death. Poachers will readily kill pregnant females and baby rhinos; there is no discrimination.
Clearly, something needs to change. And so, from Marc Spits and the rest of the design team that brought you the ever-popular Elephant Parade comes a brand new philanthropic icon: Nino the Mad Mad Rhino. And Nino says, "No more running, it's time to fight!"
Elephant Parade's designers have collected over six million dollars for Asian elephant conservation, and now they hope to do the same for rhinos. Their mission? To put an end to rhino poaching by raising money for organisations dedicated to protecting rhinos, and raising global awareness about the rhino crisis via social media, websites, and their presence at famous zoos around the world.
The social company will donate profits to Save the Rhino International (SRI), a well-respected charity that works to conserve critically endangered rhinos throughout Asia and Africa via anti-poaching and monitoring activities, environmental education, community conservation, capacity building, trans-locations and demand reduction. Their goal? To bring real, long-lasting and widespread benefits to rhinos, other endangered species, ecosystems and the people living among them.
The Nino figurine is designed to become a global symbol for the fight against rhino poaching. Its designers have teamed up with local artists to paint Nino in a variety of different colourful and creative ways, all inspired by various types of warriors from around the world.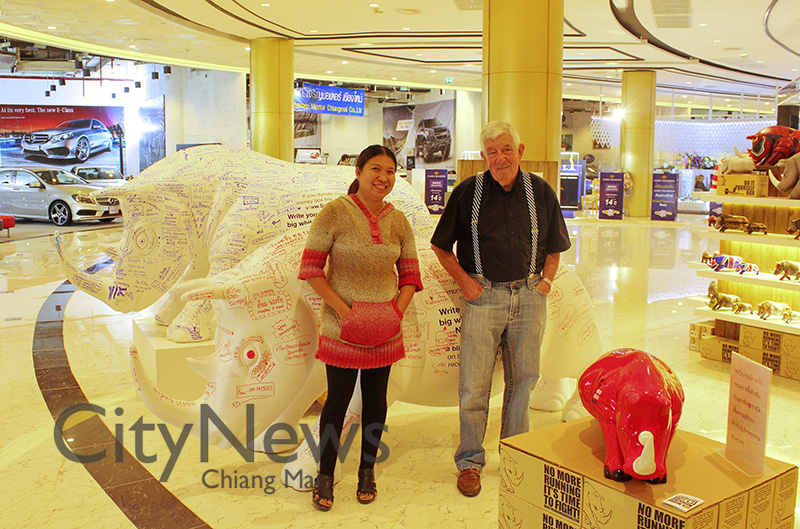 Nino the Mad Mad Rhino Founder Marc Spits and Manager Pat in front of signed Ninos at Maya
Several large versions of Nino are currently being displayed on the ground floor of Maya Mall in Chiang Mai. One is painted while the others are plain white; or rather, they once were. Now, they are covered with the signatures, phone numbers and email addresses of those who have donated money toward Nino's cause. On the 23rd of February, two local blind girls will pick winners by randomly pointing out spots on the rhino where names are written. The winners will receive their own painted Nino figurine. To get involved, head down to Maya today to donate and sign!
Of course, painted figurines are also available for purchase at Maya, as well as DIY kits for those who want to paint their own Nino. Visit Maya or www.ninothemadmadrhino.com to learn more, and be sure to 'like' Nino on Facebook: www.facebook.com/ninothemadmadrhino.