Former prisoners jailed for crimes of political unrest and lèse majesté have created a support network of cons and ex-cons to deal with the social stigma of their politically fuelled arrests. Led by former prisoner Thantawut Twewarodomgul, the Network of People Affected by Imprisonment in Political Conflicts After the Coup (NPAIPC) has currently united thirty former prisoners, a majority of whom faced imprisonment after the red and yellow shirt conflicts of 2008 – 2010.
Lèse majesté, the crime of violating majesty, has been prohibited by the law of Thailand since 1908. Even when the Kingdom of Thailand ceased being an absolute monarchy, turning instead to be a constitutional one, provisions were made in the 1932 constitution to retain Lèse majesté laws. In the 17 reiterations of the constitution, with the most recent update in 2007, all have contained the Lèse majesté clause. Though the clause lacks specificity (relying rather on a subjective reading of what constitutes "defamation"), a loose definition holds that one can be imprisoned for Lèse majesté for any negative remarks aimed at the royal family that are not seen as constructive or helpful to the Kingdom. The most recent reinterpretation of the law occurred this past year in 2013 when the Supreme Court of Thailand decided that the word "king" in the clause refers not only to the living king, but to all kings past and present and all of their families as well.
Prison terms for Lèse majesté usually last from three to fifteen years depending on the severity of the offence. From 1990-2005, an average of four to five cases of Lèse majesté were officially brought to court annually, totalling around 90 cases. However, from January 2006 to May of 2011, over 400 cases of Lèse majesté were brought to trial, a 1,500 percent increase. This increase can be attributed to many factors, but perhaps no factor seems more obvious than the political unrest seen in the country during the years beginning in and following the year 2006.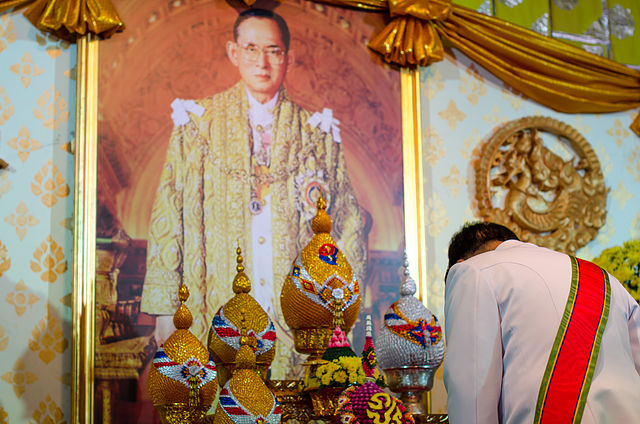 A person pays respect to an image of the king which are common throughout Thailand.
Though the shift is shocking and, some might say, unbelievable, this increase in Lèse majesté rulings helped to transform a once small, disparate community of political prisoners into a large community of individuals seeking out the right to unite and work with one another to help improve and reform a system they believe to be flawed and unjust. Founder and former political prisoner Mr. Thantawut, who continued to be politically active even behind bars, has worked tirelessly to connect current and former political prisoners for solidarity's sake, and also to provide resources and support to released political prisoners who face hardship in finding new places of employment. Because of the social stigma associated with Lèse majesté, many former political prisoners cannot find work and are often ostracised by their families and other citizens.
As Mr. Thantawut said in a report to The Bangkok Post, "We've been struggling in society because the political climate is different from that of the time before our imprisonment. Economically and socially speaking, we've been devastated." Therefore, one of Mr. Thantawut's goals in creating the NPAIPC organization was to find sustainable and responsible ways to reintegrate political prisoners into society.
However, this reintegration process can only happen if the political prisoners are allowed release from jail. Attempts to implement amnesty laws to release political prisoners have not worked and though arduous, the most practical means for obtaining freedom is through the application of a royal pardon. Though some political prisoners, such as Mr. Thantawut, are offered royal pardon, the majority of political prisoners find their appeals rejected and even if their arrests were big news at the time, these prisoners are often forgotten. If it weren't for the network being established by Mr. Thantawut and other key leaders in the NPAIPC, these political prisoners would fade into the prison system and, perhaps, never resurface.
Along with the NPAIPC, there are other forces working to ensure that this doesn't happen. A group of students, with the families of some detained political prisoners, gathered to remember and honour these prisoners of conscience, as one student called them. Around fifty individuals joined together at the prison to demonstrate their solidarity with those political prisoners still behind bars.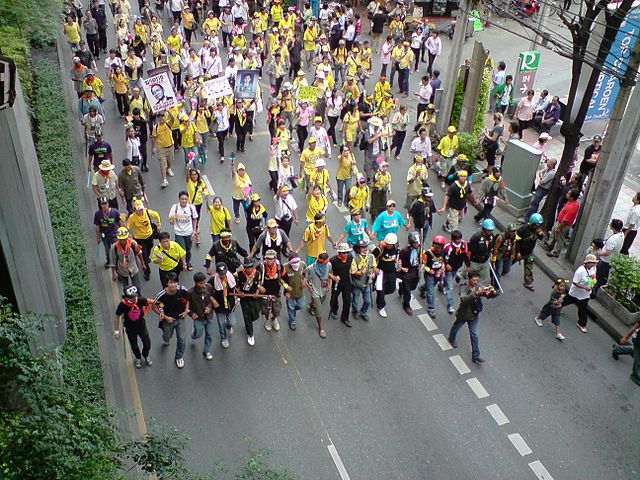 A PAD rally on Sukhumvit Road in Bangkok, 2008.
Though conversations and demonstrations about the legitimacy of Lèse majesté have waged for years, it is crucial to remember that these heady musings are and should be rooted in the realities of those directly affected by the law. As one student remarked, "In studying the problem of the Lèse majesté laws, we must not forget that there are real examples of those who become victims of the law being detained in prison." Some of these examples include Daranee Charnchoengsilapakul, the only female Lèse majesté prisoner who received three consecutive sentences and recently dropped her appeal to the Supreme Court because of poor health, as well as Khatha Pachachirayapong who is still, though haltingly, fighting for his release in the Supreme Court.
It's unclear what the future holds for these political prisoners and the organization they've managed to create, and for Lèse majesté and its role in Thai society. However, this uncertainty does not mean that Mr. Thantawut and his fellow advocates in the NPAIPC will stop their work. As Mr. Thantawut states, "It's necessary that we have to help ourselves to stand on our feet financially… only former inmates can understand and access the former prisoners."