Trick or treat? Halloween is upon us, and Chiang Mai has no shortage of spooky, scary, boozy events for your ghoulish enjoyment. So costume up and choose from this array of fabulous parties, going on all weekend!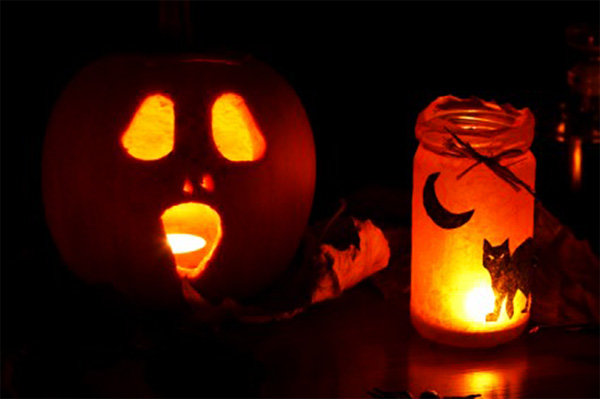 Wednesday, October 30th:
Spooky Sangdee Halloween Eve Party: Monsters, ghouls, witches, demons, zombies and freaks unite for a night of horror and humour. Bloody finger food, Frankenstein welcome drink, live DJ, free face and body paint, and great prizes for best costumes. Come get your pre-Halloween freak on! 8 p.m. until late. Free entry, at Sangdee Gallery on Sirimangkalajarn, Soi 5. www.facebook.com/sangdeegallery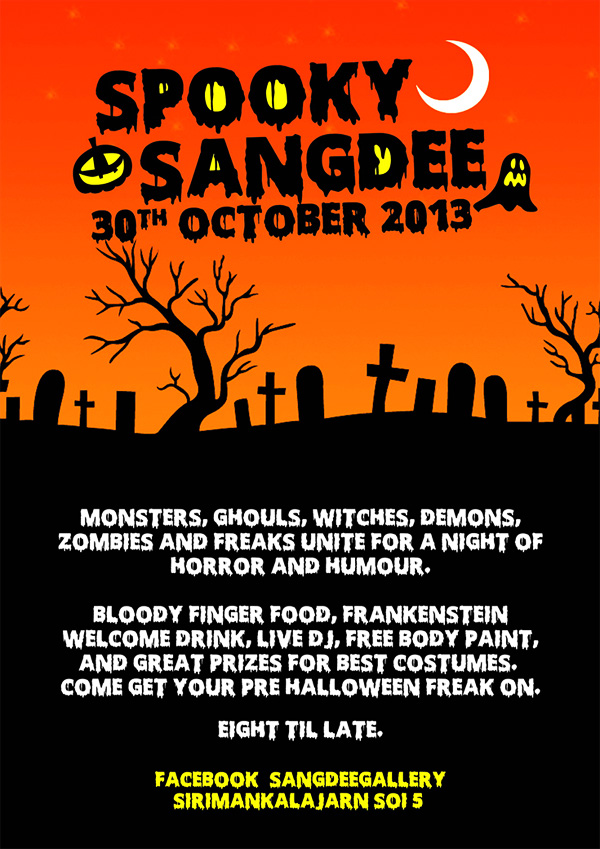 Halloween Blood Party at Pentatonic: Get rowdy at Chiang Mai's coolest rock bar, located inside the Zoe in Yellow Complex.
Thursday, October 31st (HALLOWEEN):
Halloween Night at Soho Bar & Guest House: Wear your costumes for a chance to win a FREE BAR TAB! Soho will go all out with decorations and fun filled night, located on Huay Kaew Road across from Kad Suan Kaew. http://sohochiangmai.com/
Monster Halloween Party at Leo Club: Scary fun for the whole family! A prize for the best costume – funniest scariest or cutest! A prize for the best Halloween creation – make a painting, drawing or any other handicraft and bring it to the party. Trick or treat, haunted house, plus lots more! 4pm until 7.30pm. Members free. Non members: 150 baht adult, 80 baht kids, 500 baht family. Please book your place before Oct 30th by calling 053-125-206 or 088-253-3284. www.leoclubchiangmai.com
Halloween Feast at Green Table Kantary Terrace: Bloody Cocktail, Vampire Entries (Creepy Clear Soup Pink Ravioli, Cold Blood Beetroot Soup or Eye Popping Tomato Soup), Gone Zombie Main Course (Wicked Roast Beef Rib Eye Steak or Deviled Pork Steak), and Dessert (Ghosts in the Graveyard). 1,000 baht per person. For reservation call 053-920-190. www.facebook.com/greentableCM
All Hallow's Eve at Rasta Bar: Devilish drink specials, creepy costume contests, ghoulishly good live music, dark and demonic DJs spinning terrifying tracks. Next to the Iron Bridge on Chareonprathet Road. 9 p.m. until late. www.facebook.com/events/1375320579377646
El Patio 2nd Floor DJ Lounge Halloween Party: Zombie Cocktails from 10pm until 1am, complimentary Zombie cocktail for the first 31 customers after 10pm. For further info or reservations: Contact@ElPatioChiangmai.com, 082-038-6603. www.elpatiochiangmai.com
Halloween on the Roof Top: Enjoy a night full of fright and scary temptations at the Roof Top Bar at Sala Lanna, on the banks of the Ping. 850 baht net per person for our selected tapas and free flow wine from 7 pm – 9 pm! Party goes until 11pm. www.salaresorts.com/lanna/
Anchan Vegetarian Spooky Veggie Halloween Dinner: 6 – 9pm 350 baht per person includes veggie roadkill starter to keep the vampires away, bloody pumpkin cauldron soup, vegetable meatloaf with cut throat sides and mushroom sauce, Sankhaya, a traditional Thai jack-o-lantern dessert, and tea or coffee. Wine promotion: Cedar's Creek Red or White 15cl 100 baht. Reservations only. Call Aye at 083-581-1689. www.facebook.com/AnchanVegetarianRestaurant
Halloween Night Party at Monkey Club: Have fun at this fancy party, featuring costume contest, games, DJ battle with dancers and much more. www.facebook.com/monkeyclubchiangmai
Branch Foundation Halloween Fundraiser Party at Small House Kafe: Party for a cause and raise money for The Branch Foundation with costume contests, live DJs and fabulous fish 'n' chips for just 50 baht. http://smallhousekafe.com/
Annual Halloween Party at Goodview Restaurant: Usually one of the busiest parties of the night! Live music to rock the night away…
Opening Party at Bunchun Art & Hostel: Live performance art, DJs and musicians unite at this art extravaganza! www.facebook.com/bunchun.art
Halloween Party at Focus Gallery: 30 baht blood tequila shots before 10 pm, blood tequila cocktails all night! Costume Prize Categories: weirdest costume, most original, most photogenic. Post party prize: Tag Focus Gallery in your best photos from the night and they will pick the best 3 for a Focus Gallery Gift Voucher and gallery display. Focus Gallery is located in Huay Kaew after then Nimmin intersection next to the 71 Export shop. https://www.facebook.com/events/592943050763820/
Halloween Night at Zoe in Yellow: Wear your costume and grab a bucket at one of Chiang Mai's rowdiest yearly Halloween extravaganzas. zoeinyellowchiangmai.com
Halloween Fancy Party at Warm Up Café: Join the 14th Annual Fantasy Dress competition. Absolute vodka mixed welcome drink for everyone in fancy dress. Prizes for competitors. Register before 9pm. http://www.warmupcafe1999.com/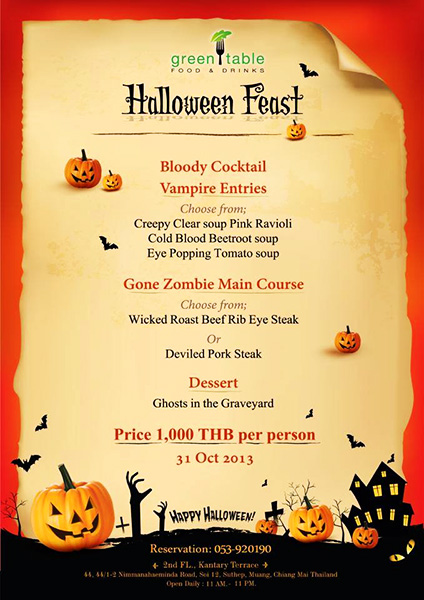 Happy Halloween Party at Riverside Bar: Dress up to get messed up with live music! www.theriversidechiangmai.com/
Halloween at Chocolate Love: 7pm – 1am. VIP 250 baht. Free bar between 7pm and 9pm with 150 baht cocktails. Dress code: Scary Halloween Costume. Located on the Canal Road (from Suthep Road head south towards Hang Dong). For reservations or further info 084-480-9775. www.facebook.com/chocolatelovecm
Halloween Party at 22 Twenty Two Café: Costume contest with tons of prizes. Nimmanhaemin Road, Soi 6. www.facebook.com/22twentytwo22
Sexy Halloween at Infinity Club: Dress up in your sexiest costume and dance the night away! www.facebook.com/infinity.chiangmai
Halloween Party at Neighborhood Bar: A night of ghostly, ghoulish fun, booze and live music! Costume contest to win a free 4-liter Hoeegarden beer! 6 pm until late. Nimmanhaemin Road, Soi 17. www.facebook.com/Neighborhood.Nimmann
Singles Ghost Night Halloween Party at Hualamphong Pub: Beer drinking contest and much more. Opposite JJ Market.
Halloween Spooky Fundraiser Party at Spirit House Restaurant: Starts 7pm with live music, games, dance, and costume prizes! 500 baht including buffet. Proceeds go to the Traditional & Ethnic Art Center Spirit House. Located on Viengbua Road in Chang Phuak. Advance sales at Anchan & Spirit House Restaurant. 084-803-4366.
Halloween at Rush Bar: Step into the haunted house that is Rush Bar Land with beer specials and scary fun. Nimmanhaemin Road, Soi 9. www.facebook.com/rushbar.nimman9
Bangkok Bar Halloween Party: Live music and costume party on Chaiyapoom Road. www.facebook.com/pages/Bangkok-Bar-Chiangmai/192083854216234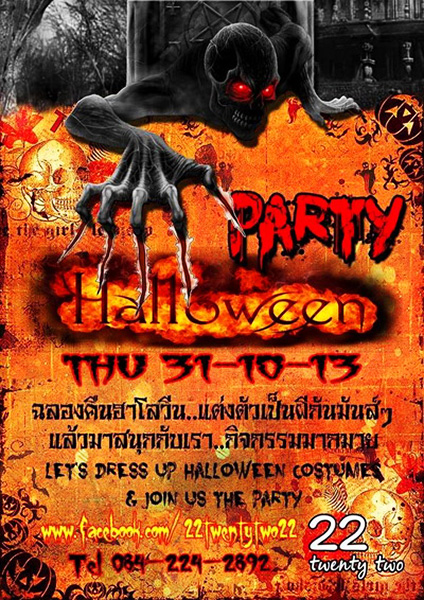 Saturday, November 2nd:
Glow in the Jungle Party by Malibu Chiang Mai: Dance party in the jungle of Mae Tang with two stages of electro DJs, free welcome drink, dinner, snack and breakfast, body paint, light installations and visual art. Tickets 1,200 baht, including free transportation. More info: 085 710 3119, 091 009 6356. www.facebook.com/events/391802017589523/