CityNews – Thailand is yet to experience anything as horrific as what happened in Brazil earlier this year when a football referee was beheaded and quartered, after he had stabbed a player during a game.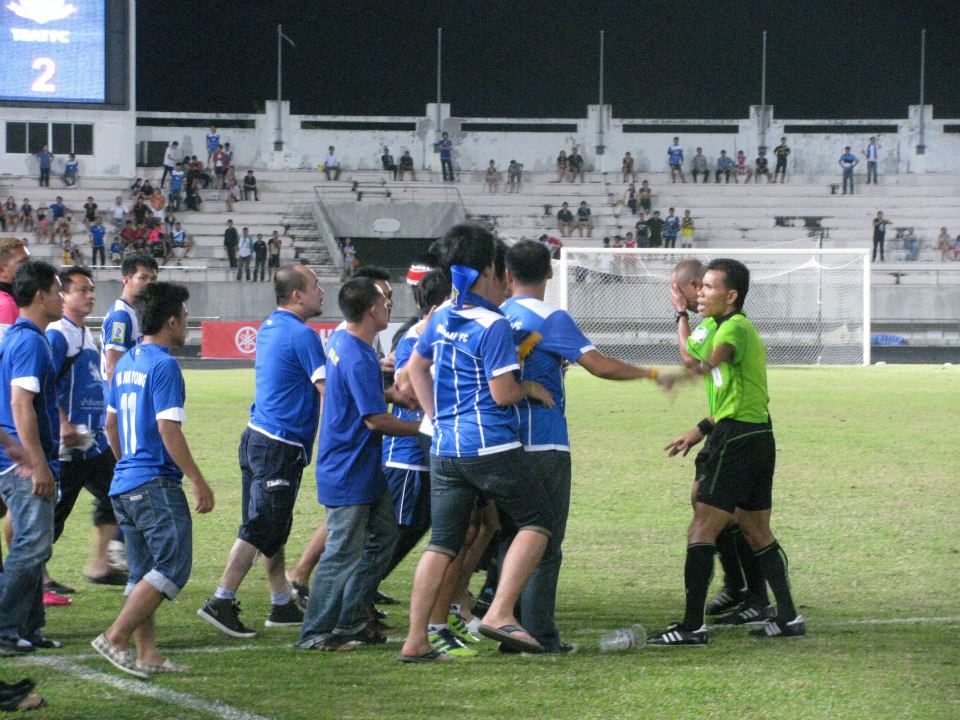 Fans invade pitch in Chiang Mai as referee is hit in face with projectile
In Chiang Mai there have been some incidents where angry fans evidently not happy with the ref's performance have either invaded the pitch, or waited for the referee outside the stadium so they might exact their revenge on the man in black, or yellow.
Only a few days ago, referee Nakhon Sa-ad was shot five times in Nonthaburi province allegedly for a decision he made during a Rayong FC vs. Singhatarua FC match. Nakhon was already suspended by the Thai FA for showing bias in games, but he was shot nonetheless a couple of months after the ban.
Just one month before Nakhon was shot the Bangkok Post reported that referee Thanom Borikut "was ambushed about 5.45 a.m. in front of a dormitory at the Sports Authority of Thailand headquarters on Ramkhamhaeng Road, Bangkok." He was shot three times but survived. It's also believed that this referee was gunned down because of his decisions during games that had made some fans unhappy.
In other incidents where referees have been severely hurt, the team have incurred a ban, such as when Nakhon Pathom FC was banned for two years by the FA after a game escalated into a riot and the referee was beaten by a mob of fans.
Whereas the football violence that plagued Europe for decades was mostly fans against fans, or fans against motorway service station cafeterias, and was said to be an expression of working class angst, and also a sub-culture with its own music and clothes, it could be said that Thailand's style of football violence is just another backlash of the pervasive cheating and corruption in the country.
In the case of Europe, perhaps the violence was more democratic, an open expression of autonomy within a ostensibly free country. Thailand's football violence is more a cloak and dagger experience, maybe more an expression symbolic of repression within an accepted but begrudged hierarchy. You could also say it's just the reaction of an angry mob in what can sometimes look like a fairly lawless country.
As Fyodor Dostoevsky famously said, "The degree of civilisation in a society can be judged by entering its prisons," and while this may be true, we might also measure the degree of civilisation by the state of a country's football matches.