Press Release
The European Union Delegation in Thailand together with the embassies and cultural institutes of the European Union Member States and SF Corporation Public Co., Ltd. are pleased to present the European Union Film Festival 2017 with a wide range of highly acclaimed films from Europe. The selection of 13 quality films from 11 countries reflects European cultures and lifestyle that are diverse and unique, highlighting the very characteristic of the European Union and allows the local audience an interesting and fun opportunity to learn about these aspects.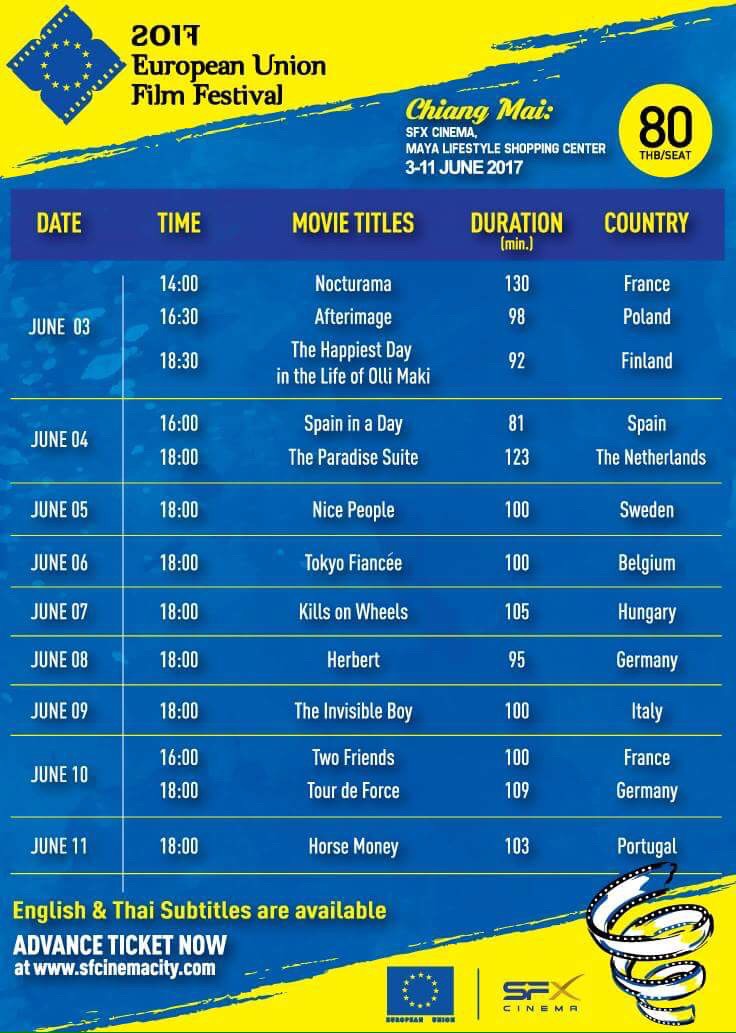 For instances, The Opening Film "The Happiest Day in the Life of Olli Maki", a Finnish and debut film of a rising talent, Juho Kuosmanen, who was awarded the Un Certain Regard Prize at the Cannes Film Festival in 2017 as well as Best Director Award from Chicago International Film Festival in 2017, is true story of Olli Mäki, the famous Finnish boxer who had a shot at the 1962 World Featherweight title. Immensely talented and equally modest, Olli's small town life is transformed when he is swept into national stardom and suddenly regarded as a symbol of his country. There's only one problem: Olli has just fallen in love. Inside of the ring, it's Finland vs. the USA, but outside, boxing and romance become unlikely adversaries vying for Olli's attention.
"AFTERIMAGE" In 1945, as Stalin sets his hands over Poland, famous painter Wladislaw Strzeminski refuses to compromise on his art with the doctrines of social realism. Persecuted, expelled from his chair at the University, he's eventually erased from the museums' walls. With the help of some of his students, he starts fighting against the Party and becomes the symbol of an artistic resistance against intellectual tyranny.
"Two Friends", a French romantic comedy nominated for 2 awards at the Cannes Film Festival in 2015. A story of Mona, a prisoner on work release, who meets Clément, a shy actor. Desperate to impress Mona, Clément recruits his extroverted friend, Abel, to help. When Mona becomes more interested in Abel, it sets off a conflict between the two friends. Meanwhile, Mona attempts to keep her past hidden.
"The Invisible Boy", a fantasy film from Italy. It tells a story of Michele, a thirteen year old, shy, unpopular at school, and in love with Stella. One day, after wearing a costume for a Halloween party, he finds out that he can be invisible. How will he use this gift?
A Swedish documentary "Nice People", awarded the Audience Award at the Budapest International Film Festival 2016, features the story of the first ever Somali bandy team in their struggle to reach the World Championship in Siberia 2014.
"Tour de Force", a romantic drama from Germany presenting a story of Hannes and Kiki who are preparing for their annual bike tour and spend quality time with their closest friends. However, after the tour has begun, Hannes breaks the bad news to his friends that he is suffering from an incurable disease. The trip is to be his last and they embark on a wile and one-of-a-kind adventure. Through Hannes, they realise how precious life is.
Other selections include "The Paradise Suite" (Drama from the Netherlands), "Tokyo Fiancée" (Romantic drama from Belgium), "Horse Money" (Thriller/drama from Portugal), "Herbert" (Drama from Germany), "Spain in a Day" (Documentary from Spain), and "Kills on Wheels" (Action comedy from Hungary).
The European Union Film Festival 2017 will be screened in Bangkok during 19 May – 28 May 2017 at SF World Cinema, Central World, before moving to Chiang Mai during 3 June – 11 June 2017 at SFX Cinema, Maya Lifestyle Shopping Center, and to Khon Kaen during 17-18 June 2017 at SF Cinema City, Central Plaza Khon Kaen. All films will be screened in their original languages with Thai and English subtitles.
in Chiang Mai 80 THB/seat. To buy tickets, please contact the cinemas' box offices or visit www.sfcinemacity.com for online purchase. For the list of films, synopses, trailers and screening programmes please contact SF Call Center 02-268-8888 or visit www.sfcinemacity.com, www.facebook.com/Welovesf and www.facebook.com/EUinThailand.
********************************
Public Relations, SF Corporation Public Co.,Ltd,
Thank you very much for your kind coordination and cooperation.
Box office : Sukontee Somboontham (Tea),
Voradej Rungrojbul (Nat) 082-786-3419
TEL : 02-611-7111 #536, 082-786-3419 Fax: 02-626 0448
E-mail : voradej_r@sfcinemacity.com, mrnattt.pr@gmail.com