CityNews – Heads up, Chiang Mai! One of our most beloved local institutions, Documentary Arts Asia (DAA), is trying to bring some exciting new changes to our fair city, but they need YOUR help to make it happen.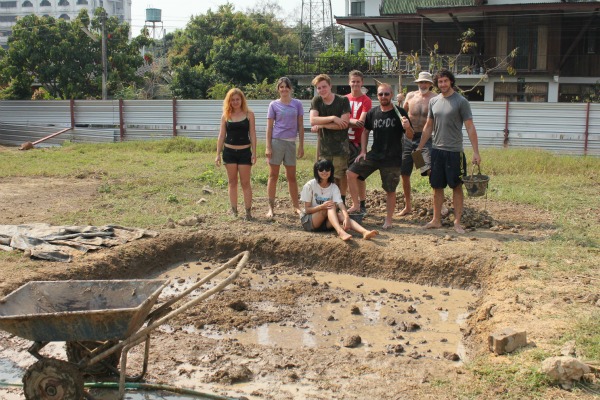 Small but dedicated group of volunteers, still in the early stages of building
The organisation, currently housed in a small building off Wulai Road and renowned for its excellent photo gallery, exhibitions and movie nights, as well as its impressive workshops, residency programmes and scholarships for emerging and under-represented photographers and filmmakers in Thailand and Burma, is now trying to expand by building a brand new centre from scratch.
The new DAA will be bigger, greener, more interactive, more comfortable and more sustainable, with a large space for public film screenings and workshops, housing for resident artists and volunteers, and possibly even a rock climbing wall!
There will also be a brand new Pun Pun centre with a restaurant, farmer's market and organic garden onsite.
Located off Thipanet Road near the airport, the space is currently being constructed brick by handmade adobe brick by a small but dedicated group of hardworking volunteers from all over the globe. "We started at the end of December," says Laura Gibbs, one of the regular volunteers. "It's hard work but it's fun getting your hands dirty, making something happen bit by bit."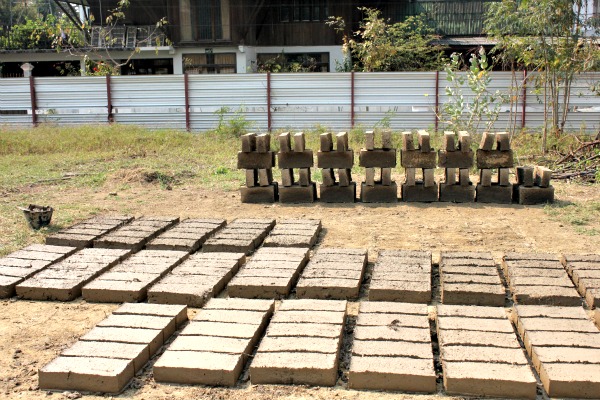 Handmade adobe bricks drying in the sun
Anyone and everyone is welcome to come join in the building process – you can help out for a few hours, a few days a week, or even multiple months; tents for sleeping and meals are provided for full-time volunteers. Stop by anytime (but prepare to get muddy)! The site is open every day except Wednesday.
Most of all, the project is in desperate need of funding, which is why DAA has started an Indiegogo campaign with the goal of raising just $12,000 USD. As of today, there are 18 days left to donate. The campaign ends on 2nd March. The money will go toward paying professionals to build the basic structure, including foundation, supports and the roof. The rest will be built by hand by volunteers, hence the impressively low cost.
"My vision for the new place is to make it much more social, a place where people can hang out all day," says DAA founder Ryan Libre. "We will have multiple films each day, books, food, more space for storage, etc. I'm also really excited about the synergy with Pun Pun. We both have big followings and now we can combine them."
Since 2011, DAA has organized an annual documentary photography and film festival, more than 300 movie screenings, 100 workshops, and even opened a new center in Kachin State, Burma. Currently, Libre is in the final stages of a six-year film project documenting the resilient people of Kachin State, all while co-producing the f28 Month of Photography in Chiang Mai.
It's clear that DAA is an indispensable part of the Chiang Mai community, and now it's time for us to give back. A simple $10 donation is a great way to start.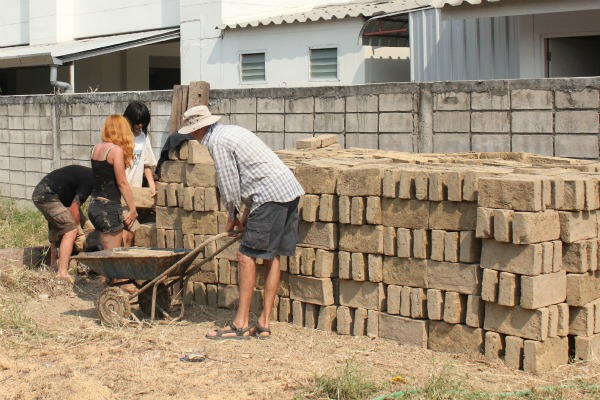 1,500 bricks down, 18,500 left to go!
Donate to the DAA Indiegogo campaign here: http://www.indiegogo.com/projects/documentary-arts-asia-new-center
Visit the site any day except Wednesday to help out. Main working hours are 7:30 a.m. – 11:30 a.m. Here is a MAP.
DAA is also in need of building supplies such as wood and tools, as well as anything else you have to donate, from fold-up chairs to tents to cooking utensils.
Contact: daa@documentary-arts-asia.org or 088 1 38 7470.
You can visit the current DAA centre at 12/7 Wualai Road Soi 3.