In 2002 the Citylife team thought it would  be a fine thing to publish a definitive dining guide for Chiang Mai. Succinctly titled "Citylife's Guide to Wining, Dining, Clubbing and Pubbing, Chiang Mai" our then-team of editors stuffed our faces for months as we 'researched' restaurants in the city and beyond. Finally, after five months, we had compiled information, written up reviews, taken photos and pinpointed a spot on the map for over 450 venues in Chiang Mai. Before we headed to the fat farm, we handed it all over to the production team, who then spent the next two months putting it all together. A week before we went to press, we were fortunate enough to have had two young interns from Mae Fah Luang University sign up for work.
We decided to double check our information before going to press. It turns out that out of the 450 venues, nearly 100 had something we had to change, they had either changed their prices, their locations, their menu or moved, or shut down. So, that was another month of faffling around and putting it all back together again. The printers took a few weeks and then it was distribution time. Within the first week, we had received four phone calls telling us that something or rather we had printed was now out of date.
…and so it went for the second and the third print, until we finally gave up in 2005 and put the whole damn thing online, thinking that at least we can change the info at any time.
It was all well and good, but once it was online, who has the time, and the impetus to continuously update and call and check on new information, which wasn't really making any business for the company. So our online restaurant listings began to get more and more outdated and frankly if you go on to Citylife's web site today you will probably still see a listing for Mi Casa, which shut down about four years ago.
All this whining is not to tell you how hard our lives or work is. But to say that we think we have finally found the answer. Yay!
As of the middle of May, Citylife will be launching a new mid-monthly magazine called Spoon & Fork. It will be predominantly in Thai, with English language summaries.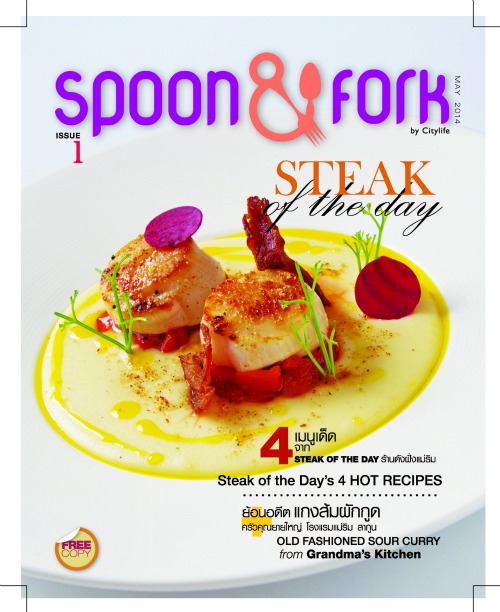 Introducing: Spoon & Fork!
It is monthly, so information WILL be current. We now have three expatriate and three Thai editors, so that is a lot of palettes with a variety of preferences chomping their way through the city. I have also – warning: trumpet blowing – been a contributing judge for Thailand Tatler's Best Restaurants since 2005 as well as one for Asia's leading fine dining guide, Meile Guide since 2010, so I think that I can spot a decent nosh when warrented, and our three photographers are doing a great job at mastering food photography, so the mag is going to be filled with pretty pictures. Chiang Mai's food scene is changing at warped speed and there is no way that an annual publication can keep up and Trip Advisor pretty much corners the listings and review market, so we thought a monthly mag featuring restaurant reviews, recipes, interviews of chefs and foodies, shared passions from sommaliers, barisatas or mixologists would be interesting reading. We will tell you what is new but we will also delve deeper, taking a peek underneath the tall chef's hat to give you some insights from healthy eating to kitchen tips. It will be a fun, informative, pretty magazine which we sincerely hope will be a MUST HAVE for you every month.
Citylife's regular distribution points will have a few copies of Spoon & Fork, but we will also expand to other locations including restaurants, cafes, bakeries and, well, everywhere.
So, hope you enjoy, it is our first foray into a Thai publication – yikes! – so we would relish all of your feedback. If you think that you know of a great food story that should be shared, please tell us. Send an email to pim@chiangmaicitylife.com for any comments, suggestions or critiques.
Dig in!