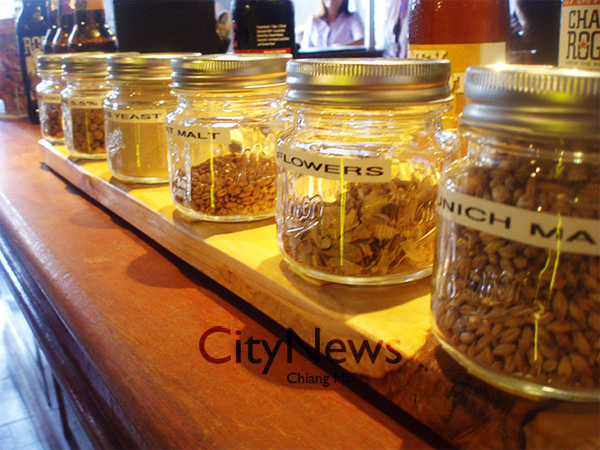 Caption: Various ingredients of craft beer on display
Although Chiang Mai already has many other imported beers available for purchase, none of them are considered craft beers.
Each craft beer takes time to make because the brewers meticulously 'craft' each one. Some consider brewing craft beer an art. This type of beer is pure because it uses high quality ingredients like fresh hops and clean water. It is also full flavored because it is not filtered or pasteurized. The process it takes to produce a batch of craft beer can be long, therefore it is not mass produced like other beers. This is why a craft brewery is defined as small and independent brewery which produces 6 million barrels of beer or less annually. Craft brewers are also experimental and produce brews with new bold and daring flavors or various seasonal brews.
Some of these new craft beers that are being imported from the US include bottles from Rogue, Anderson Valley, Deschutes and Lagunitas. BrewDog craft beer will also be available which is from the UK. They are all available at the Number 1 Bar. Beer Republic also has some of these in stock. If you are not one for the bar scene, Rimping Supermarket sells some as well.
Whether it be a taste of home for some or a new flavor for locals, beer lovers alike will enjoy more drink choices. Will this mean the "Chang" we all know will eventually become extinct? I do not believe so, I just think more beer enthusiasts will be hoppier. Some may still stick with their regular beers, but as Kinky Friedman said, beauty is in the eye of the beer holder.
For retailers wanting more information on these craft beers contact Freddy Laureys at craftbeers.cnx@gmail.com
For those wanting to keep updated on this new trend follow Craft Beer CNX on their Facebook, https://www.facebook.com/craftbeers.cnx or website, http://www.craftbeerschiangmai.com/.
For more information on the actual breweries and beers visit their individual websites:
http://www.deschutesbrewery.com/