"I'm looking for a man that's half Indian, half Malaysian and goes by Cowboy Jimmy. He's easy to spot, his cowboy hat has feathers and he's got long hair." This coming from Lola, a gorgeous bronzed young woman with an incredible smile, as she tied back her blonde hair on a sweltering Penang street corner. Cowboy Jimmy, I'm told, has cheap minibus tickets back to Thailand, and will give us a special price if we find him. Lola and I met by happy fate on the sixteen-hour bus ride – about twelve hours too long for anyone over five and half feet tall to spend in a minibus, despite stellar traveling companions.
I was still smarting from the downside of renting motorbikes in Thailand the previous day, when I was told I had to pay extra for a scratch underneath the bike. Before renting, I had only taken pictures of the sides of the bike, not underneath, so I had no proof that the scratch had not been my fault (even though it hadn't). A friend convinced me to report the injustice to the police. For future motorbike renters in Thailand, this is a colossal waste of your time. As on all islands, the locals are a tight-knit group, and the police are not eager to help farang without a translator. In the five hours I waited at the police station for 'assistance', seven other tourists came in with motorbike charges and were all told to 'just pay'.
Lesson learned: while on the islands, or anywhere really, if you want to rent a motorbike it's a good idea to take thorough photos of the bike beforehand. Even of the undercarriage.
On the way back to pay the lady I had rented from, I swerved on gravel for a puppy that ran in front of me. Result: one bike with real scratches this time and some rough road rash. The bandages I bought at the pharmacy would end up being quite useless. If you need to dress road rash in Thailand, the heat makes bandaging a losing proposition as humidity makes the covered skin sweat and it never dries out enough to heal.
FYI: Betadine, which comes in a small yellow bottle and an antibacterial powder in an orange packet called Pises Powder are very useful in keeping wounds dry and clean. Both can be found at most pharmacies and some convenience stores.
By the time I patched up my leg and hand enough to take the bike back (now paying 'bigger price') and limped home, I had to pack fast for Penang.

—

On arrival in Penang, the minibus dropped us near the Banana Guesthouse, where the travel agent told me I could drop off my passport and they would do my visa. Once we found the guesthouse we tried to drop our passports off, knocking on a window under a visa sign. It slid open.
"No passport now. Come at nine in morning. No late," a man said.
The window slammed shut.
Despite that first interaction, Penang surpassed my expectations. Our little group jumped at inexpensive but lovely accommodation at the nearby Old Penang Guesthouse. We were starving and despite it being almost midnight, ate some delicious Indian food, which you can find at many places near Lebuh Chulia, or Chulia Street as it is know to foreigners. After I cleaned my wounds I gratefully plunged into sleep.
The next morning we were at the magic sliding window again.
"Put money in passport, come back four p.m." It seemed dodgy to hand over my passport with cash, but as a group it felt somehow more acceptable (plus, what choice did I have?).
Now began the search for Cowboy Jimmy. We went through food markets, down back alleys, asked street vendors, but to no avail. Lola went to shop, one of the guys and I ordered another round of Indian deliciousness, and bought tickets for the return trip that afternoon. Lola found Cowboy Jimmy's cousin and was able to procure a cheaper ticket.
After picking up our passports, back we went, through a steaming hot city of colour and spice, past rice fields to the border, with knees tucked up and pillows made of sarongs.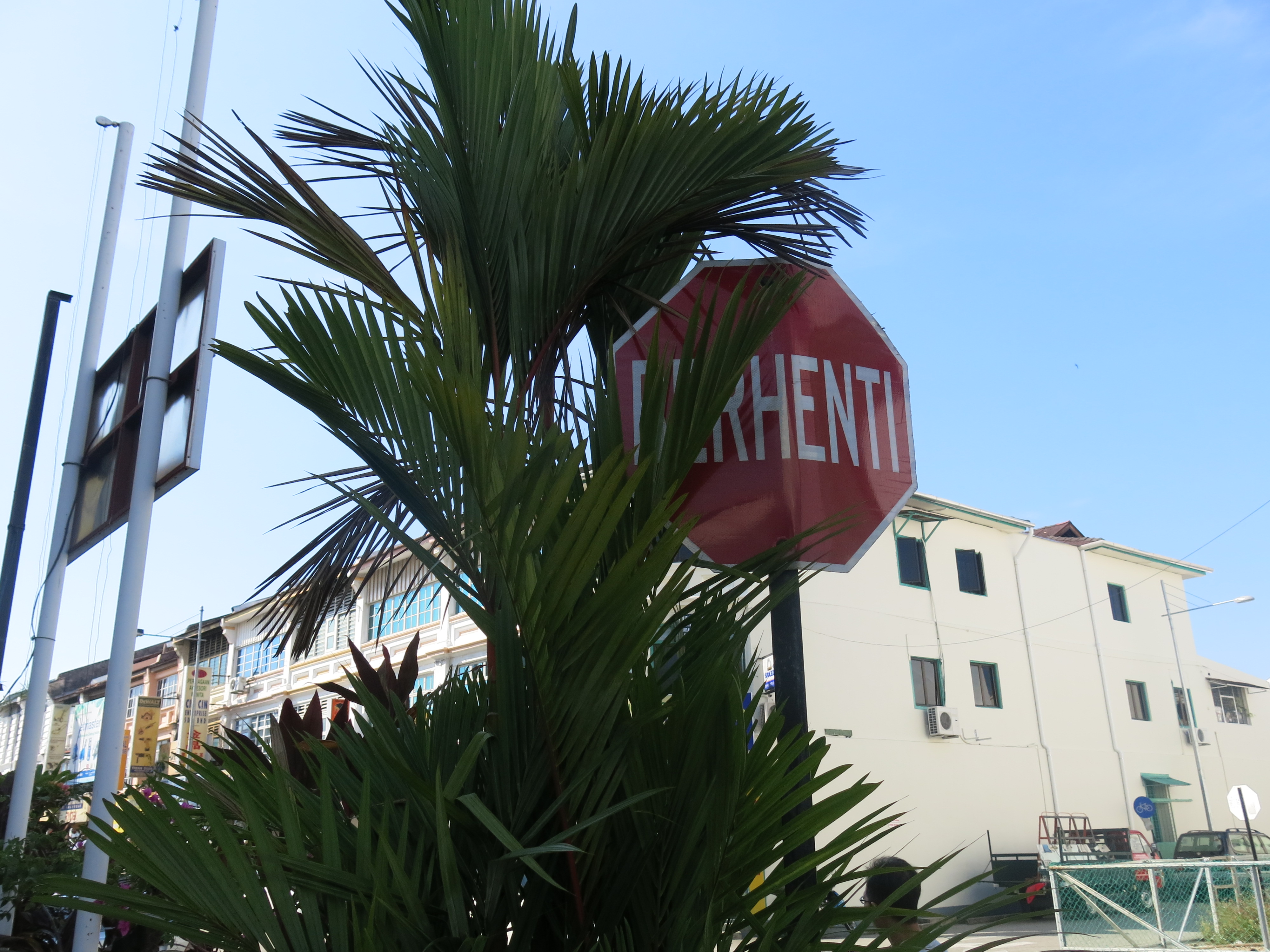 Breakdown of costs for my visa run, March 2013:
1200 Bt. Ticket for ferry and buses from Koh Phangan to Penang.
200 Bt. Taxi to Thong Sala pier to catch the ferry
1300 Bt. Return ticket from Penang to Koh Phangan
250 Bt. Taxi back to accomodations on Koh Phangan
1400 Bt. Visa
550 Bt. Room with AC, shared with 1 other person. (Had to pay in RM – lost 100 Bt on transaction as it was 11 p.m. at night, so exchange money in Thailand if you are arriving late in Penang).
100 Bt. Transaction fee
50 Bt. Travel fees at border and toilet payments
600 Bt. Food
350 Bt. Clothing
6,000 Bt. = approximately $200 Canadian/USD + cool night in Penang + awfully long bus ride
Travel Tips:
– The easiest way to book the visa run is with a travel agent instead of trying to book each part of the journey separately. Bargain hunters may be able to find a cheaper ticket. 1,000 Baht one way is the lowest I heard of, but be prepared to take time to shop around. On the way back, you can get a cheaper ticket just to Hat Yai, but you take the chance you'll have to overnight there, which will cost you if there's no room on the bus back to Surat Thani/Don Sak Pier.
– I found two departure times from Koh Phangan, either with a SongSerm ferry leaving the Thong Sala Pier in Koh Phangan at 7 a.m. or 12:30 p.m. Leave hotel at 6 a.m. from most places on the island, as they want everyone boarded 15 minutes before departure. You can take a faster ferry than the SongSerm, but it costs more, and you will still have to wait for the same buses. The 7 a.m. trip is expected to arrive in Penang at 9 p.m. the same day, the later departure around 6 a.m. the next morning. Don't forget that there is a time difference; Thailand is one hour later than Penang.
– After the ferry to Don Sak Pier, a large bus will take you to a waiting depot about an hour away. You will wait there and then be told to board a minibus to Hat Yai. In Hat Yai you will wait again for another minibus to take you to Penang. This minibus will stop at the Malaysia border, let everyone out to walk through customs and on arrival in Penang stop at Chulia Street (Lebuh means street). On Chulia Street there are numerous places to stay, the Banana Guesthouse and Backpacker Guesthouse will also do your visa for you for a fee so you can see the city instead of waiting for your passport all day. These two are backpacker accommodations. Just down Chulia Street (turn at the 7-Eleven) the Old Penang Guesthouse is wonderful and provides breakfast and coffee for guests. Nearby are two other guesthouses, Red Door Inn and a place that looked like they were gearing up to party all night.
– On the way back there is often a bigger bus after Hat Yai, but they added extra seats between the isles so it's not much different than the minibus. We left at 4:30 p.m. from Penang, and arrived back on Koh Phangan around 10 a.m. the next day.
Normal 0 false false false EN-US X-NONE TH /* Style Definitions */ table.MsoNormalTable {mso-style-name:"Table Normal"; mso-tstyle-rowband-size:0; mso-tstyle-colband-size:0; mso-style-noshow:yes; mso-style-priority:99; mso-style-qformat:yes; mso-style-parent:""; mso-padding-alt:0in 5.4pt 0in 5.4pt; mso-para-margin:0in; mso-para-margin-bottom:.0001pt; mso-pagination:widow-orphan; font-size:12.0pt; font-family:"Cambria","serif"; mso-ascii-font-family:Cambria; mso-ascii-theme-font:minor-latin; mso-hansi-font-family:Cambria; mso-hansi-theme-font:minor-latin; mso-bidi-language:AR-SA;}