"It started pretty simply," says Daniel Styles. "My Thai friends were always asking for English help with their homework and things, and my farang friends were always looking for a place to practice their Thai. My goal was just to have these two groups come together."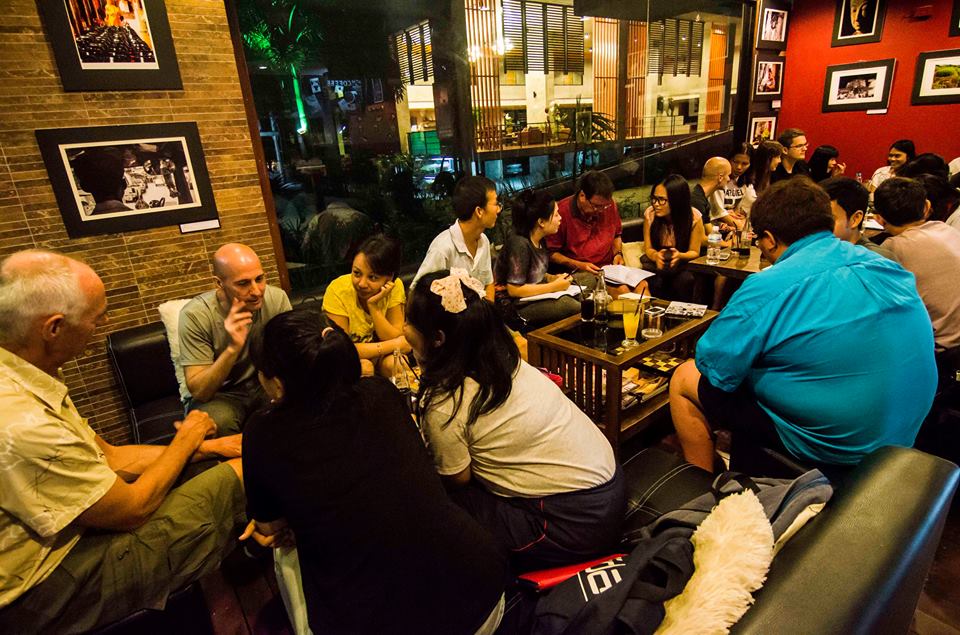 The Language Exchange at Focus Gallery
Styles, an Aussie-born expat who has lived and worked as a teacher in Chiang Mai for nearly five years, has dedicated much of his time here to creating a sense of community, both for himself and fellow expats. As a former ambassador for the Chiang Mai branch of Couchsurfing, the world's largest traveller's community, he has used his own experiences as a self-described "traveller who never went home" to help connect people both with each other and with their newfound home of Chiang Mai.
Since its opening at the end of last year, Styles' new café/bar/art gallery, Focus Gallery, has become a haven for expats, Thais, and travellers alike. As the new location for weekly Couchsurfing meet-ups (every Friday at 7pm), Styles wants people to consider it a kind of home away from home, complete with delicious, healthy food, coffee, tea, desserts and plenty of beer and wine. It's also the location of Styles' newest venture, the Chiang Mai Language Exchange.
"At the first meeting, about three months ago, six people showed up," recalls Styles. "From there it has expanded, and now it's really exploding!"
Indeed, every Wednesday and Saturday from 6pm until closing, Focus Gallery is packed with dozens of Thais and expats alike. Seated at tables, sipping bottles of Heineken and munching on freshly baked paninis and rainbow crepe cake, people talk and chat casually, learning Thai and English in a cosy, informal setting and making new cross-cultural friends while they're at it.
The Language Exchange is open to all and free to attend. "It's just about casual chat," says Styles. "I tried organising more at the beginning, assigning people to tables and so on, but that didn't really work. Now I let people figure it out themselves, and it's been going really well."
Styles lays out a number of language books and other resources as icebreakers for those who need them, but other than that everything is quite informal and self-directed, with everyone eager to teach and learn. Interestingly, while Styles initially worried about not having enough Thai participants, the results have ended up being the opposite; he says now there are three or four Thais for every foreigner, so he is hoping to spread the word to more foreigners to balance out the numbers.
"Those friends of mine I mentioned never actually came," says Styles with a laugh. "But luckily, a lot of other people have!"
The Language Exchange happens every Wednesday and Saturday evening, starting at 6pm. It is free to attend and no reservations are required.
Focus Gallery is located at 213 Huay Kaew Road, next to the 71 Export Shop and about 40m before the Canal Road intersection. For more information visit www.facebook.com/focuscoffeebargallery or give them a call at 053 213 201. Focus is open daily from 7am-midnight, and serves alcohol daily after 5pm.