CityNews – Southeast Asia in-terms of economic development is one of the fastest growing areas in the world. And in 2015, many developments related to the Association of Southeast Asian Nations (ASEAN) will take place. The socioeconomic borders between Brunei, Myanmar, Cambodia, Indonesia, Laos, Malaysia, the Philippines, Singapore, Thailand and Vietnam will essentially dissolve, and the ASEAN Economic Community (AEC) will be formally initiated. The international exchange of goods, services and economic investment will flourish.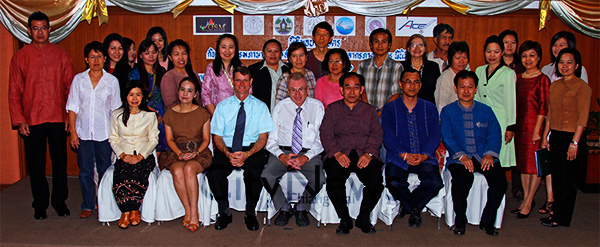 The closing ceremony for the "English Proficiency Development for Service Business Providers in Upper North Provincial Cluster 1" program was held on April 19, at the Chiang Mai Hill hotel in Chiang Mai. Front row, with course trainees and from second left: Dr. Narumon Kimpakorn, Vice Dean of the Faculty of Business Administration, Chiang Mai University; Academy for Education USA (ACE) course instructors Raymond Whitney and Tony Moon; Chiang Mai Vice-Governor Rittipong Tachapunt; Chief of the Chiang Mai Governor's Office, Mr. Viroon Phantevee; and Mr. Sanga Buaradok, Chief of the Chiang Mai Development Strategy Division
"ASEAN has been around for a long time," said Chiang Mai Governor Tanin Subhasaen. "But the way people access each other will be much more convenient because we are improving to become a single system…ASEAN's ten members will consolidate to increase economic bargaining power to the world
A multitude of related changes and challenges are underway as the region is preparing for this economic paradigm shift. Each ASEAN member has its language and culture, and issues pertaining to cross-culture communication are serving as barriers to optimal AEC integration.
English is the international language. And with Thailand ranking 53 out of the 54 countries surveyed by English First, which benchmarks English proficiency using a sample of about two million people, this scenario in-terms of the AEC and Thai people's economic prosperity is currently perhaps a lit fuse. If people from different countries cannot communicate and understand each other, how can they do business?
Governor Tanin says the Chiang Mai provincial government is preparing Thai people for the AEC by implementing a four-dimension public policy plan. This strategy involves cultivating public awareness – especially regarding socioeconomic advancements within the next three years – as well as encouraging people to accept changes whether they are or aren't advantageous. Another component is that everyone adapt themselves to the changing world. Likewise, learning English – and about the cultures of ASEAN, ASEAN +3, (China, Japan, Korea) and ASEAN +6 (Australia, New Zealand and India) countries – is essential.
"We need to improve our language skills and learn how to do new things," said Governor Tanin. "We have to adapt ourselves" to the outside world, also by being proactive in promoting Chiang Mai via visiting other countries as well as inviting foreigners to explore Thailand and its socioeconomic potential.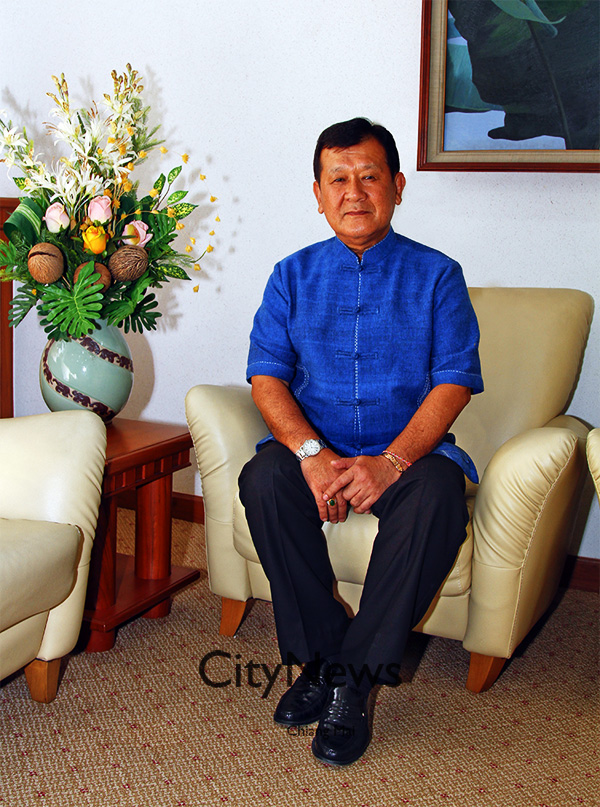 Chiang Mai Governor Mr. Tanin Subhasaen, as part of a series of AEC related projects, initiated a 'practical English' training course for Thai people working in Upper Northern Thailand's service sector. The move was part of a ASEAN Economic Community (AEC) related strategic development plan involving agro-business, tourism, trading and investment, as well as environment and stability in the Upper Northern Region.
While the term 'foreigner' in Thailand has traditionally been used for referring to people from Western countries, it now generally means: people who can't speak Thai – especially in-terms of ASEAN members. This overall issue likewise percolates down to establishing communication bridges that connect cultures and build trust.
"We have to know others' language, who they are," said the Governor. "Chiang Mai is the center of the (Thai) North, and many foreigners come to Chiang Mai – over three million per year, and this is going to increase." They will likewise use Chiang Mai's transportation system as well as the retail, spa, massage and other health related services which comprise Northern Thailand's core (service) business sectors.
Dr. Narumon Kimpakorn, Vice Dean of the Faculty of Business Administration, Chiang Mai University, said that "If personnel cannot speak English or communicate well, they will lose opportunities to best serve their customers" and gain business opportunities. The same applies for public communications professionals who "are the gateway to promoting Thailand to the outside world." Dr. Narumon emphasized that the Thai North is becoming evermore popular for investors, especially regarding real estate. And Chiang Mai is the central city for linking this region with other ASEAN countries.
"The Governor wants to empower (Thai) people, show the benefits of learning English and get them motivated to practice English more, so they can promote a good image to customers who come to Chiang Mai. But if they aren't going to effectively serve the customer, other people are going to come" and capitalize on what would have been their business opportunities.
Governor Tanin initiated a 'practical English' training course for those working in the aforementioned service industry group. The 20-hour course – which ran from January to March 2013 – was funded by the Office of Strategic Management for Upper Northern Cluster 1 (including Chiang Mai, Lampang, Lamphun and Mae Hong Son provinces) and organized by the Chiang Mai Governor's Office in partnership with CMU's Faculty of Business Administration.
The curriculum was established and conducted by the Academy for Education USA (ACE). While elements of grammar, diction and pronunciation were included, the primary aim was equipping trainees with "easy language" and cultural insight into their ASEAN member counterparts.
Kobkul Patanaporn is one of over 100 trainees. A dentist, her confidence with using English, and her quality of work life, has been bolstered. She wants to study English more.
"I learned a lot from the instructor…He knows a lot about the mannerisms of foreigners and Thai culture. Before, I didn't understand foreigners' actions, especially when they are different from Thai people…This (knowledge) makes it easier for me to treat and communicate with them."
Governor Tanin said his primary initiatives involve "upgrading" people's quality of life, including improvements in infrastructure and public education.
"It is my objective to enhance the English language capacity of Chiang Mai people, so they can communicate about Thai culture and its related lifestyle to those from the outside," said Governor Tanin," adding that government personnel will additionally receive English language training within the next fiscal year. "I wanted to start this (English training course) to benefit people."
What would likewise please him is if at the completion of his four-year term, "Chiang Mai people are happy, they're living conditions have improved, and foreigners come to Chiang Mai and are happy. I want Chiang Mai people to have wealth, a good education and a safe life. This is happiness that can define everything."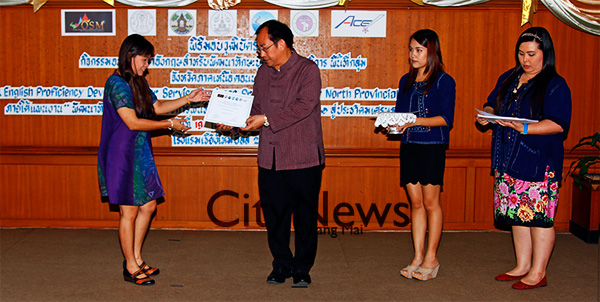 Chiang Mai Vice-Governor Rittipong Tachapunt handed out certificates to trainees who completed a Chiang Mai Province sponsored 20-hour 'practical English' course held from January to March 2013
What is ASEAN?
The Association of Southeast Asian Nations (ASEAN) is a geo-political and economic organization created on Aug. 8, 1967 by Indonesia, Malaysia, the Philippines, Singapore and Thailand. Since then, membership has expanded to include Brunei, Burma (Myanmar), Cambodia, Laos and Vietnam.
ASEAN's primary aims include accelerating regional economic growth, social progress, cultural development among its members, protection of regional peace and stability and providing diplomatic opportunities for member countries to discuss differences peacefully.
The 10 countries comprising ASEAN have a combined population of a half billion people. Although ASEAN's demographic makeup is comprised predominantly of those who are economically poor, there are millions as well who are wealthy, with the island state of Singapore ranking as one of the world's most advanced economies.
Many people outside of Asia mistakenly lump these different countries together as one place. However, despite their intended economic integration, ASEAN members have vastly differently cultural, political, social and economic systems.
Why was ASEAN created?
Politically, ASEAN was initiated with support from the United States to contain the spread of communism in Asia. In a region divided at the time by the Cold War and with armed conflict threatening Vietnam, Cambodia and Laos, there was a need for an international forum to promote peace and security, as well as economic growth.
Since the governmental types of its members were generally both different and often antagonistic towards each other, ASEAN has functioned from the beginning on the principle of non-interference. ASEAN governments agreed not to publicly criticize what another ASEAN administration is doing within its own territory.
The region's 1997 financial crash prompted ASEAN to shift its focus exclusively to economic and trade cooperation, leading to bilateral trade and investment agreements between its members.
Economic integration
From an early stage, ASEAN has focused on economics in addition to security issues. Since 1967, most of Southeast Asia has been growing economically at an astoundingly rapid pace, based on a greatly expanded export industry which has relied heavily on agricultural produce and manufactured items.
ASEAN is one of the fastest growing economic regions in the world, with an anticipated Gross Domestic Product (GDP) growth rate of 5.2 percent per annum from 2007 to 2030. Its GDP has grown from US $700 million in 2007 to US $1.8 trillion in 2012. If ASEAN existed as a single entity, it would rank as the ninth largest economy in the world.
Reducing regional tariff levels remains a primary economic goal of ASEAN, with initiatives of eliminating all tariffs and duties among its member nations and creating a new regional trading block by 2015. This is also part of the planned ASEAN Economic Community (AEC), which will by 2020 be a single, economic market in which free movement of goods and services will take place, coupled with easier movement of capital and investment.
(Sources: http://www.aseanaffairs.com, John Walsh; Shinawatra University; www.asean.org; http://asia.investorplace.com)