Empty Space feels a lot like an amusement park – if not for the endless rice fields and rustic houses, then for the strange art structures nestled around them.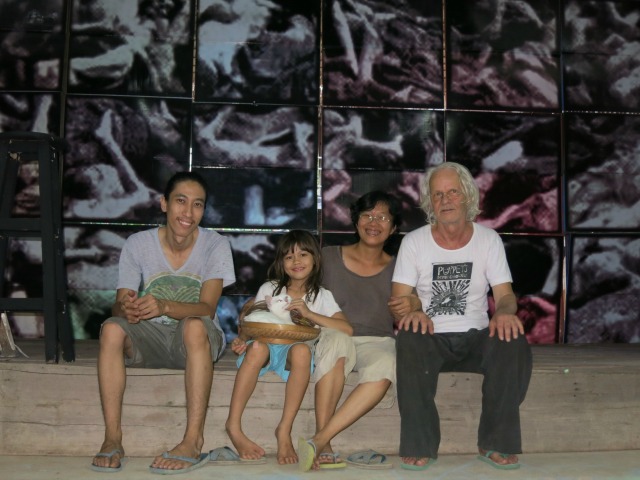 Manuel (right) with wife Oraphan, daughter Lena and Chatchaiwat Chungchoo (left), a ceramic artist at Empty Space. Photo: Marcus Villagran.
There's a collection of pottery and figurines, each with their own stories to tell, spread throughout the grounds. Thick trees and shrubs shroud the property's borders. It's impossible to grasp where exactly Empty Space begins and ends.
"People have all kinds of adventures here," says founder Manuel Lutgenhorst, a soft-spoken man with round spectacles. Lena, his hyperactive eight-year-old daughter, eagerly climbs one of the many complex wooden structures on the property as we speak.
Inspired by the remoteness of the land, Manuel, a retired performing arts director from Germany, and his wife Oraphan, a theatre lighting designer, created Empty Space in 1998 as an arts center that people can live and create on.
"They can stay for cheap and do what they want," says Manuel, 66. "When an artist doesn't have financial stress he can work freely."
Located just a few kilometers south of Chiang Mai, in the serene jungle behind Wat Si Udom, Empty Space can sometimes feel like a holiday getaway. I am treated to a refreshing glass of ice-cold coffee, brewed in the on-site café, upon arrival. The space also has its own kiln for ceramics, an 8×4-metre main stage over a field able to seat an audience of 150 people, and a restaurant. Having all the resources and facilities artists will need is one of Empty Space's top priorities.
"I enjoy having a place where I can create that is affordable," says Manuel. "I can offer other people to experience the same thing."
During our interview, 43-year-old Oraphan, who studied film at Thammasat University, puts together a holocaust-themed piece. It consists of a huge ensemble of transparent black and white photos in front of pieces of coloured paper that faintly resembles corpses – a testament to Empty Space's commitment to freedom of expression.
"It should not be too easy, too sabai sabai, too silly," Manuel says. "It should be a little bit serious too."
The grim image can't be consumed at a glance, and it takes a few minutes for me to even understand what it is. The most graphic parts of the photos have been strategically cut out.
"That's good," Manuel says in response to my comment on the piece's ambiguity. "Because the children should not cry when they see it."
The couple's commitment to open-mindedness has attracted artists from all around the world and turned Empty Space into something of an international hub for professional networking.
"We had French puppeteers and Thai puppeteers here for two months," says Manuel. "[Afterwards] the French group invited the Thai group to France and they did a collaboration there."
Empty Space organises lots of activities that give artists and visitors the opportunity to connect with each other. For the month of October alone, a slew of autumn-themed events has been scheduled including scarecrow crafting, Thai rice culture storytelling, and a screening of My Neighbour Totoro, a classic film by Japanese animators Studio Ghibli.
"The fun part for me is when I invite people, they come and meet here for the first time, make a friendship, and after they go, they keep that friendship and keep working together," says Manuel.
Empty Space teaches classes in ceramics, theatre and puppeteering, as well subjects that are unique to Lanna culture such as sword dancing, candle dancing and likay, an extravagant form of folk theatre.
I ask Manuel what he plans to do with Empty Space in the future. He shrugs and says "the same."
"I'm at an age where I'm more or less retired now," he adds. "I don't have an ego to fulfill, I don't have to be brilliant anymore."
Manuel and Oraphan pair work tirelessly for the duration of our interview. For 15 minutes, I watch as the couple discuss where a painting by famous Thai artist Kamin Lertchaiprasert should go. It's a lively scene.
"Art and life," says Manuel as he gazes upon a lone scarecrow placed high above Empty Space's infinite rice fields – apparently the first of many in a forthcoming exhibition for the harvest season, named Hope.
More information is available at emptyspacechiangmai.info and its Facebook Page, Empty Space Chiangmai.