CityNews – Following the brief story in CityNews earlier this week of a British woman being raped in Pai in late October, we were approached by the victim on Wednesday, wishing to tell her side of the story, which she bravely did here.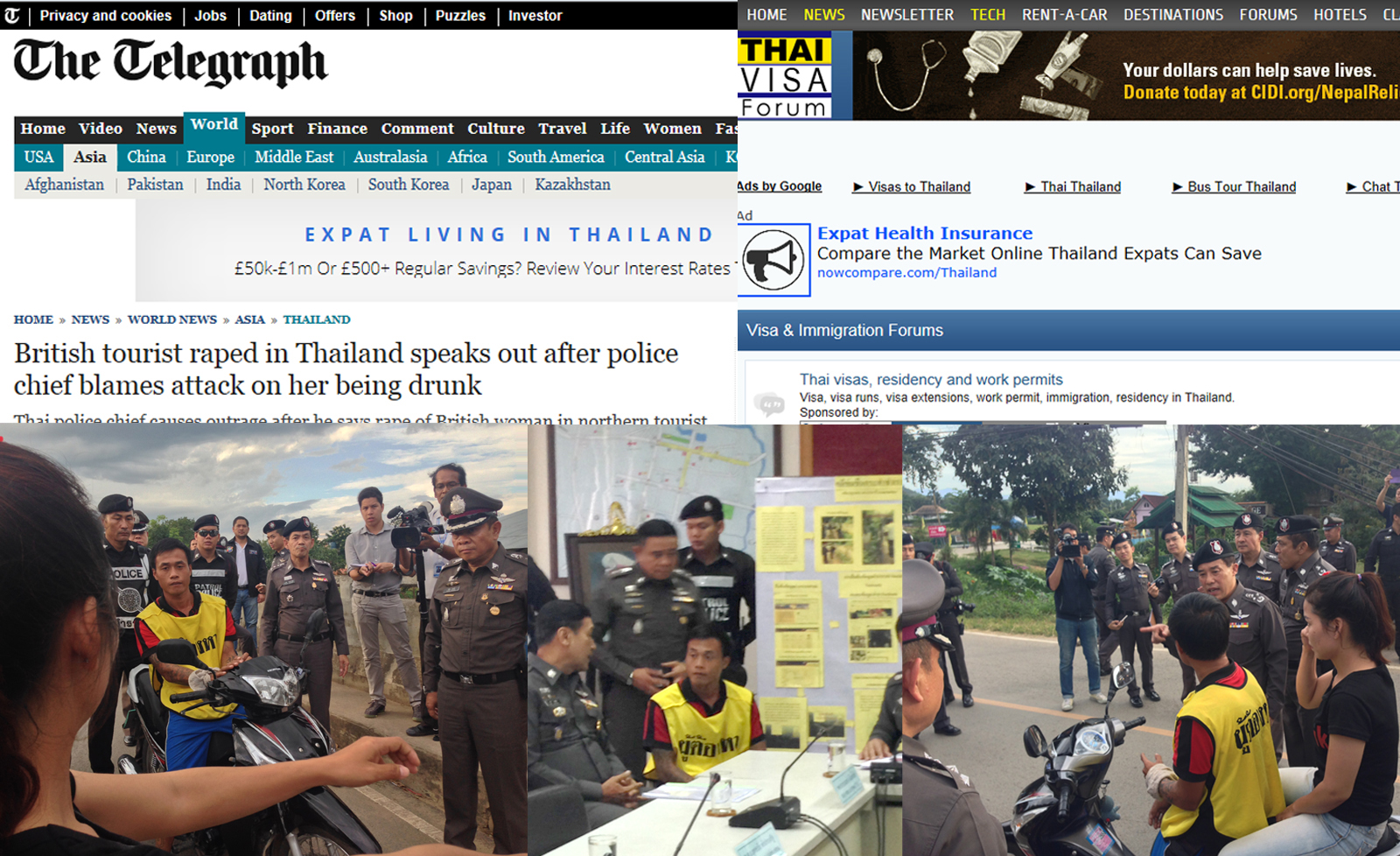 Since her story has been told, there has been much interest, mainly by the British media, who have long been closely watching Thailand's authorities grapple, and regularly fail, to professionally and compassionately deal with both the victims of rape as well as the international press. Today, this article referencing her CityNews story was published in The Telegraph and this evening the victim also came to CityNews' office to hold a Skype interview with Andrew Drummond, the veteran British reporter who has been covering crime, especially British-related crime in Thailand for over two decades. Following death threats for exposing crime, he is now working out of the UK.
There appears to be an alarming process by which many foreign rape victims have to go through in Thailand. They are often vilified by authorities and the local press, they remain silent in the media, their voices going unheard and challenges they face unreported, and often their trails go on for so many years it is virtually impossible for them to continue to press charges.
Remember the case of 23 year old British backpacker Hannah Witheridge, who was raped and murdered on Koh Tao in 2014? Thailand's precious reputation was dragged and dissed through the pages of international newspapers after Prime Minister Gen Prayuth Chan-o-cha, said that foreign women wearing bikinis would be unsafe in Thailand "unless they are not beautiful". The deeply flawed, and highly suspicious, investigation and trial is still ongoing.
In this case, an equally tone deaf Police General Wut Lippatapanlop, Deputy Commissioner General, who flew into Pai in a helicopter for the press conference on Monday said that "the rape happened as a result of bars closing after hours, making tourists senseless," victim blaming appearing to be the knee-jerk norm when such incidents occur. There is so much fear of damaging Thailand's reputation, without a shred of understanding what actually causes such damage. The fact that Thailand has rapists is not something that would surprise most people around the world nor cause any harm to the nation's treasured reputation. Authorities who victim blame however…
Despite her negative experience with hospital staff, the victim says that she has received support, especially by the embassy. She does not wish to discuss her experience with the Royal Thai Police at this time, though does say that it was very confusing receiving non cohesive updates from the various police agencies involved: Pai, Chiang Mai, Sankampaeng and Bangkok.
However, a local bar owner in Pai, who is also a friend of the victim's, told CityNews today that he was talking to some friends this week who were in a Muay Thai Boxing Camp in Pai and they had described the victim to him so perfectly that he wondered how they knew. They then told him that a local tourist policeman, owner of Sunset Bar, had been showing photographs of the victim on his Galaxy Note telephone, boasting of his involvement and asking them whether or not they knew her. "They knew exactly what she looked like and since she is a regular visitor to Pai, I had to call and tell her," he said.
CityNews was also called by the British Embassy today to ask which media had revealed the victim's name, a fact we revealed in our report. We assured them that, on her behalf, we have already successfully requested the removal of the victim's name from Chiang Mai News, the daily Thai language newspaper's web site, though there are a few other online Thai sources we are yet unable to contact who have posted her name. The embassy says that all is being done to assist the victim and that she has been given regular updates of her status in the legal process. The Honorary British Consul, Ben Svasti, who is currently on leave, has also reach out to offer his assistance.
However, in spite of the fact that the accused has been arrested, has had his DNA matched, been picked out of a lineup and has confessed, netizens of Thailand's infamous online forums appear to be no less insensitive than the Royal Thai police in victim blaming.
ThaiVisa.com's forum users, while overwhelmingly offering fair and balanced commentary and support to the victim, have had their fair of trolls, with deeply offensive comments being posted such as these: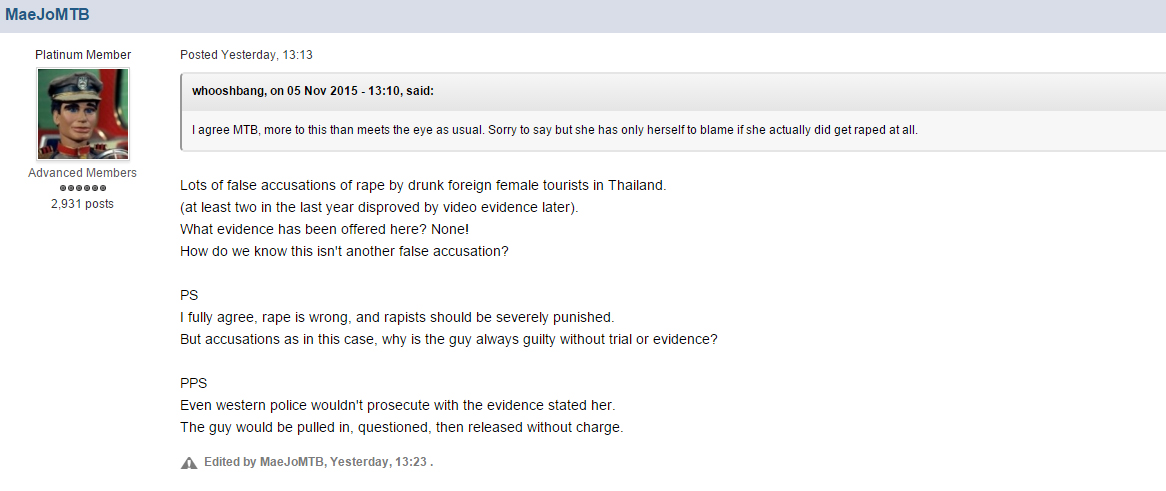 When asked how she felt about some of the online comments, she told us that while they were disturbing, there is little she can do about it.
However, according to Andrew Drummond, "The worst experience rape victims [go through] is usually from police and police methods and attitude and often lack of female officers to deal with. There have been cases of victims having to tell their stories to police up to seven or nine times a day (because male police want to listen)."
When asked about the infrequent media interviews victims of rape give, he said, "Usually embassy officials tell ALL victims of crime not to talk to media. This in effects puts a lid on the reality of what happens in Thailand in these cases. It also saves [the] embassy a lot of hassle. They are required by new recent legislation to offer full assistance to rape victims, whether they talk or not. You will remember that even though it was not a rape case the interview with Carly Reisig kicked off the Leo del Pinto enquiry. Had she not spoken initially this story would have not been covered."
"In the case of the rape of a Dutch model and the 'Evil Man of Krabi' record the father decided to speak on behalf of her daughter and did tremendous work in raising the issue of rape in Thailand."
He went on to say that speaking up will not affect the victim in Chiang Mai. Her identity will continue to be protected by the laws of other countries – in his case, the UK.
And in our case, Thailand.