Child's Dream, a non-profit organisation in Chiang Mai devoted to helping destitute children in the Mekong Sub-Region, is celebrating its 10th anniversary with a bang after collaborating with the Children's Medical Fund to save a young Burmese girl from a debilitating heart defect.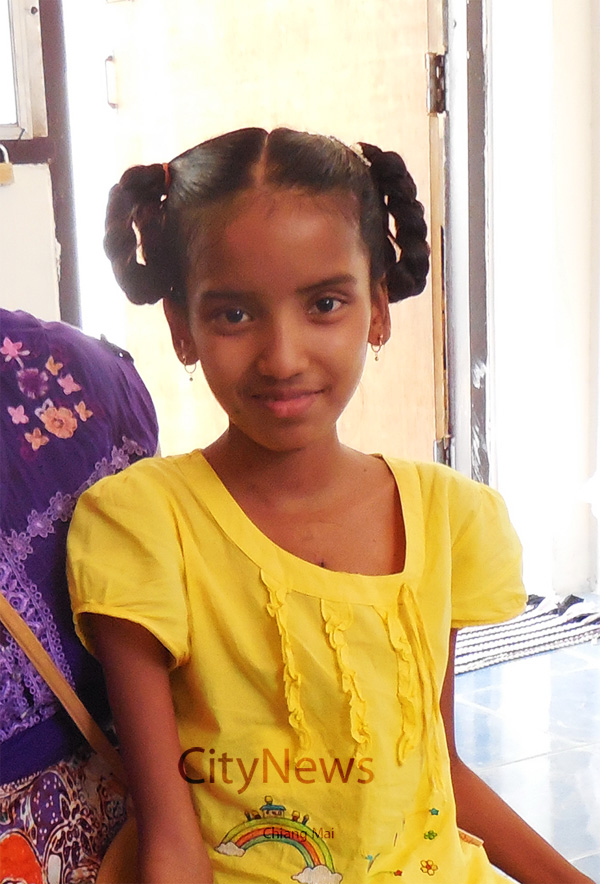 Phyo in good health
12-year-old Phyo arrived in Chiang Mai in dire condition – exhausted, stick-thin and unable to do the simplest tasks such as sitting in a chair for a long period of time. Phyo, who suffers from a valve defect in her heart, was carted around the country by her family who knew something was wrong with their daughter, but couldn't find her even sub-par treatment in Burma. After years of being ill advised by doctors and being fed ineffective medications, Phyo was sent to the infamous Mae Tao Clinic on the Thai-Burma border, and from there she was referred to the Children's Medical Fund Programme run by Child's Dream.
Daniel Siegfried, co-founder and programme director for Child's Dream, has dedicated his life to helping children like Phyo, who with the help of Child's Dream and the Children's Medical Fund, is on the road to recovery after finally receiving enough blood to undergo a heart procedure that would save her life.
"Phyo's operation was originally scheduled for May, but the hospital couldn't find enough blood," Siegfried said. "Not even the Thai Red Cross in Bangkok could find enough blood for her. A certain reserve of blood is a necessity for this operation because the patient is losing a lot of blood."
Luckily, Chiang Mai's extremely rapid response to social media pleas for willing blood donors helped procure enough blood for Phyo's operation in only four days. Waraporn Intasaen (a.k.a. Ta), a trained nurse and programme head of the Children Medical Fund, was heavily involved in Phyo's case and reported she was ecstatic to see the little girl with so much energy.
"The operation went very well," Ta said. "She has already gained four kilograms. Before, she was very thin and tired all the time. Now, she has more energy, is eating well and can sleep."
While Phyo's story is considered a successful one, Child's Dream's Siegfried explained that there are still thousands of insolvent communities riddled with sick children yet to be saved, or at the very least, properly educated. Eastern Burma, which has child mortality rates of somewhere between 25-30% ("the highest in Asia, and even in African standards it's among the highest," Siegfried said) has refugees flocking to what has become a hub for the hopeless, Thailand, as their last chance to get help.
"These people come from really isolated areas like refugee camps or the middle of the jungle," Siegfried explained. "Quite often they notice something is wrong with their child, so they will go to the local hospital first, which is normally not at all equipped or functioning properly. Then they will go to bigger hospitals in places like Yangon – these hospitals will accept them even though they can't solve the problem because they just want to make money. Often families sell their farm and livestock, or in other words their livelihood, to pay for these ineffective and often dangerous operations. We've even seen cases where doctors in Burma have actually made things worse, and Thai doctors will open up bodies and are completely shocked at what other doctors have done. It's quite frightening."
Chiang Mai has become a popular city to pass through, tour around and even retire in, but Siegfried commented that so many visitors have no idea what's going on in poverty-stricken communities surrounding the fast-flourishing city. Siegfried explained that a huge number of child deaths stem from preventable, or at the very least, treatable diseases such as malaria, measles, acute respiratory infection and even things as simple as diarrhea. Children suffering from these types of (mostly) congenital diseases are brought to cities like Chiang Mai, cities able-bodied enough to provide treatment that can prevent "children from dying early deaths." Child's Dream alone supports over 200 village health workers in eastern Burma to treat children with communicable diseases.
"You don't have to go all the way to Laos or Burma to see it," Siegfried said. "Just go behind Doi Suthep and you can see some of these communities which still really struggle in many ways."
Although a person such as Siegfried has reason to celebrate with success stories such as Phyo's, the welcoming of their 1, 000 patient and the construction of over 150 new schools, non-profit organisations such as Child's Dream are still in dire need of funding.
"To be honest, what we need is money," Siegfried said. "It's sad to say, but that's what we need. We need awareness as well. By raising awareness, we hope people will want to come and help."
If you are looking to donate, volunteer (Child's Dream requires a minimum commitment of 4-6 months) or learn more about Child's Dream and what can be done to help impoverished countries across Asia, please visit http://www.childsdream.org/.