The Big Tree Benefit took place on Saturday, 1st February 2014 at the Fuen Baan Yan Wiang Library behind the Three Kings Monument complex. The organizers were the Chiang Mai GreenCity project (Chiang Mai Keaw Suay Homm project), Fuen Baan Yan Wiang library and the North Gate Jazz Co-op.
The aim was to raise awareness about the health status of Chiang Mai's big trees and to raise some money for the Keaw Suai Hom Green City project and Maejo University's Tree Doctor Volunteer Project, who are currently working to restore 500 of our city's big trees back to full health.
There were many eco-friendly and organic products on offer and various artworks for sale at the event. Some of the goods on offer were fresh avo and pesto bagels from Bird's Nest, Kajana handmade cotton cloths, Akha Arma coffee, dip-dye hand-made notebooks, artwork from Matoom Art Space. There was also an exhibition and a small workshop from the Forest Restoration Research Unit at Chiang Mai University and the Tree Doctor Volunteer Project from Mae Jo University.
The event also featured three jazz bands from the North Gate Jazz Co-op and a Lanna folk band from the Three Kings Monument Art and Culture Centre.
There were four guest speakers who are experts of conservation and social movements in Chiang Mai:
1) Dr Prasak Tawonyutikarn, Faculty of Science, Chiang Mai University – topic: "History and Tree Conservation" 2) Oran Rick, director of Big Tree in Town – topic: "Big Tree in Town and Human Benefits" 3) Ricky Ward, retired – topic: "Conserving Native Trees" 4) Warong Wonglangka, Faculty of Architecture, Chiang Mai University – topic: "The Power of Nature for Humanity"
About 200 visitors joined the event and over 20,000 baht was raised.
See photos from the event below: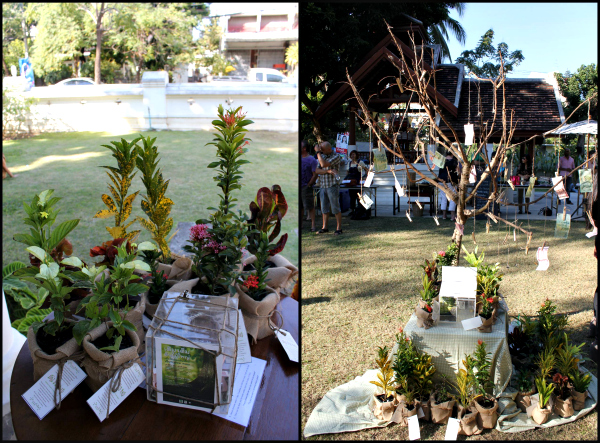 Some trees for sale on the left and a "money tree" on the right.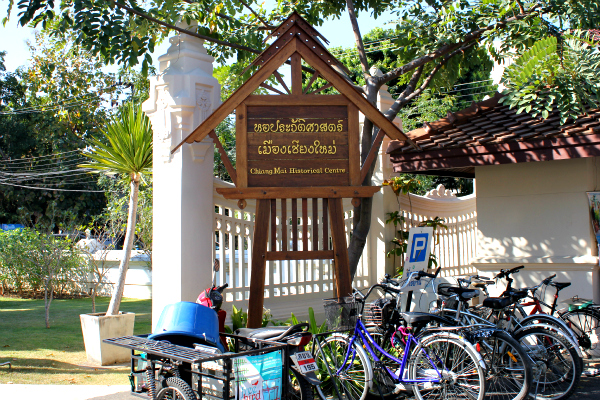 The entrance to the Chiang Mai Historical Centre.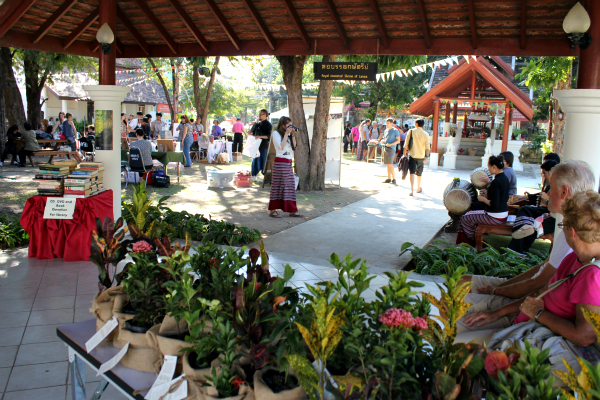 Entering the event.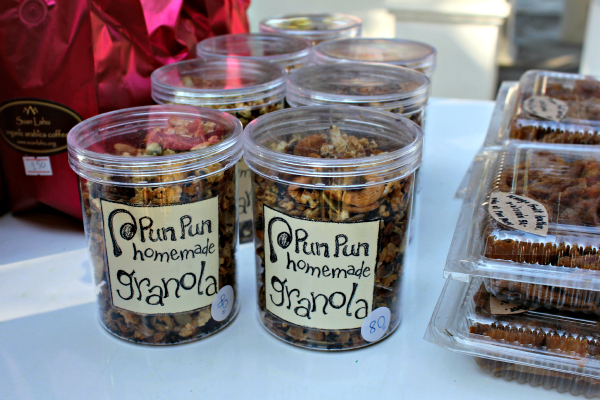 Pun Pun Organic Farm's homemade granola – yummy!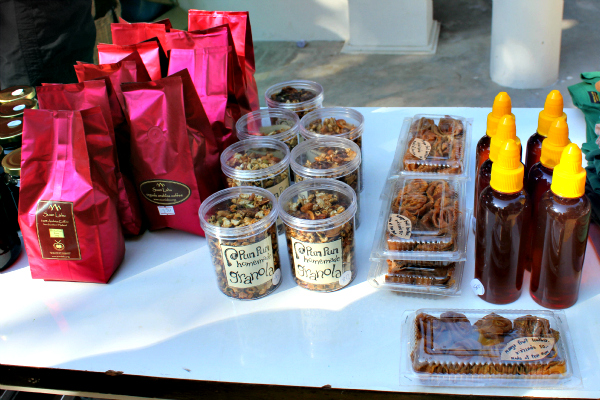 Some more high quality, delicious products for sale.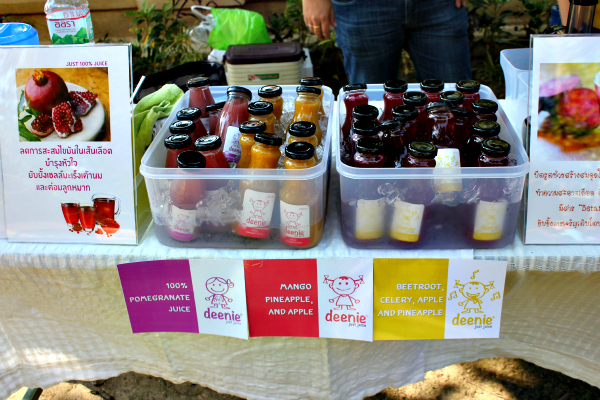 100% natural fresh juices.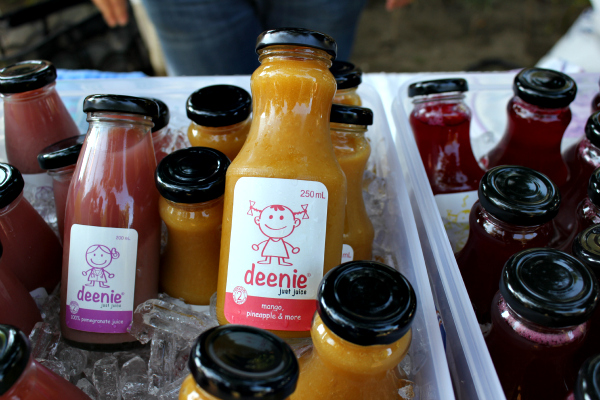 Mango-pineapple juice.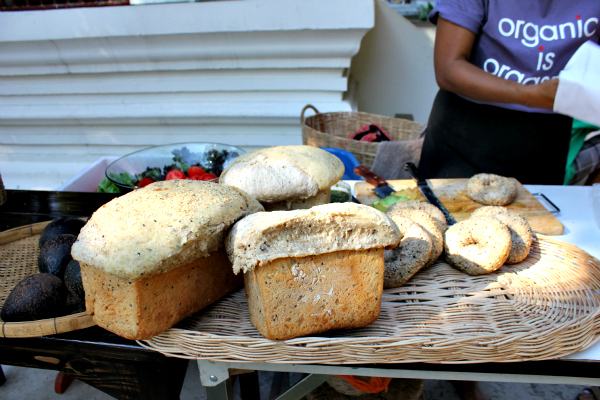 Bread and bagels! Who can resist?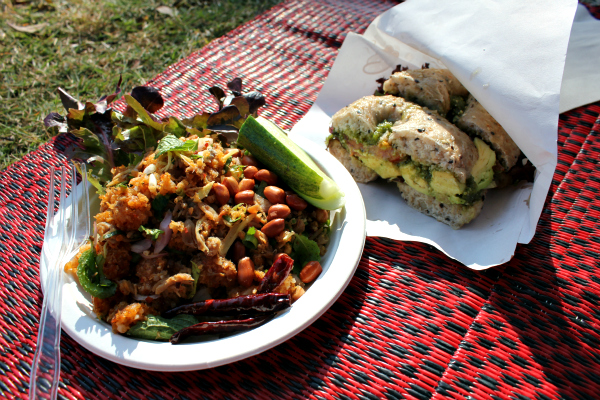 A Thai spicy mushroom and peanut salad along with a Bird's Nest bagel.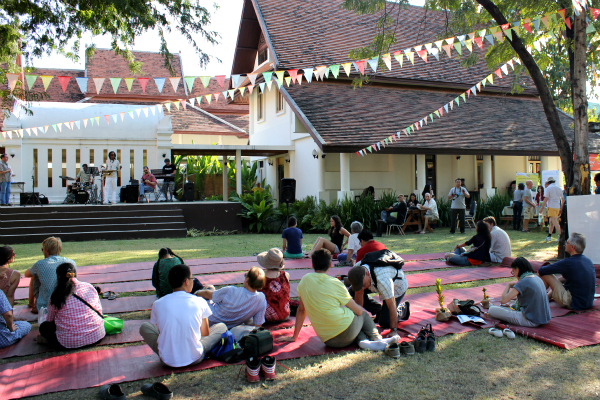 Some of the guests enjoying the jazz.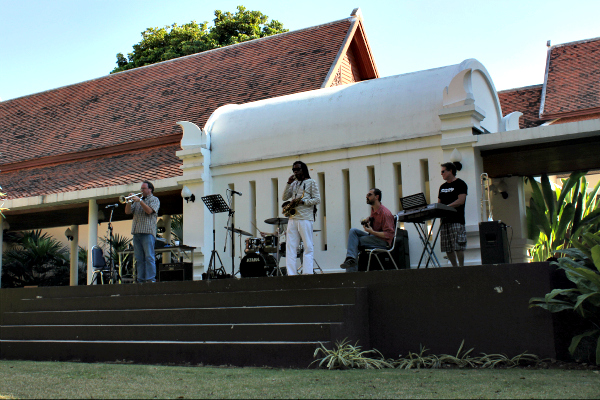 One of the North Gate Jazz Co-op bands on stage.
A cute sign for cupcakes: "…all 15 Bath and othe stuff… I love a tree."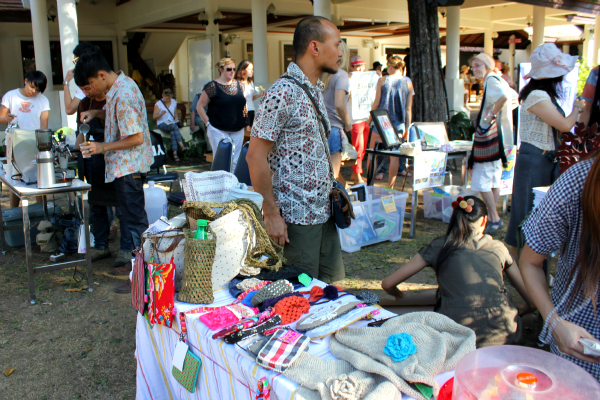 One of the stalls selling home-made goods.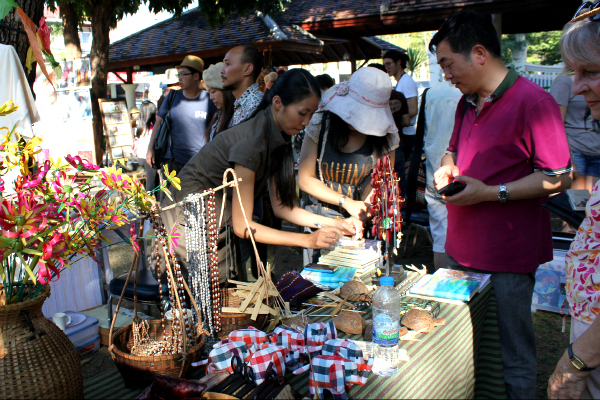 More home-made goods.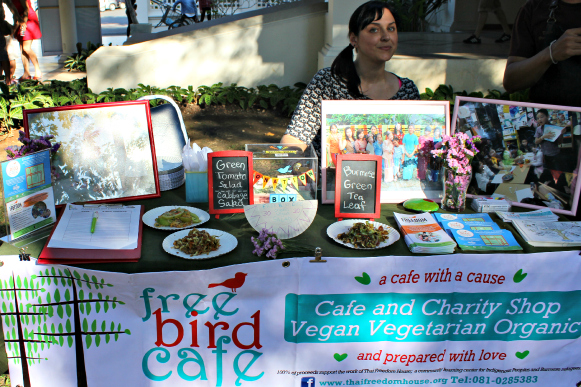 Lisa at the Free Bird Café table.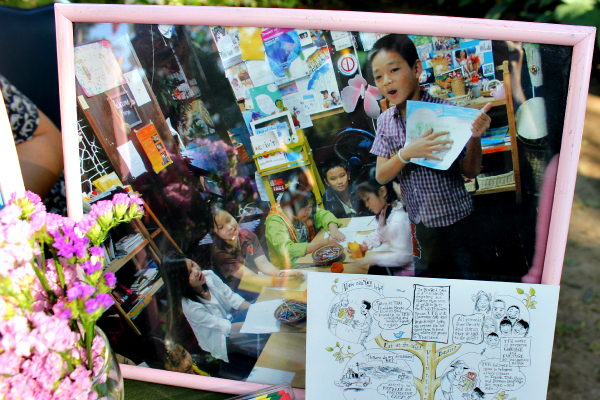 A picture of the kids at Thai Freedom House, which is supported by Free Bird Café.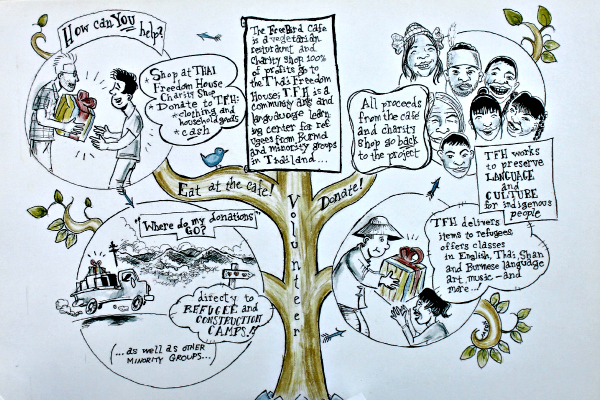 A close-up of an informational card at the Free Bird Café table.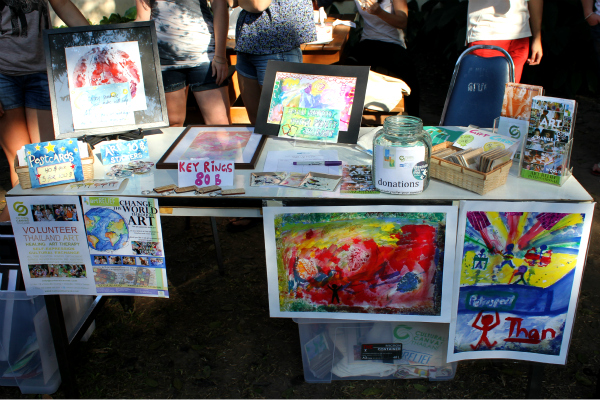 The Cultural Canvas Thailand table.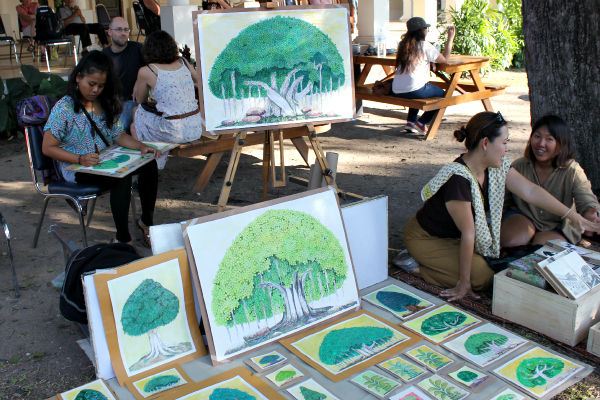 Beautiful tree-themed artwork by the talented Rasmee Wayrana.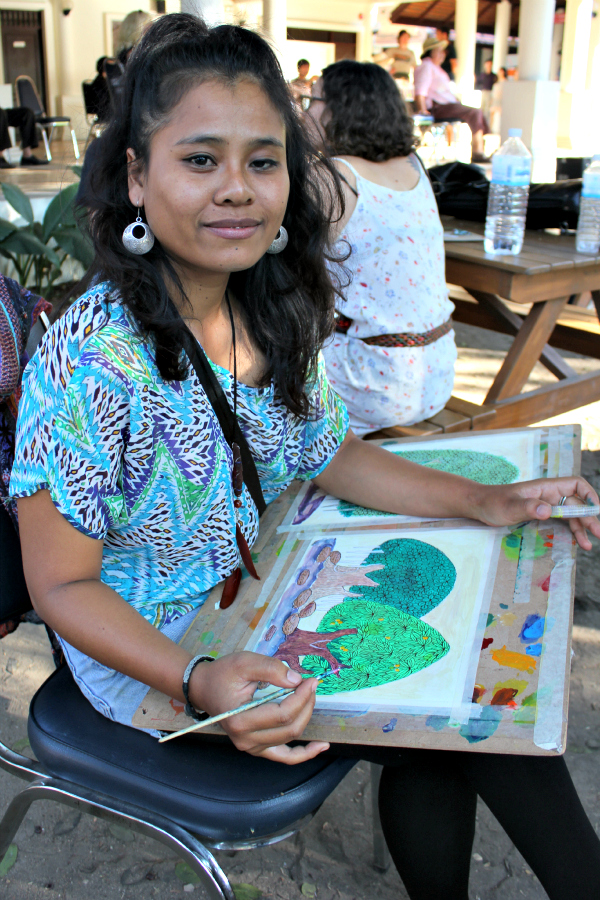 Rasmee Wayrana painting trees.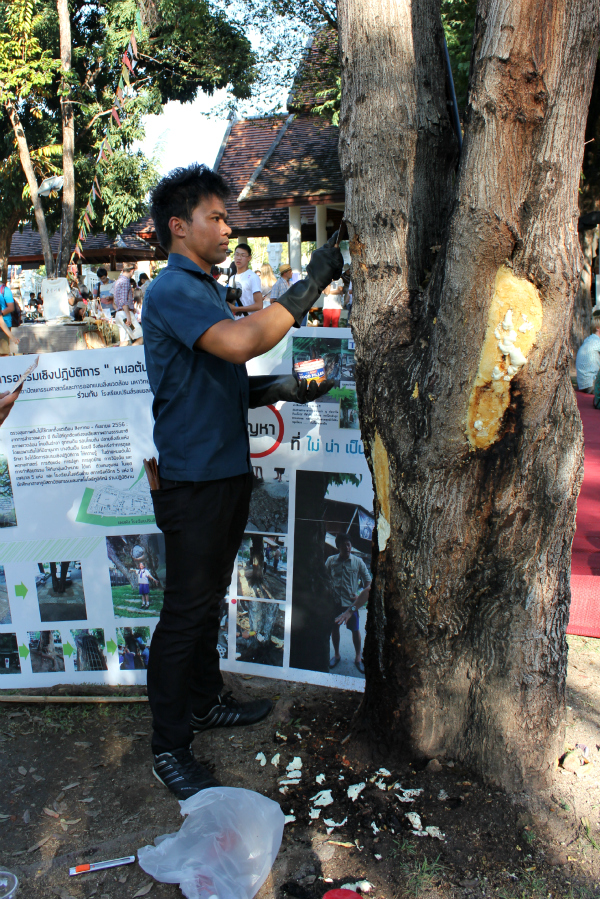 A "tree doctor" repairing a tree.

All photographs by Adrian Fleur. You can see more of her work at Market of Eden.