CityNews – My eyes were watering as I walked into the Provincial Office this morning hoping for an interview with the governor. I didn't have many expectations, as our first letter requesting an interview was sent to the governor's office over eight months ago, but with the pollution invading my eyes, nostrils and lungs, I felt that it was time I was allowed a few answers. Following a change in governor late last year, we sent yet another letter requesting an interview; a long list of questions, as is the prerequisite for most official interviews, was written up, mailed, faxed and emailed to his secretary and the waiting game continued.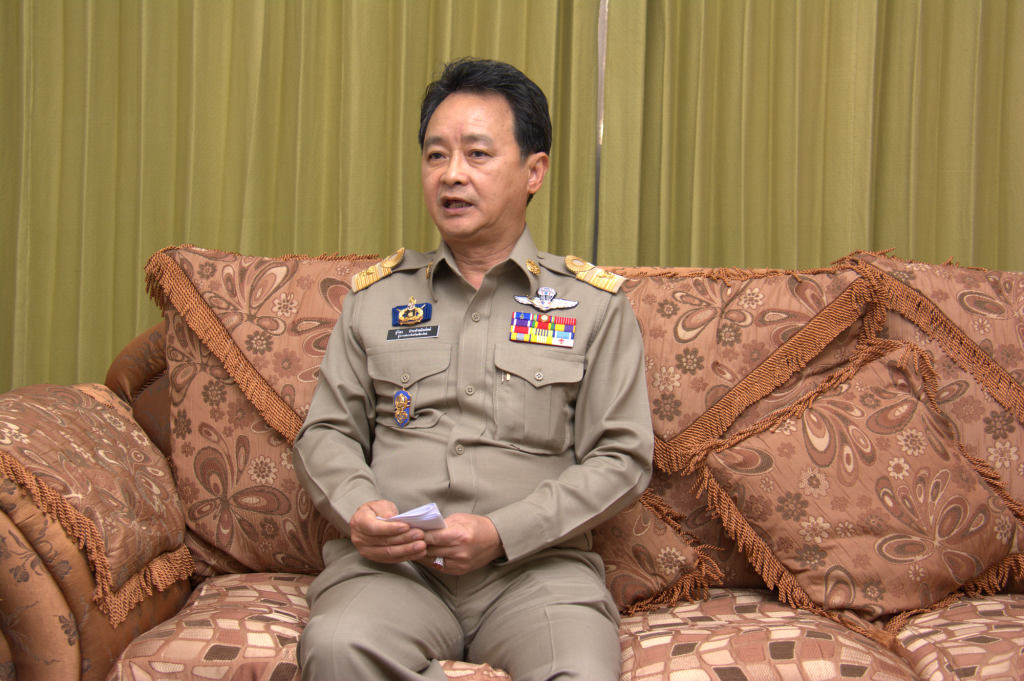 So, a few weeks ago when I was told that I was allowed a full hour with the governor, I was terribly excited. I headed off to the International Chiang Mai Convention Centre, where he would be, and sat in a luxurious room (Banharn Silpa-Archa's office, no less), where I waited for a good hour or so. Finally the governor, a small slim man, always seen in the standard brown government uniform, arrived with Boonlert Buranupakon (head of Provincial Administrative Organisation) in tow. Boonlert, a consummate politician, remembered my name and magazine and was most solicitous before the governor told me that I could wait for another hour and a half for his next meeting to conclude when he may be able to give me five to ten minutes.
I politely declined.
A few cancellations and changes later I found myself joining a lift full of face masked government officials this morning, all complaining about the pollution, and was soon ushered into the governor's third floor meeting room to await his arrival. The staff were bustling about, telephones ringing off the hook with harried replies; "yes, the fire has been reported," "the army is on standby with helicopters of water," "the meeting with the health department is scheduled for an hour," and "the commander of the army's third region is arriving any minute."
Obviously the governor's office was under siege with this pollution crisis. And rightly so.
Finally the governor rushes in and announces that he has very little time. So without further ado I ask what has been done differently this year than in previous years to combat pollution and why the results are so dismal.
"You have to look at the truth," he said. "It is the wind, it is from the Bay of Bengal, the winds come through Myanmar, it goes past Tak or Mae Hong Son Provinces and we have to accept that our neighbours use these methods."
I pointed out that satellite maps showed our own culpability. "Our people do the same, of course," he admits. "Especially the corn growers. This year we started working towards [mitigating] this really early, in November. We went to talk to villages, we talked about using compost fertiliser, we set up environmental groups, we gave money to create 1,300 kilometres of firewalls along borders of national parks. It is not long, I know, considering the number of national parks we have, but we did what we can, and the results were very good, especially in the Chomthong and Hod areas. We also beat the fire to the punch by starting to burn the lower brush, the 1 inch brush, rather than wait for what it is now at 4-5 inches. So we started burning low controlled fires in January. This helped to lessen the amount of brush in the forest, so later in the season there will be less damaging fires. The problem this year is the winds from Tak, Mae Hong Son, Myanmar are blowing the smoke north, and as we are in a basin, it just sits here. What I tell people all the time is that it comes with the wind, so it will go with the wind."
When asked how he is coping with this crisis and dealing with the worsening situation he reaches into his pocket and grabs his phone, "You see? I get direct reports all the time, on Line, here, I just found out that yesterday there were 11 large fires in Chiang Mai. It is not as bad as some think. In fact, [the pollution] should have lessened by now. I don't understand. I am getting a report on it soon."
"It is a health crisis, a tourism crisis and a crisis for all of us. We are waiting for the pressure from China to lift and the winds to blow it all away. We have already issued a 60 day no burning ban as of 15th Feb. So there is less burning."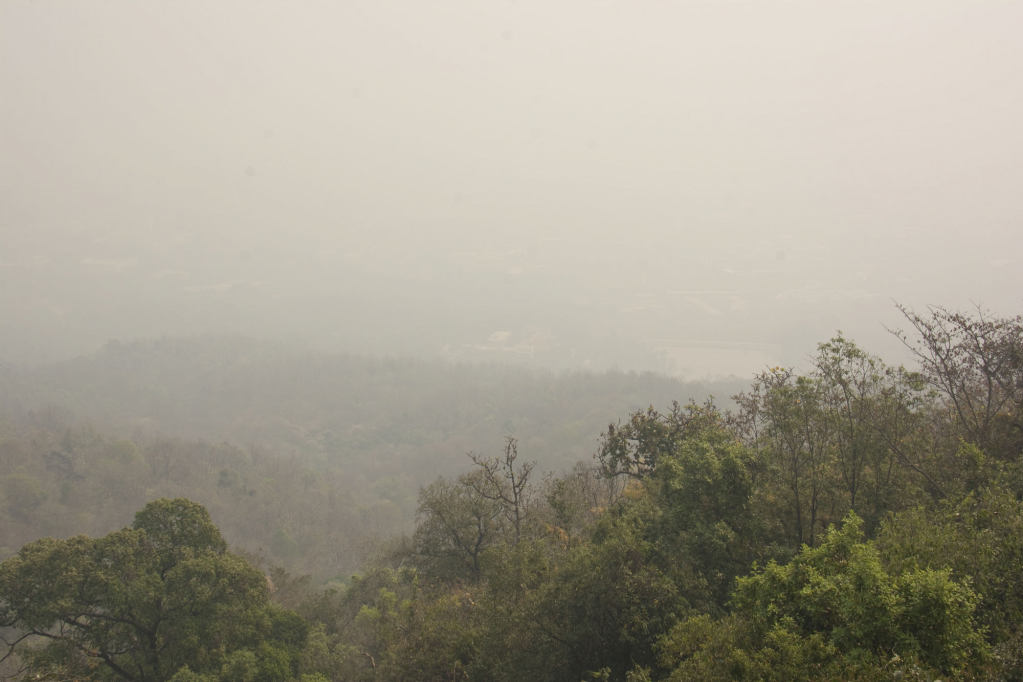 I told the governor that every night I see fires, they are everywhere and it doesn't look as though it is any less than previous years or controlled in any way.
"Some people use matches with strings soaked in flammable fluids, they light the end, run away and by the time we receive a complaint, mobilise a team to respond and make our way to the burning area – if a vehicle can get there at all – the perpetrator is long gone. It is not easy. But we have very heavy fines in place and many local authorities out looking for fire starters."
So, how many people have been arrested?
"One man. But we will catch more."
I asked him about the mushrooms and whether it would be any use banning the sales of certain mushrooms this season, as proposed by some citizens.
"I don't agree with the blanket ban. There are many national parks which open themselves up to allow foragers to hunt for mushrooms without burning anything. And you don't want to destroy their livelihoods do you? It will also be impossible to enforce. Some villages are conscientious. But many don't report. They protect their own."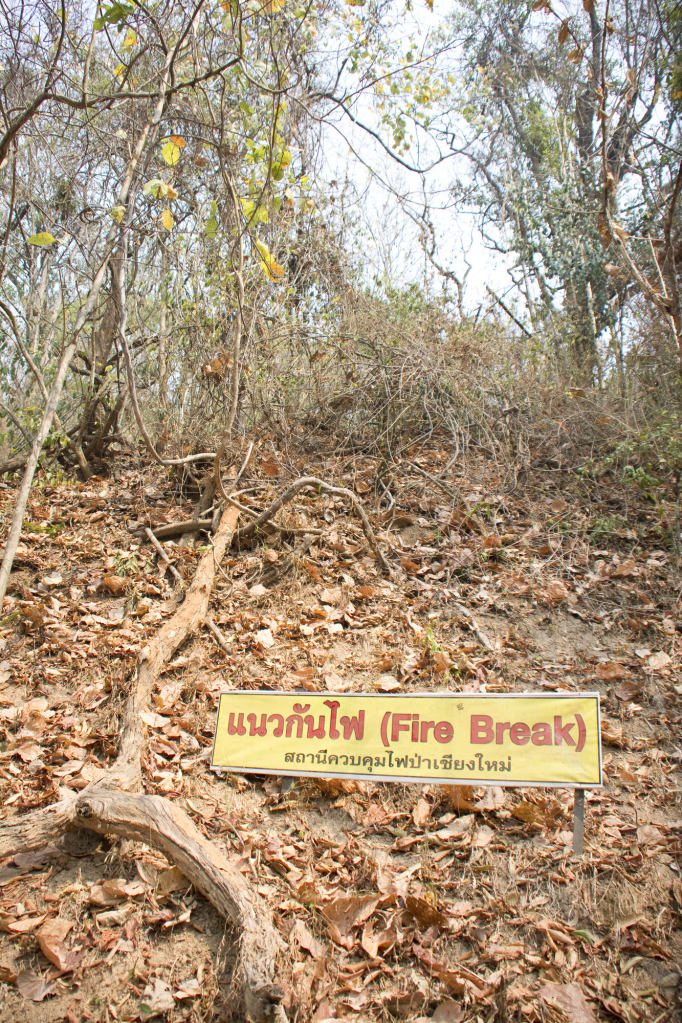 "I am from Tak, we have a 400 km border with the Karen states of Myanmar, these people don't have machines and use modern agricultural methods like us, so they use old fashioned burning techniques. Look at Indonesia when they had burning problems that reached Singapore. Singapore had to deal with it on a national level. So do we."
Ten minutes had past, with the governor growing more and more frustrated with questions and eyeing his watch every few moments.
"You have a few more minutes, I have to go and meet the head of the region's army, hurry," I look down at my massive list of questions and started shooting.
"New airport?" he laughs. "That is a rumour. All we have done just now, and I mean very very recently, is send a request to the central government for a feasibility study. The projection for this airport is that at a 5% growth, it can manage to function for another ten years. But last year we grew at 27%. So we must reevaluate. A study is soon to be done and yes, we will eventually have to move airport out of the city. But it's all rumours!"
"4th ring road? That is for sure. Now we are looking at buying back land, and are already launching the bidding."
"Billboards? That is not my purview, all I know that all government agencies work towards minimising billboards so it is not ugly while giving opportunities for businesses to grow."
"Public transportation? That is the city's responsibility."
"Election of Provincial and Tambol Administrative Organisations will go ahead as usual. It is not the end of term yet, so whether or not the government is holding elections and whether or not provincial authorities are, is irrelevant."
At this point the governor was about to stand up, so I explained who we were as a publication and that many of our readers were expatriates and that many were having a tough time with immigration. Waiting in long queues from 2am, companies and organisations being hassled by staff some of whom are reportedly corrupt and general apathy of the immigration office in working with the expatriate community to make living here more convenient as well as legitimate.
"I don't know what you are talking about. I have never heard of any of these issues," he began to get visibly upset. "Give me names, I will fire people, I will deal with them," he demanded.
I explained that many feared to name names, including myself, as we didn't want to get into trouble.
"Tell me their names, give me a list. Tell your readers to send it in. I will deal with it. If you don't trust your government then why are you in this country?" he snaps at me to which I replied that I was Thai and that this was my country.
"My priorities since coming to office has been forestry and social harmony," he explains, after taking a deep breath. "We have done great things with national parks, reclaiming land from squatters – 6-7,000 rai at SriLanna National Park alone – and I feel that there is now peace in our society. I had a meeting recently with a few hundred people." He then looks at me and asks, "Why weren't you there? What kind of journalist are you?"
"Anyway, in this meeting, I asked everyone if they preferred freedom to peace. Only a handful of students put their hands up. Well, a handful of students who don't know much anyway, versus a whole nation who want stability. That is not an issue for me.
"We all felt the pressure of the previous political upheavals. As governor, you can't imagine. Pressure from above and below. All these people who want freedom and talk about it, can you back up your talk? Can you eat freedom? Can you save lives with freedom? People are drunk with television, they watch red, blue, green, whatever colour TV and they are drunk with it.
"I say that the soap opera is now finished. Let's get back to shelter, food, education, health, the basic necessities of living. And the reality. No need to follow people blindly anymore. We now have peace, and that is good enough for me."
At which point the governor told me that he had to rush off to meet the head of Region 3 army commander and that I was to walk with him should I have further questions. I did, but since he was on the phone the entire short walk, we departed at the lift following a short wai.
I am putting in my request for a follow up interview now, and hope that I will be able to spend more than 20 minutes with the governor and give you a more in depth report sometime within the year.