Barely 6 months old Doi coffee is an odd place. From the outside it seems a little too big and empty, a little too Thai, or a little too new?? I am not sure what it is that stops Doi Coffee from being full but other people ( locals and expats) have expressed a similar lack of appeal to visit: 'tacky' one person said – but that's not quite it… Its just lacking the appeal a novelty, hip or slick cafe has…. However don't judge a book by its cover!!!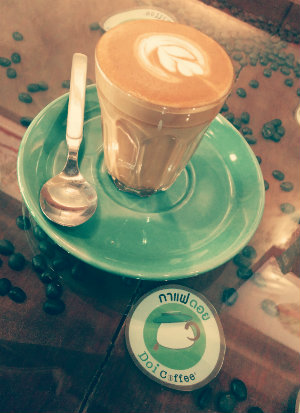 Coffee – at first sip I was blown away, their signature 'hot Doi magic' tasted like a Ristr8to latte! Strong, bold and smooth this is one of the best coffees I've had in a while. The staff know what they are doing when it comes to making coffee and recently came first runner up in the Northern barista championships. They also import beans from around the world and offer Kenyan, Brazilian and many other drip coffees. What a hidden gem!!
Cafe– Inside the cafe has lots of tables and stools, a great place to work and two WiFi networks to guarantee speed. The tables have a bench and a chair- both at different heights so you can choose the one that suits you – and the WiFi password is displayed on the table so you can connect immediately!
Other– The staff are attentive and friendly, some Thai pop music playing in the background and interesting décor including plants, bags of coffee on the walls and a waterfall.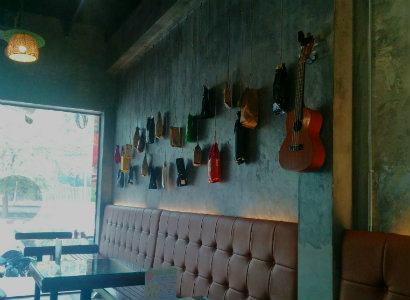 My recommendation to Doi Coffee is to move the sofas inside, add some small smoking tables outside and add more plants to hide the view of Suthep road. All the components of a great cafe are here, including great coffee, they just need some time to refine the cafes image!
Cost: 45- 65 Baht
Open: 7.30- 21:00
Location: Suthep road (after Nimmanhaemin road and before Canal road)
Facebook: Doi Coffee
Know other great places for coffee? Want cafe advice? Contact me at chiangmaicoffeeculture@gmail.com