CityNews – Trade & Investment Minister Lord Green visited Thailand on 13 June as part of his two week Southeast Asian tour.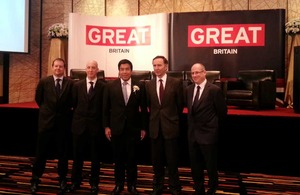 Accompanied by a delegation of 23 UK companies from the infrastructure and professional services sector he opened a major British Embassy seminar showcasing UK expertise in large scale projects. He also met with Transport Minister Chadchart Sittipunt to discuss opportunities to enhance existing cooperation between the UK and Thailand in the infrastructure sector.
Opening UKTI's Infrastructure seminar Lord Green said:
UK companies are very interested in collaborating with Thai companies to support Thailand's infrastructure projects. The UK has many years' experience in the development of rail networks with London Underground celebrating its 150th birthday this year as the world's oldest and most successful underground network, delivering over one billion passenger journeys last year. The UK is constructing Cross Rail in London which is currently the largest rail infrastructure project in Europe and in high speed rail we are currently designing HS2, which will provide a high-speed link from London to Birmingham, then beyond to Manchester, Leeds and Liverpool.
Leading UK companies are also keen to get involved in the Water and Flood Management Projects, where the UK has expertise in weather forecasting, flood management, engineering consultancy, and supply chain products such as flow-control valves and water treatment technologies.
The British Ambassador Mark Kent said:
Around the world British companies are working on all stages of infrastructure projects – from conceptual design and contracting to project financing and from project management to asset management. UK companies are also delivering world class products and services throughout the supply chain and importantly introducing innovative technologies.
The UK's world-leading talents were brilliantly showcased during the hugely successful 2012 Olympic and Paralympic Games. These events reinforced the message that Britain is the go-to partner to do business with. The 23 UK companies participating in today's seminar are very keen to work with Thai partners to support the country's ambitious infrastructure investment programme.
In the presence of British Chamber of Commerce Thailand members, the Minister witnessed the signing of an agreement between UK Trade and Investment and the British Chamber to enhance the support and services available to UK SMEs who want to explore business opportunities in this dynamic market.
Lord Green said:
Thailand presents an enormous opportunity for UK goods and services and we are significantly enhancing the support available for British business in Thailand. We have signed an agreement with the British Chamber of Commerce in Thailand that will see them providing a wider range of services to British companies seeking to do business here.
BCCT Chairman Simon Landy added:
This initiative will present British companies with a comprehensive package of in-country advice and services designed to facilitate successful market entry. For the first time it brings together the knowledge and expertise of BCCT and its members with the experience and contacts of UK Trade and Investment – a winning partnership.