CityNews – The UK Border Force and Trading Standards have launched a public campaign warning festive shoppers to be careful about what they buy and where they buy it from to avoid fuelling the illegal trade in counterfeit goods.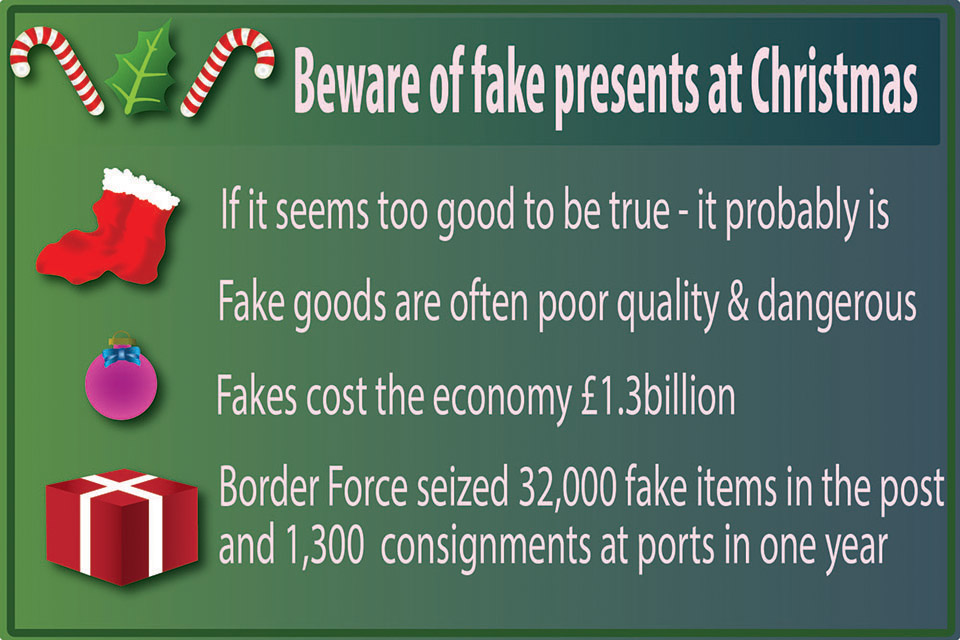 Border Force officers have stopped millions of pounds worth of fake goods from entering the UK in the run-up to Christmas.
During the past month alone, officers based at postal centres, ports and airports across the country have stopped tens of thousands of counterfeit goods from crossing the UK border.
Goods detained by Border Force officers this year include counterfeit clothes, handbags, sunglasses, toys and DVD's.
Counterfeit goods
Immigration Minister, Mark Harper, said:
Cheap counterfeits undercut honest traders and leave shoppers with goods that are at best inferior to genuine products and, at worst, harmful or unsafe.
The international trade in counterfeit goods is serious organised crime and is a serious threat to the UK economy in terms of lost profits and tax revenues and are estimated to cost the economy around £1.3 billion a year.
We have Border Force officers operating 24 hours a day at ports, airports and mail sorting centres detaining counterfeit items that could otherwise end up as gifts this Christmas. The public can play their part in disrupting the trade by ensuring they only buy from genuine retailers.
In the financial year 2012/13 Border Force detained more than 32,000 consignments of Intellectual Property (IP) infringing goods in postal traffic and more than 1,300 consignments in air and sea cargo, fast parcel and vehicle traffic.
Beware of fake goods
Examples of recent seizures in the past six months include:
· More than 91,000 items of counterfeits detected at Heathrow ranging from Louis Vuitton bags, Beats by Dr Dre headphones, Estee Lauder cosmetics to Rolex and Bvlgari watches.
· More than 30,000 items detained at Southampton docks included 580 Louis Vuitton bags, 400 Louis Vuitton branded belts, over 22,000 various branded sunglasses and 2000 items of fake jewellery – with the total of goods estimated to value of £4.1 million.
· At the Coventry postal hub Border Force officers have detained various counterfeit products including Shure Microphones, Callaway X-Hot Drivers Armani Watches, Xbox Headphones, Ugg Boots and Martin Guitar D45.
Andy Lumb, Assistant Director Border Force South, said:
Border Force is uncovering all sorts of fake goods, from beauty products to children's toys, and we're warning people to be particularly wary of buying cheap items online or from unofficial traders.
Many people enjoy finding a bargain but quite simply, if a price appears too good to be true, whether found on the internet or at a car boot sale, it probably is.
Christmas
After suspected counterfeit goods are detained by Border Force, officers approach the rights holders to verify that the products are fakes. The rights holder then decides whether or not to bring a private prosecution against the importer. After this process is complete, the goods can be destroyed.
Counterfeit items purchased over the internet – often by unsuspecting buyers – and imported through the postal system can be seized, leaving the buyer out of pocket.
Ruth Orchard is Director-General of the Anti-Counterfeiting Group, which represents most of the brands under attack by the counterfeiters:
Counterfeiters gear up for Christmas like legitimate manufacturers and retailers. Most fakes are still made overseas and once they enter the country millions of pounds worth of counterfeits appear for sale at markets, discount stores, car boot sales and on the internet.
Everyone loves a bargain, but consumers need to know that behind every fake is a complex chain of criminals and fraudsters with one aim – to part you from your cash and use it to fund more serious organised crime. Border Force is the front-line defence against counterfeit imports, and our members applaud their ongoing efforts."