CityNews – Thailand – A total of 38 individuals, institutions, companies and organisations which have provided unstinting support to the Thai travel & tourism industry over the years will be presented with the "Friends of Thailand Awards 2013" at the Thailand Travel Mart 2013 Plus, the kingdom's most important travel trade show, on 5 June 2013.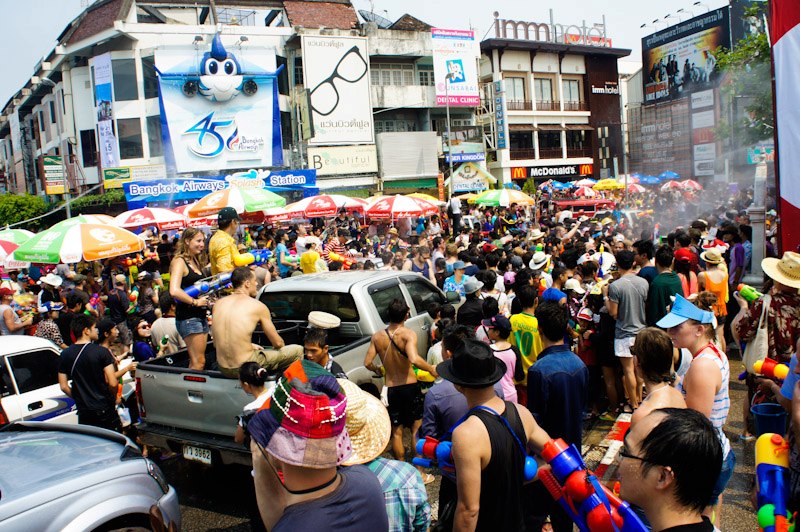 Tourism is booming!
Initiated by the Tourism Authority of Thailand (TAT) in 1996, the Friends of Thailand Awards are conferred every two years to recognise and reward the efforts of the award-winners to maintain a positive image of Thailand and ensure a steady flow of visitor arrivals. This year's awards will be particularly important because Thai tourism is generating record-breaking arrivals, a clear result of the successful contributions of the "Friends of Thailand."
This year's awards will be presented to 38 "friends" from 24 countries, as follows (see the full list of recipients at the bottom of this news release)
1. International Individuals; 7 recipients from 7 countries
2. International Organisation; 3 recipients
3. International Tour Operator; 14 recipients from 9 countries
4. International Media; 12 recipients from 12 countries
5. International Airlines; 2 recipients from 2 countries.
Commented TAT Governor Suraphon Svetasreni, "The awards presentation ceremony for the "Friends of Thailand," is normally organised alongside the "Thailand Tourism Awards" towards the end of the year. But this year, for the first time, we are organising it alongside the Thailand Travel Mart Plus 2013 (TTM+) so that the award-winners can gain more recognition and also see the results of their efforts."
He added, "The TAT realises and appreciates the efforts of both Thai and foreign organizations and individuals which have generated many benefits for our tourism industry, including economic development, job creation and preservation of our culture and heritage. The award-winners also include stakeholders who have contributed to preservation of the environment, culture and national identity."
The Friends of Thailand Awards was first held on 9 December 1996 at the Oriental Hotel Bangkok where 66 recipients from 18 countries were presented with the awards. Since then, it has been held in 1998, 2000, 2002, 2004, 2008 and 2010. The ceremony for 2012 has been moved to this year's TTM+. Through the 14 years (1996-2010), the TAT has conferred 510 awards on recipients from 59 countries.
The winners are nominated by 25 TAT's overseas offices and finalised by a judging committee which this year was chaired by the TAT Deputy Governor for International Marketing (Asia and South Pacific). Committee Members included the Deputy Governor for International Marketing (Europe, Africa, Middle East and Americas), Director of Thailand Conventional and Exhibition Bureau, President of Tourism Council of Thailand, Association of Thai Travel Agents, Thai Hotels Association, Thai Ecotourism and Adventure Travel Association, Thai Travel Agents Association, Association of Thai Tourism Marketing and Executives of Thai Airways International and Tourism Authority of Thailand.
The full list of the Friends of Thailand Award winners 2013 are as follow:
1. Category of International Individuals; Total 7 awards from 7 countries
1.1 Belgium: Mrs. Nathalie Meskens, Actress, Singer and Restaurateur
1.2 France: Mr. Christophe Guillarme, CEO, Fashion Designer and Art Director, Paris
1.3 India: Mr. Prabhat (Mickey) Jain, Managing Director, Beautiful Wedding Management Pvt. Ltd.
1.4 Japan: Mr. Tanenori Terai, Osaka Temmangu Shrine
1.5 Macau: Mr. Ho Lino Weng Cheong, President of Macau-Thailand Chamber of Commerce
1.6 Sri Lanka: Prof. Jayaratna Banda Disanayaka, Professor Emeritus, University of Colombo and Former Ambassador of Sri Lanka to Thailand, Cambodia and Laos
1.7 United Kingdom: Mr. David Kevan, Founder and Partner, Chic Locations
2.Category of International Organisations; Total 3 awards from 3 countries
2.1 China: Guangdong University of Foreign Studies (Department of Thai Language, Faculty of Asian Languages and Cultures)
2.2 Japan: Japan Association of Travel Agents (JATA)
2.3 Philippines: Philippine Thai Cultural Organization (PTCO)
3.Category of International Tour Operators; Total 14 awards from 9 countries
3.1 Cambodia: Caravan Angkor Tours
3.2 Cambodia: World Pop Travel and Tour Company Limited
3.3 China: Kingdom Travel Services Beijing and Shanghai
3.4 China: Shanghai Ctrip International Travel Service
3.5 China: Shenzhen Overseas International Travel Service, Chengdu Branch
3.6 Italy: Futurviaggi
3.7 Japan: Jumbo Tours
3.8 Korea: Honeymoon Resort
3.9 Malaysia: Airlink Travel & Tours
3.10 Malaysia: HYT Travel Services
3.11 Russia: PAKS
3.12 Switzerland: Tui Suisse Ltd. (Tui Flex Travel)
3.13 Taiwan: Allstate Travel Service
3.14 Taiwan: Comfort Travel Service
4.Category of International Media; Total 12 awards from 12 countries
4.1 China: Yunnan Information Daily (Yunnan Xin Xi Bao)
4.2 Finland: Mr. Antti Helin
4.3 Hong Kong SAR: Mr. Ka Ki Pun, Weekend Weekly Publishing Co., Ltd.
4.4 Iran: Safar Magazine
4.5 Malaysia: Mr. Teoh Weng Kim, PCP Publications
4.6 Romania: Mr. Catalin Gruiea, Editor in Chief, National Geographic Traveler Romania and Deputy Editor-in-Chief, National Geographic Romania, Sanoma Hearst Romania
4.7 Singapore: Mr. Cowan Floyd Anthony, Asian Journeys
4.8 Sri Lanka: Mr. Frederick Ivan Alvis, The Island Newspaper
4.9 Taiwan: Mr. Lawrence Chen, Chief Editor in Magazine (mml.com.tw), Writer, Blogger
4.10 United Arab Emirates: Mr. Muhannad Qarouni, Al Bayan Newspaper
4.11 United Kingdom: Mr. Peter Grunert, Editor, Lonely Planet Traveller Magazine
4.12 United Sates of America: Mr. James Ruggia, TravAlliancemedia
5.Category of International Airline; Total 2 awards from 2 countries
5.1 Indonesia: Garuda Indonesia
5.2 United States of America: EVA Air