CityNews – Singapore is busy putting together their own Songkran festival, which it plans to hold up next to the annual celebration in Thailand. The Tourism Authority of Thailand (TAT) says there's no chance the Singaporean version will be better than the famous Thai one.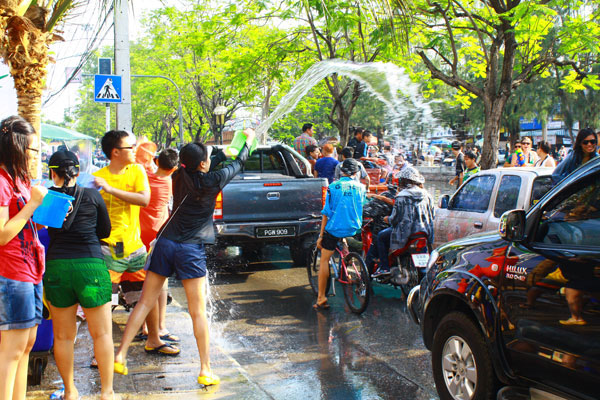 Songkran in Chiang Mai, which has become a favoured location for the festival.
The Singaporean Songkran will coincide with the Thai festival and will include Muay Thai boxing tournaments, Thai food, live music performances and lots of water-filled entertainment. The generally-wealthy Singaporean citizens seem excited about the upcoming festival, where tickets will start at $35 (US Dollars) and reach $140.
Singapore is calling their Songkran the "Largest Water Festival Celebration Party" in the country, which is strategically joined with the popular H2O Music Festival. This year, the headliner is Far East Movement (the band behind the hit "Like a G6"), while other acts include famous Thai musicians, singers and pop groups, as well as established Singaporean artists and DJs.
Although thousands of foreign and Thai tourists take to the streets for the Songkran festivals in Bangkok, Chiang Mai, Phuket and Pattaya, which brings in considerable revenue for the country, the Singaporean Songkran will likely make a welcome impact to their economy due to foreign tourists as well as local citizens.
The TAT says Singapore is just using the word "Songkran" and the idea of a well-known Thai tradition to attract tourists, and that their festival will be a man-made tradition, while the Thai Songkran is still a "real" tradition.