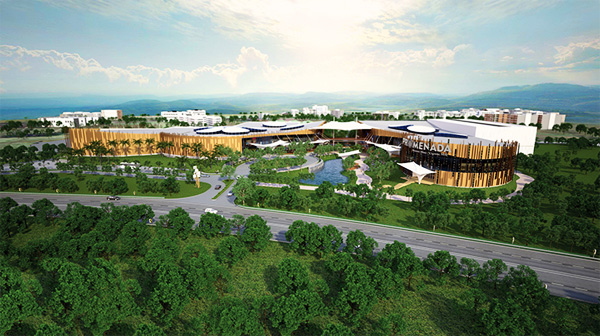 CityNews – Promenada Resort Mall Chiang Mai welcomes everyone to join the celebrations marking the opening weekend of Thailand's first resort-style shopping mall. Friday 7th June kicks off three days of celebrities, fashion, music, art, food and fun, concluding an exciting week-long countdown to the launch of Promenada.
The celebrity glamour begins at 3 p.m. on Friday 7th June when there will be exclusive 'meet and greet' activities with Uniqlo ambassadors Yaya and Dome, before Uniqlo presents its "Spring and Summer" fashion show at 6:30 p.m. to mark the launch of its new store at Promenada. Friday will feature an Opening Ceremony in which H.E. Mr. Joan de Boer, the Ambassador of the Kingdom of The Netherlands, will celebrate with a Champagne toast before guests enjoy a performance by Ger Vos, "The Voice" from the Netherlands. This program will start from 5 p.m. onwards.
J-Jetrin will headline a special mini concert on the Main Stage at 7:30 p.m. on the opening evening, with large crowds expected to thrill to the musical performance and live DJ show. On Saturday 8 June, the program of music and fashion will run from 1 p.m. to 5:30 p.m. onwards, and includes live music by local bands, cover dance and a fashion presentation by Sport World. Thai pop band Friday will take to the stage on Sunday 9 June to perform their most popular songs, the culmination of an exciting event schedule from 2 p.m. to 5 p.m. onwards. A fashion show featuring a mix of brands and the Kriean Fiction Gang will add to dance and music provided by local artists to complete a colourful and fun opening weekend.
Mr. Tjeert Kwant, Chief Executive Officer and shareholder of ECC International Real Estate said, "The opening of the first phase of Promenada is our big celebration event and warm welcome to the people of Chiang Mai. We invite everyone to come and join us to discover Promenada, and its 'More than just shopping' concept. It's a great chance to come and explore an extraordinary tenant mix, including Uniqlo, SF Cinema, Kids@Play and Sportworld many more. Several of the stores are opening in the North of Thailand for the first time at Promenada."
The completion of Promenada has been highly anticipated, with the opening weekend presenting an opportunity to explore the first of two buildings and much of the outdoor park areas. The week-long run-up to 7th June has seen a number of channel marketing activities taking place in Chiang Mai; giant shopping bags have been placed around town to emphasise Promenada's exciting tenant mix. There's also a Promenada moving stage making its way around town from 31st May, with sideshows encompassing musical percussion performances, flash mobs, human statues and gift voucher campaigns.
The completion of the first phase of Promenada also brings the North of Thailand's most sophisticated cinema complex, as SF Cinema City's 8-screen theatre will be available from the opening weekend. The cinema will host the EU Film Festival which runs from the 13th June onwards, a showcase event which presents 18 thought-provoking European movies. From captivating Czech romance, to riveting Italian drama, to light-hearted Polish comedy, a vast cultural immersion awaits. The Film Festival, which is exclusive to SF Cinema City, provides free admission on a first-come first-served basis, with English subtitles for all films and Thai subtitles for the top five picks. The Festival is the first of a succession of monthly events to be held at Promenada, to be followed by a high-profile dance competition and many more future events. They provide shoppers with great opportunities to enjoy artistic experiences in-keeping with the rich heritage of Chiang Mai.
The opening weekend will also feature a unique art attraction in the shape of 20 full-sized model cows, decorated under the creative direction of Nawat Kulrattanarak (Actor), Namthip Jongrachatawiboon (Model/ Actress), Penpak Sirikul (Actress), Somsak Chalachol (Hair Stylist), M.L. Jirathorn Jiraprawat (Writer/Illustrator), Amart Nimitpark (Photographer/Owner of Amart underwear brand), Suteesak Pakdeeteva (Choreographer/ Commentator from The Star) and Prapakas Angsusingha, (Designer). Some of Thailand's leading artists completed the works, the cow being representative iconography of The Netherlands, the plethora of colours symbolic of Chiang Mai's reputation for artistry and creativity.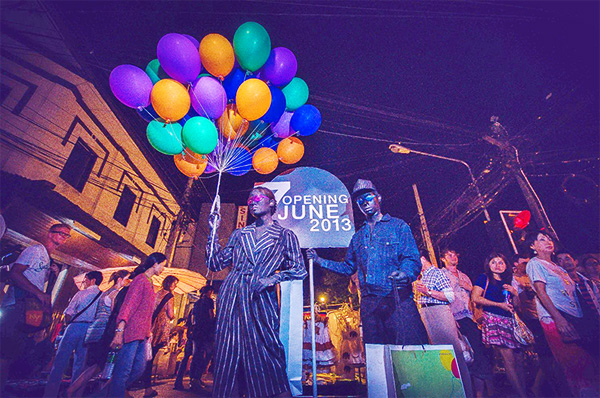 Promenada's tenants will also be holding their own range of activities, and there will be a special promotion held by Uniqlo. The first 500 customers will receive a Multi-purpose trendy cloth that can be worn as an accessory or used as a Japanese-style wrap. Customers who spend over 1,500 baht will get a chance to be chosen to join the exclusive "meet and greet" with Uniqlo's brand ambassador, Dome and Yaya. Also, customers who spend over 1,500 baht can show their receipts and receive a Uniqlo reusable cloth bag (one receipt for one bag, 4,000 bags available in total). From 7 to 14 June, customers can purchase the UT t-shirt for men and women at only 390 baht (normal price 590 baht).
The Promenada launch weekend runs from 7-9 June, and is open and free to all. There will be ample free parking provided throughout the opening weekend. Promenada is open from 11am on Friday and from 10 a.m. on Saturday and Sunday. There will also be a free shuttle service to and from Chiang Mai town centre.
Promenada's web site (www.promenadachiangmai.com) features a live timer which ticks down to lift-off – a real-time countdown to discovering beautiful, relaxing and invigorating indoor and outdoor spaces where guests can shop, unwind, explore and share enjoyable moments at Promenada.
Click here too see a map.
About Promenada Resort Mall Chiang Mai
Promenada is the first resort-style air-conditioned shopping mall in Thailand. It is combined with an open-air tropical park with terraces, music and shows, fairs and much more. The 2.9-billion Baht project is due to be opened 7th June 2013. The project is built on 58 rai of land and has been designed to blend in with the vibrant city lifestyle and surrounding "close-to-nature" feel of Chiang Mai.