CityNews – Chiang Mai Night Safari launched its new activity titled 'Visit, Dine, Shop in the Rainy Season in Safari Style' (rough translation). It's aim is to support tourism in the Green Season, coordinated with hotels, restaurants and Robinson Department Store in Chiang Mai.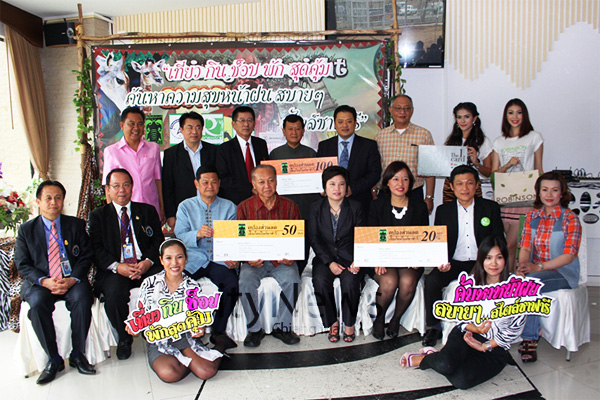 Sarawut Srisakun, the director of Chiang Mai Night Safari, revealed that tourists would "have the opportunity to feel the greenness of nature for the whole three months of the rainy season, from July to September."
The plan is coordinated with hotels, restaurants and shopping malls in Chiang Mai to provide special promotions in the rainy season.
The coordinators include Rati Lanna Resort and Spa, Centara Duangtawan Chiang Mai, Holiday Inn Chiang Mai, Furama Hotel, Chiang Mai Hill Hotel, Kantary Hills, Suriwong Hotel, Chiang Mai Food and Restaurant Association, Robinson Department Store and The Harbour.
Tourists who stay in any of the hotels listed above will receive a 100 baht for adult and a 50 baht for child ticket to visit the Day Safari and Night Safari at Chiang Mai Night Safari.
The tickets can also be used as a 50% discount when tourists stay in the Chiang Mai Night Safari and 10% – 20% off at restaurants.
For more information, call 053 999 000 and 053 999 010.
? "? ? ? ?" ? ? ?
? 27 ? 56 ? " ? ? ? ? ? ? " ? ? Green Season ? ? ? ? ? ? ? ? ?
?.? ? ? ? (?) ? " ? ? ? ? ? ? ? " ? ? ? ? ? 3 ? ? ? 2556
? " ? ? ? ? ? ? ? " ? ? ? 3 ? ? ? ? ? ? ? ? ? ? ? ? ? ? ? ? ? ? 100 ? ? ? 50 ? ? ? Day Safari ? Night Safari ? 2 ? 50 ? ? 10-20 ? ? ? 053-999000 ? 053-999010