CityNews – Travellers from China still show a strong interest in visiting Thailand, despite political tensions in Bangkok, with the number of visa applications at the Thai Consular Office in Shanghai remaining high at 7,000-8,000 applications a day while flight bookings with Thai Airways International (THAI) also remain robust with a 75 per cent load capacity, according to a survey conducted by the Tourism Authority of Thailand's (TAT) Shanghai Office.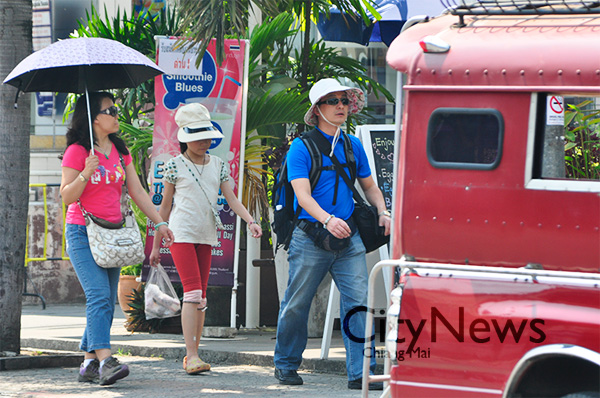 Mr. Thawatchai Arunyik, Governor of TAT said, "China remains Thailand's number one tourist market, with a total of 4.7 million arrivals in 2013 – a 68.83 per cent jump over 2012. We are happy to see that the number of daily visa applications and flight bookings for Thailand remains high at present, and we are working closely together with all authorities involved as well as private agencies to facilitate travel and hospitality for all tourists during Bangkok's current unstable political situation."
Surveys conducted during last week by the TAT Shanghai Office show that independent Chinese travellers and repeat visitors, who account for 30 per cent of the total number of Chinese tourists coming to Thailand, have confirmed that their trips to destinations in the kingdom including to Bangkok will go ahead as planned.
Chinese tourists continue to confirm their their trips to Thai destinations including Bangkok, which recently celebrated the grand Chinese New Year 2014.
Meanwhile, some group tourists travelling with charter flights have changed their itineraries to visit destinations outside Bangkok, according to major tour operators and airlines operating in Shanghai, Hangzhou and Nanjing.
The top alternative destinations include Phuket, Phang-nga, Krabi in the South, and Chiang Mai and Chiang Rai in the North. Centara Hotels and Resorts and Ctrip land operator in Phuket said in the survey that their Chinese guests now make up 90 per cent of hotel occupancy rates in Phuket, with similar figures for travel services.
Thanks to a successful marketing drive by the TAT Shanghai Office, the organiser of "Miss Earth Shanghai 2014" has confirmed bookings for Pattaya and Ko Chang in March 2014, and various Chinese wedding studios have organised trips for newly-married couples to honeymoon on Ko Li Phe in Satun in April 2014.
In addition, four Thai boxing tournaments are being staged in four major cities in China between January and March 2014, to promote Thailand as a sports destination. There will also be a five-day Thai Festival scheduled to be held in Shanghai in April to showcase and promote Thai products and Thai tourism to the Chinese market.
TAT Governor attributes this positive outlook to the hard work of TAT including the drive to keep tourists updated with constant press releases and reports about the situation in Thailand through wechat – a hugely popular instant messaging application in China with 600 million users – and weibo – a Chinese microblogging website, as well as the websites of the major travel agencies in China.
He added, "This has been done alongside extensive marketing campaigns that have promoted some of the alternative destinations in Thailand which have scheduled and charter flights; such as, Phuket, Krabi and Chiang Mai".
The TAT Shanghai Office is also collaborating with China Eastern airlines, Shanghai Airlines and Air Asia to obtain permission from the Airports of Thailand to operate a total of 10 special flights from China to Chiang Mai from 28 January to 9 February, 2014.