CityNews – TEDxChiangMai is to be held on 14th September 2013. This inaugural event, with focus on the theme of "Smart Societies", evolved from previous smaller TEDx events in Chiang Mai — TEDxDoiSuthep (2011) and TEDxThapaeGate (2012).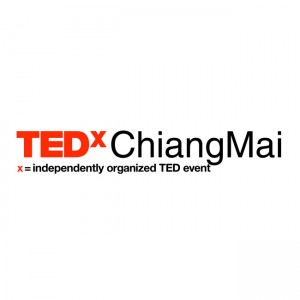 TED is a non-profit which started out in 1984 as a conference bringing together people from three worlds: Technology, Entertainment and Design. Since then its scope has become ever broader, especially with the launch of its TEDx Program (x=independently-organized TED event) which aims to bring communities, organizations and individuals together to stimulate dialogue and catalyse ideas through a TED-like experience at the local level.
TED's mission is underpinned by a passionate belief in the power of ideas to change attitudes, lives, cities, and, ultimately, the world. TEDxChiangMai will provide a local and global platform in the spirit of TED's "Ideas Worth Spreading". In local scope it will further develop Chiang Mai's creative economy and support the Chiang Mai Creative City initiative. Taking things to a global level, the event will be broadcast live on the Internet, and all talks will be recorded at high-quality and uploaded to TEDx's YouTube channel which has attracter over 80 million viewers in the past 4 years.
"This could be the biggest creativity and idea forum in Thailand. We are in discussions with some very exciting speakers and will begin to announce speakers in the near future," says Martin Venzky-Stalling, license holder and curator of TEDxChiangMai.
Sometimes likened to a "spa treatment for the brain and soul", a TEDx event is a creativity and idea forum mixed with entertainment, workshops and other interactive activities to help people connect and put ideas into action. TEDx events have become a global phenomenon with events in cities such as Sydney, Singapore, Taiwan, Shanghai and Berlin attracting hundreds, sometimes thousands, of audience members.
Thai speakers at previous TEDx events include Dr. Khunying Kalaya Sophonpanich, Khun Mechai Viravaidya, Khun Aprirak Kosayodhin, Khun Suphachai Chearavanont, furniture designer Khun Eggarat Wongcharit, Dr Arnant Sipitakiat from CMU (MIT Graduate, Associate Professor at CMU), Khun Prasert Eamrungroj (Black Sheep, Brand Connections), Dr. Weerapong Prasongchean (STEMKids), Jon Jandai (Pun Pun Organics), Khun Sorakon Adulyanon (Matichon), Zcongklod Bangyikhan (a day magazine), other researchers from universities, entrepreneurs, technologists, designers, artists and journalists.
There were also many international speakers at previous TEDx events in Thailand. Last year, Chiang Mai had one speaker from Israel, two from Germany and one from the UK. This year, speakers from other ASEAN countries will also be invited.