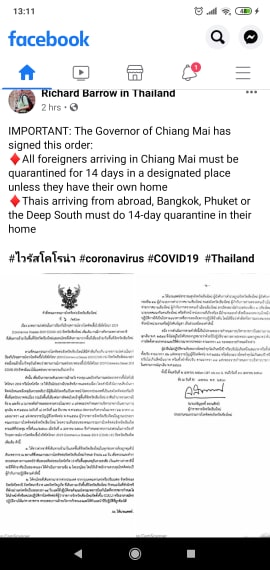 CityNews – 2nd April 2020, the governor of Chiang Mai has just signed a decree that orders all foreigners entering Chiang Mai be quarantined at a government-designated accommodation for 14 days, unless they have their own accommodation, and up to the discretion of the officials.
Thai nationals entering Chiang Mai from Bangkok and surrounding provinces as well as from Yala, Pattani, Phuket and Narathiwat provinces, are expected to self-quarantine strictly for 14 days, during which time they will be subject to spot checks by the public health team or volunteer team.
The governor also ordered various authorities to provide oversight for these measures and warned that anyone found in violation faces up to one year in jail and or be fined up to 100,000 baht.