If you are looking to hide away from the heat and the madness of Songkran then Coffee Chic is the perfect place! Located south on the outer ring road Coffee Chic is a small cafe with stained glass windows and a laid back atmosphere!
Coffee – the coffee is strong and bold. A mix of Thai beans freshly ground, Coffee Chic has a simple menu of flavoured drinks. I recommend the caramel coffees as they add a sweet touch to a hot day!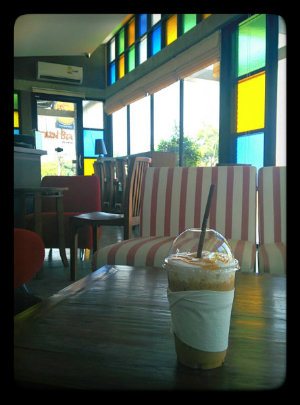 Cafe – Coffee Chic is a stylish glass box with a small inside air conditioned area complete with a sofa, comfortable arm chairs and some work desks overlooking the road. They also have an outdoor porch which is cooled by air mist and is actually a nice place to sit in the mornings or late afternoon. One might think looking at a road is not the best view but the island in the middle is overflowing with pink flowers and there is relatively little traffic here compared to other areas of Chiang Mai!
Cost: 45 -75 Baht
Location: Thanon Somphot Chiang mai 700 year / 3029 road. Heading south down the Hang Dong road from airport plaza turn right at the Big C intersection heading toward Mae Hia, coffee chic will be on the left hand side.
Open: daily 09:00-18:00