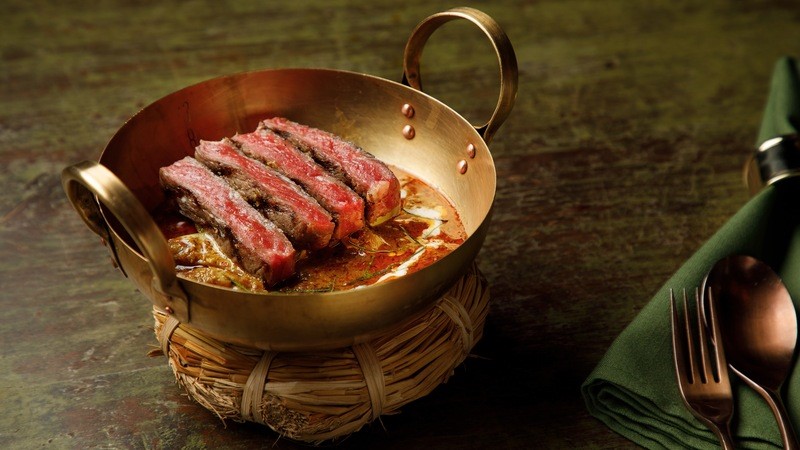 Traverse Thailand's culinary diversity at Khao by Four Seasons
An all-new menu of Thai comfort favourites in an evocative presentation
Inspired by the rich natural bounty of Northern Thailand, Khao by Four Seasons delivers an unmatched culinary experience in a verdant, countryside setting. "The restaurant, with its open-air setting and sweeping views of the resort's rice paddies, is a true reflection of dining like a local in Northern Thailand," smiles Ni Putu Jeniari, Assistant Director of Food & Beverage, "While the menu is highlighted by the diversity of the region, we have an all-new experience waiting to be discovered!"
A traditionalist at heart
With regionality and sustainability at the core of his cooking, Sous Chef Naruchit Taingtrong's new menu elevates the finest locally sourced ingredients through his unique flair for timeless Thai techniques. "I like to highlight the traditional Thai charm but present it in a modern way," he says of his style. The taste, of course, is what separates Khao by Four Seasons from other modern Thai restaurants, with evocative presentation adding visual delight.
Every element at Khao by Four Seasons' re-engineered menu has been chosen to add theatre to the dining experience and plates are turned into works of art. "The eyes always feast first," he smiles, "I like to evoke a sense of surprise when a plate is placed in front of my guest, while still enjoying the comfort of 'family style' dining."
Menu highlights
Rice is foremost in Thai cuisine, and the 'roasted scallop', served with a crispy rice salad and raw mango is the perfect beginning to the meal. "Hoi Shell Klang Na translates to 'scallops in the middle of rice paddies' – what it is like to enjoy the flavours of the ocean in the middle of the rice paddies? That's what we'd like you to experience," smiles Ni Putu Jeniari.
Nam Pla Whan is a tangy, tamarind sauce usually served with grilled fish, but here at Khao by Four Seasons, Chef Naruchit pairs it with the freshest river prawns (Goong Pao) and his own Asian take on a classic ratatouille. His inspiration translates into another classic – Yum Khao Tod Naem Sod, which pairs delicious red curry flavoured rice balls fried with tangy, fermented pork from Thailand's Northeastern region. "Squeeze some lime over it, and you're eating it like a local!" he smiles.
Complementing the meal with her culinary prowess, the dessert menu by Executive Pastry Chef Yanisa Wiangnon offers a burst of flavours of Thailand's seasonal fruits. "Khao Niew Pieck Lam Yai is my recommendation," says Ni Putu Jeniari, "A black sticky-rice pudding, served with fresh longan, young coconut, and crunchy coconut chips!"
Complementing tradition
Each dish arrives on a platter crafted in Chiang Mai at local pottery barns, with signature sauces, and an array of fresh herbs and flowers from the resort's Chefs Garden.
An eclectic cocktail menu adds another layer of locavore to the ambience, as some exclusive locally-crafted spirits highlight the cocktail lists. Sundowner at Khao by Four Seasons is best enjoyed with a Ma-Muang cocktail in hand, as the sun disappears behind the peaks of Doi Suthep.
Celebrate Pan-Thai cuisine at Khao by Four Seasons: Reserve online through FS Chat, Open Table, email [email protected] or call 66 (0) 53 298 181.