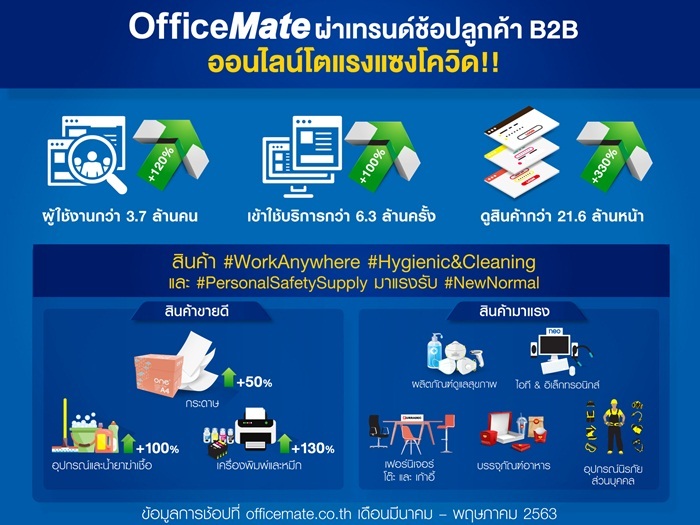 OfficeMate, Thailand's leading business to business (B2B) products and solutions provider, has revealed B2B buyer behavior trends, noting that the COVID-19 pandemic has greatly accelerated the growth of the B2B online purchases. OfficeMate is therefore opening its digital channel for manufacturers, major suppliers, and owners of high-quality B2B product brands to grow their business with OfficeMate's Online B2B Marketplace. This will enable the entrepreneurs to reach more than 500,000 corporate buyers, enhancing business opportunities and leading to a new dimension in unlimited sales.
K.Chitlada Hanvoravongchai, President of OfficeMate, described B2B buyers in today's New Normal, saying that the COVID-19 pandemic has changed the behavior of B2B buyers, who have shifted their spending from stores to online channels. This is particularly true of SMEs and business organizations who previously shopped at OfficeMate stores. The period during which the stores were temporarily closed saw a leap in the growth of B2B online buyers. Between March and May 2020, the number of B2B buyers visiting officemate.co.th soared, with more than 6.3 million visits (over 100% growth compared to 2019) and products viewed topping 21.6 million pageviews (over 330% growth). #WorkAnywhere, #Hygienic&Cleaning, and #PersonalSafetySupply were the three most popular searches in response to the age of the New Normal.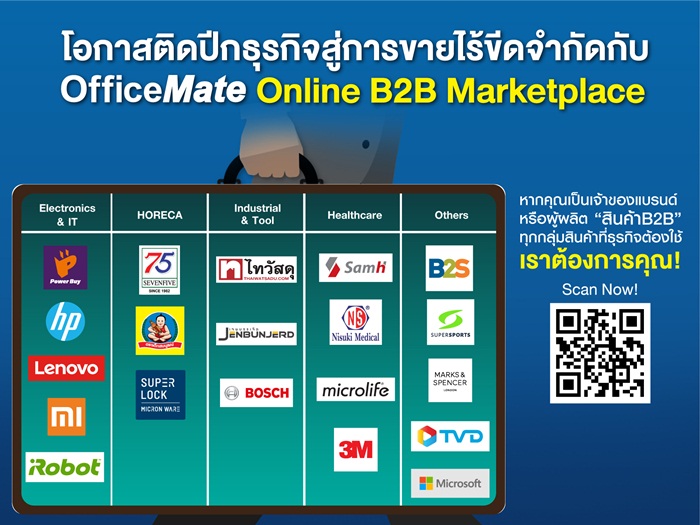 Best selling items include copier paper, printers and ink and disinfecting cleaning supplies.
Hot trending products ranges were the Healthcare Category (face mask, hand sanitizer gel, thermometer, toilet tissue), Safety Supply & PPE Supply for Factories (personal safety supplies), Electronic & IT, Furniture (desk and chair), and Food Packaging.
The crisis is providing an opportunity for those entrepreneurs ready to move into digital business. OfficeMate will provide a solid foundation and remain at the side of Thai entrepreneurs to help them move their business forward continuously and fight together against COVID-19. OfficeMate offers manufacturers, major suppliers and owners of high-quality B2B product brands the opportunity to partner with the company in introducing products and services on OfficeMate's Online B2B Marketplace. This is a one-stop solutions platform that covers categories to meet all business needs including products for specialized businesses such as manufacturing & industrial, HORECA (hotel, restaurant and catering), healthcare & medical care, innovative business equipment, and much more. At present, OfficeMate is working with product manufacturers and leading retailers including Central Group, which comprises Thai Watsadu, B2S, Powerbuy, Supersports and other well-known local and international brands such as HP, Lenovo, Xiaomi, iRobot, SEVENFIVE, and Jenbunjerd.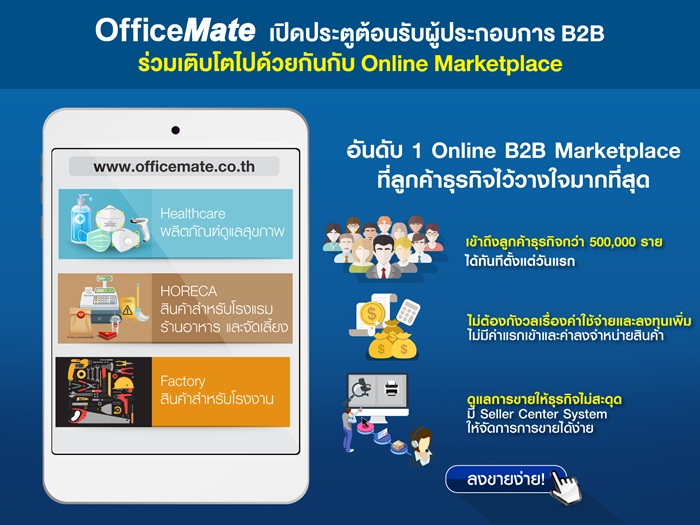 Empower your business and enjoy unlimited sales with OfficeMate's Online B2B Marketplace.
1. We allow you to promptly reach over 500,000 corporate clients via a sales multichannel that goes beyond online through officemate.co.th, OfficeMate Mobile App, Contact Center 1281 and sales staff. We also offer you the opportunity to join marketing campaigns with OfficeMate in order to drive sales volume.
2. You will be able to sell products and services from anywhere at any time without worrying about expenses and additional investment because OfficeMate has an online system ready for use with no entry fee and no product listing fee.
3. We offer you a convenient and uninterrupted portal and Seller Center System to help you manage sales easily from orders, delivery to payments. Our Customer Support Center is on hand to answer questions and accommodate customers who are interested in your products.
OfficeMate is ready for the owners of high-quality business products and services to engage in its B2B marketplace. Interested enterprises can register now at https://bit.ly/3dSW66L or call for information at Line: @OFM_Marketplace.