One of those rare find kind of cafes that has everything you want – great atmosphere, great coffee and open late. Its also a great place to make friends. Overall…..great!
Coffee – One of the owners, Mustafa, knows his coffee and admits to opening a cafe to cover his coffee costs.
"I spend 500Baht a day on coffee, I open shop my costs go down but not enough. I start roasting beans and my costs go down to 5 Baht a cup. I don't have milk. For me, okay that is good enough!"
Not only does he sell coffee, he grows and roasts coffee too! He's in control of the whole process which ensures amazing coffee in every cup!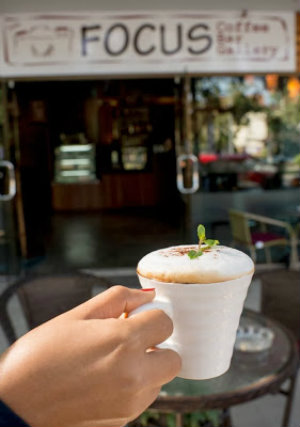 Cafe – With farang owners Focus Gallery has made sure that everything you could want is here! Late night opening, indoor and outdoor seating set back from Huey Kaew road, friendly staff, beers and cocktails and they even host the weekly Couch Surfing meeting so you can make friends. What more can you ask for? If you can think of something then ask the owners and they will try and cater for you!!

Other – part cafe part gallery. Pictures from around Thailand covering the walls including local artist Kevin LJ. There are rumours it will soon be a 24 hour cafe serving a mean breakfast!
Cost: 40- 65 bahtOpen: 8:00- 00:00 Location: next to export 71 shop on Huew Kaew road, under the big tree!Website: FB Focus Gallery
Found good coffee?? Get in touch with us at  chiangmaicoffeeculture@gmail.com
Focus originally featured on  ChaingMaiCoffeeCulture.blogspot.com