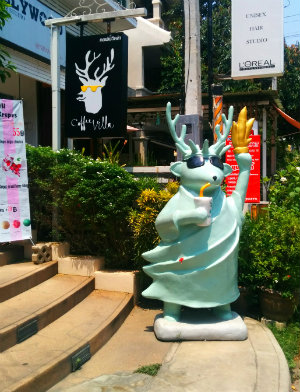 Coffee Villa is one of my favourite cafes for décor and atmosphere, both their branches are quirky, homely and fun! After reviewing one of Chiang Mai's chain cafes last week I wanted to visit a more unique cafe this week.
Coffee– A good variety of Thai style coffee with one of their offers as '60Baht Big size'. The Iced coffees are definitely bigger than usual and perfect if you want to sit with a single coffee for a few hours. Their latte art still needs perfecting though.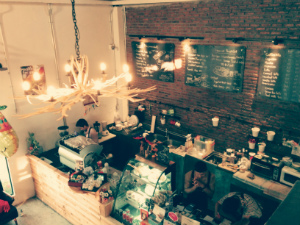 Cafe– A big white barn with high ceilings and a cosy rooftop hideaway to sit and watch the cafe below, Coffee Villa is one of those unique Thai cafes complete with a theme, photogenic deserts (Chocolate Lava cakes) and interesting décor that allows your eyes wander the cafe whilst your mind wonders if you are still in Thailand! The Nimmanhaemin branch is much smaller than the original villa but thanks to the pop music and happy staff it has a vibrant and fun atmosphere. The walls are turquoise and the seats comfortable.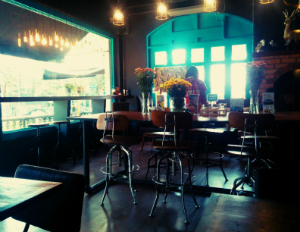 Other – The theme in Coffee villa has nothing to do with coffee or houses, it's reindeer in sunglasses! I don't know why and when I asked the staff they also didn't seem to understand what I was asking. Or maybe the more appropriate response would have been – Why not? Indeed, I'm sure the deer of liberty brings customers in!
Open: Daily 8:00 – 20:00
Cost: 55-75Baht
Locations:Chiang Mai -Hang Dong Road opposite big C and Nimmanhaemin Soi 7
Website: Coffee Villa