One thing I wish is that themed cafes would also have appropriately themed food and drinks, but in Chiang Mai sadly this is not the case. The latest of themed cafes is Babushka, with a Russian Doll theme but absolutely nothing Russian!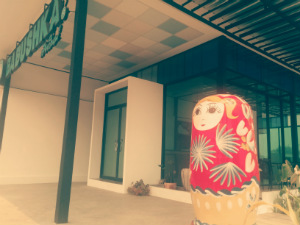 Coffee – a good range of coffee options with strong coffee. My only qualm is that coffee is served in mugs rather than cups, which I dislike. That said the mugs do have babushkas on them! There is also an espresso smoothie on the menu – I'm sure it is but it doesn't sound tasty.
Cafe –  A Large spacious cafe with an unusual view… An empty sandy 'lake'. It's hard to explain and one day it will be a great view but for now you'll have to survive with comfortable seats, as well as outdoor seating, sturdy tables, a range of good Thai food, waffles and good internet.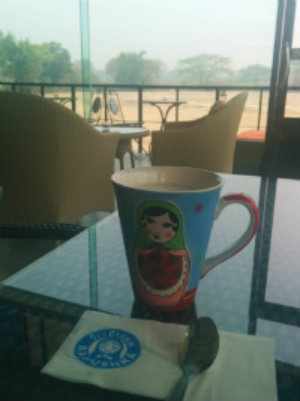 Other – there is a steady distracting niose from the refrigerator and the odd speeding car on the highway so the music is turned up to drown it out.
Don't forget to take a picture with the life sized Russian doll outside!
Open: 08:00-19:00
Cost: 65 -85 Baht
Location: On the middle ring road 3029, close to Mae Hia intersection with Canal road.
Facebook: Babushka CNX