Even with a record revenue of $57.6 billion in 1st quarter of 2014, gadget maker Apple is still worrying investors because of the flat profit in the same quarter year over year, as well as a fall in gross margin, plus the company's anticipation of flat revenues in 2Q14 compared to 2Q13.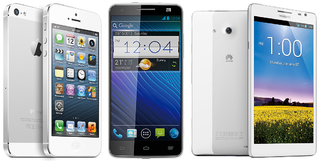 During the first quarter of the year, Apple sold 51 million iPhones, which is an all-time quarterly record for the company and shows an increase on the 47.8 million iPhones sold in 1Q13. Besides this, Apple sold a record 26 million iPads and 4.8 million iMacs, which together add up to a US$57.6 billion quarterly revenue figure, which is a 5.7 per cent increase on last year's quarterly revenue of US$54.5 billion.
Nevertheless, the quarterly net profit of US$13.1 billion, is similar to the recorded profit in the same period last year. The gross margin for the quarter fell from 38.6 per cent to 37.9 per cent.
Looking at the upcoming quarter, Apple provides the following figures:
· revenue between $42 billion and $44 billion
· gross margin between 37 percent and 38 percent
· operating expenses between $4.3 and $4.4 billion
· tax rate of 26.2 percent
"We are really happy with our record iPhone and iPad sales, the strong performance of our Mac products and the continued growth of iTunes, Software and Services," said Tim Cook, Apple's CEO. "We love having the most satisfied, loyal and engaged customers, and are continuing to invest heavily in our future to make their experiences with our products and services even better."
We generated US$22.7 billion in cash flow from operations and returned an additional US$7.7 billion in cash to shareholders through dividends and share repurchases during the December quarter, bringing cumulative payments under our capital return program to over US$43 billion," said Apple's chief financial officer Peter Oppenheimer.
The above figures mean that Apple expects to, at best, show a small improvement to the US$43.6 billion in 2Q13. The company suffered its first profit fall last year in 2Q13, which was the first since a decade. With the US$22.7 billion addition, Apple's cash flow increased to an impressive sum close to US$160 billion.
One of the critics, billionaire investor Carl Icahn, believes Apple should spend the entirety of its US$158.8 billion in cash on its own shares. However, he has made a more moderate proposal to shareholders, asking by proxy vote that Apple invest US$50 billion immediately. In reaction to this suggestion Apple has advised that shareholders vote against the proposal at its upcoming annual investor meeting, saying that its board is already "thoughtfully considering options for returning additional cash to shareholders."
On January 28 at 11:04 PM, Carl Icahn took to his Twitter account and shared that he just acquired more Apple shares, totalling US$500 million, which brings his investment in Apple this week to a billion dollars. While he is critical of Apple's Board of Directors for their growing cash storage he believes the company has a very bright future ahead of it.
All and all, despite Apple booking a record quarter, many investors had anticipated more growth, and were above all bothered by lower-than-expected iPhone sales of 51 million units.