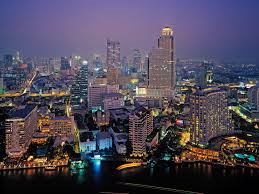 Serendipity or what, but just 24 hours after writing my last blog on Jakarta (crazy city, don't bother going), Mastercard's Global Destination's Index gets published showing that Bangkok tops this year's 'World's Most Visited City'. It is the first Asian city ever to do so.
With 15.98 million international visitors in 2012 (defined as spending at least one night there), it just beats London (15.96 million) into the top spot.
http://www.forbes.com/sites/andrewbender/2013/06/07/bangkok-tops-the-worlds-10-most-visited-cities/
So what makes Bangkok so special?
Well, I fell in love with the place over a decade ago, since when I have been visiting regularly, sometimes for weeks at a time. Now that I live in Chiang Mai (actually, a much pleasanter city to live in than Bangkok and top of most 'world's best places to retire' lists), I still find myself enjoying the occasion sojourn 700 kms south to the amazing 'City of Angels'.
Bangkok is buzzing. It has atmosphere, character, and it's authentically Thai. This is not a Western-Asian city like Hong Kong or Singapore, and its people are loads friendlier than you'll find in Kuala Lumpur or Shanghai.
Walk around Nana, Ploen Chit or Silom at night and you'll see sights you'll never see anywhere else in the world. But will you feel uncomfortable? No. You'll absorb the feel, the smell, the taste of a city built without any planners. Yes, Bangkok is a truly organic city – its just grown with the people. No one sat down and planned it. Now this makes it outrageously bizarre at times (where else can you visit a prestigious, serene and beautiful Hindu temple just half a kilometre from a notorious sex-district?), but in its essence it is human. Humans are complex and contradictory, so why not their cities? And Bangkok is nothing if not complex and contradictory.
Visiting Bangkok for the first time? Then here are my Top 10 Things to Do in Bangkok:
1. Take a taxi to Wat Suthat to see a truly magnificent Thai royal Buddhist temple: meditate for a while along with the many Thais there; switch off and listen to the monks chanting and praying. This is a genuine meditation temple; calm, serene and deeply spiritual. Its not a tourist temple, so you won't find the crowds there, unlike Wat Phra Kaew (Temple of the Emerald Buddha).
2. From Wat Suthat take a 15 mins taxi ride to the nearest landing stage on the Chao Phraya River – which is the landing stage close to Wat Phra Kaew. Walk through the steaming, teaming market to the river and wait for one of the public river buses (cost around 15 baht). Just hop on. Look out for the majestic Wat Arun on your right – an iconic sight in Bangkok.
3. This river bus is heading south down the river and stops frequently. But you want to get off at the Shangri-La Hotel landing stage – approximately 20 mins ride. You'll see the hotel on your left – opposite the Peninsula Hotel on the other side of the river, and just before one of the big bridges spanning the river.
4. Walk to the Shangri-La hotel, about 400 meters from the landing stage – bypass the BTS stop. Stop here for a coffee or, if the need takes you, something stronger. Sit in the beautiful palatial hotel lounge, look out across the river, enjoy the cool air conditioning and being served by some delightful, highly efficient, young waitress.
5. In the evening take a taxi to the highest open-air bar in the world – State Tower (Silom Road). What can be finer than enjoying an ice-cold Singha beer while overlooking one of the pulsating hearts of Asia – Bangkok. Bangkok is even more amazing at night and especially when viewed in the open air at 63 floors up.
6. You feel hungry? Then here are some suggestions:
a) Fish – one of the best fish restaurants in the world is the Seafood Market (Sukhumvit, Soi 24). As they 'proudly' say "if it swims we have it". And it operates just like a market; you take a trolley, fill it up with food (some of it still kicking) tell the checkout girl how you want it cooking and pay. A short time later the fish feast arrives at your table. Brilliant.
b) Steak – lots of choice in Bangkok but definitely worth visiting the Landmark Hotel 'Rib Room' on the 31st Floor – in Nana.
c) Italian – my favourite is Grossi Trattoria, just next to the Intercontinental Hotel, Ploen Chit. Super food, great wine. Been there many times and it has never failed to satisfy.
d) Indian – Bangkok has a vibrant Indian community and lots of restaurants to match. But for quality and price you cannot beat Mrs Balbir's, Sukhumvit Soi 11.
e) Thai, of course – well take your pick, up market and fancy, or down market and basic, all taste great. But for quality and atmosphere you can't do much better than Ban Khanitha, Sukhumvit 23.
7. One of the aspects of Bangkok I find fascinating is its contradictions. Go on the BTS (overhead railway) to Siam Station. Alight here and take the walkway to the supreme Temple of Consumerism – Siam Paragon. Shop till you drop (you can even buy a Rolls Royce, Ferrari or Lamborghini in this amazing mall), then when you are down to your last 1000 baht go to the 1st floor and have afternoon tea and scones in the Oriental Hotel Cafe. Luxury.
8. And the contradiction? Well upon leaving Siam Paragon turn left, walk 400 meters down Sukhumvit, dodging the cars, motorbikes, food stalls and street vendors, and enter the very different world of Wat Pathum Wanaran – a delightful and often overlooked Buddhist temple, one of the oldest in the city. Lots of meditation going on here, every day. There is a small park to walk around, and plenty of places to sit, pray, or just ponder and reflect on the human condition.
9. On your own in Bangkok and feeling lonely? Well not for long. Plenty of fun to be had both night and day in this city. For those of you who like it very, very basic, then Soi Cowboy has it as basic as it gets (one rather shockable British male friend I took there likened it to the night street scenes in the film Blade Runner). For those of you who like more upmarket fun, then visit Spasso's restaurant and bar, basement of the Hyatt Hotel, Erawan. And don't forget to take some cash.
10. Finally, you have to go home, back to cold, dreary, pinched Europe or wherever. But before you go just say a prayer of thanks – and the best place to do this is the Four-Faced Buddha Shrine on Erawan, actually opposite the Intercontinental Hotel and close to the Hyatt Hotel. Now, as any long term expat in Thailand knows, there are four-faced Buddhas all over the country, in fact every hotel, restaurant and shopping mall has one. Indeed, millions of homes have one. But the Erawan Shrine is special. Very special. Which is why you'll see dozens, sometimes a hundred or more, Thais praying there night and day, every day of the year. I always make sure I visit the Shrine whenever I am in Bangkok. Say a different prayer to each of the four faces. Give thanks and make a special wish. You might give thanks for Bangkok and pray it doesn't disappear under water one day.